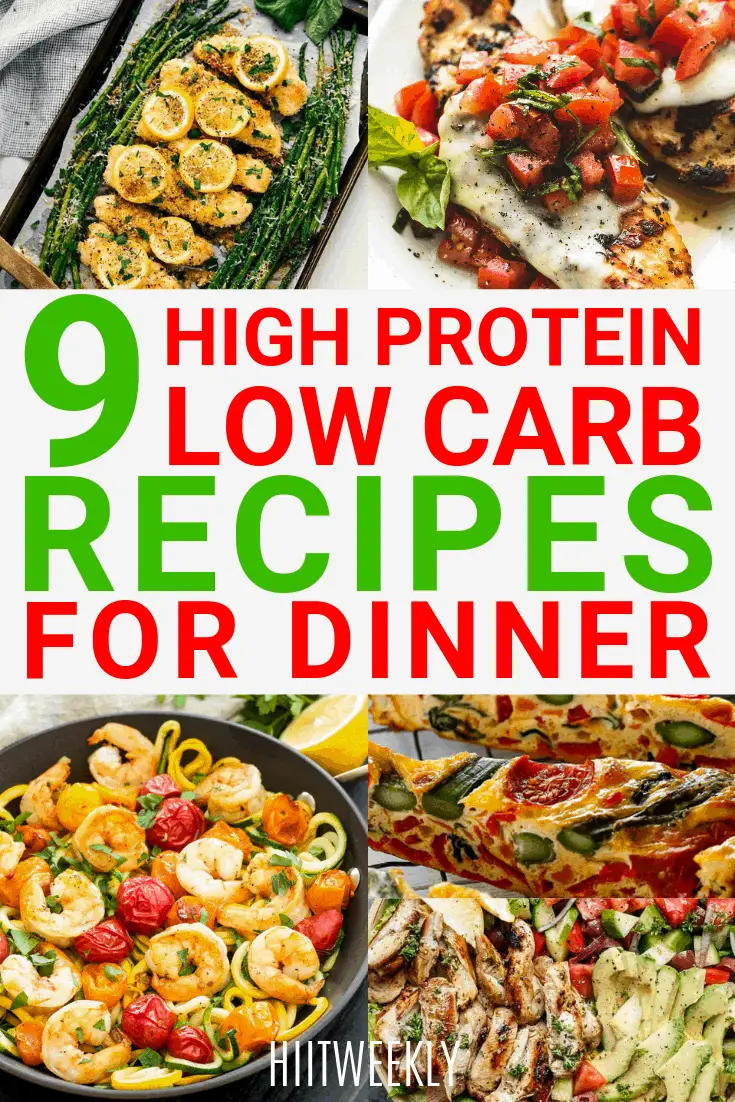 If you're trying to lose weight we suggest reducing your carbs to encourage fat loss. You'll see faster results and therefore stick to the diet for longer getting even more fat loss results.
Whether you're cutting them from lunch, dinner or going all out cold turkey, we went on the search for high protein low carb recipes that taste good and keep you feeling full.
There are not many things worse than feeling hungry when you start a low carb diet. The key is to eat regularly say every 2-3 hours and fill up on lots of vegetables, not so much salad but vegetables, plus a good source of protein.
Ensuring you have a decent amount of protein helps reduce any muscle breakdown for energy needs within the body and aids in protein synthesis. Which is very important for muscle repair after your strenuous HIIT workouts.
With these factors in mind, we've put together some of our favourite recipes to help you lose weight faster. These meals are suitable for lunch or dinner.
Roasted tomatoes and Shrimp With Zucchini Noodles
Prawn and courgette spaghetti for us Brits. This is such a vibrant dish extremely low in calories and carbs whilst being packed full of goodness zucchinis are packed full of vitamin C and B-6 plus some added Vitamin C and A from the tomatoes. The prawns provide a nice helping of much needed protein. Give this dish a go but be careful not to overcook the spiralized veg as it can go soggy!
Get the recipe here
Grilled Brochette Chicken
I absolutely love brochette, I must confess bread beats chicken but this recipe does make chicken more appealing and of course healthier. It's a grilled chicken breast topped with mozzarella cheese and fresh tomato and basil. Doesn't it make your mouth water just thinking of it. Perhaps serve it up with an extra side salad as its quite a small dish.
Get the recipe here.
One Pan Salmon and Asparagus
More cheese, this time parmesan creates a beautiful crust over the salmon. It's definitely a winner, its low carb high protein and so easy. Just throw it all in the tray and straight into the oven it goes.
Get the recipe here.
Honey Lime Salmon Fillet Salad
A simple salad and equally simple honey and lime salmon to top it off. The flavours go nicely and there's a kick of chilli in there to for an extra metabolism boost which is always welcomed.
Get the recipe here.
Asparagus and Tomato Frittata Slice
On to eggs, what you hear about eating to many eggs is bad for you is just a myth. This recipe says it serves 4 however we would suggest it would serve 2-3 based on protein content and the fact you're not eating carbs.
We love frittatas and they can easily be cooled and stored to eat over a few days. Serve it up with a side salad or veg for added fibre.
Check it out here.
Balsamic Glazed Steak Rolls
When it's time to get your beef fix try these steak rolls filled with healthy vegetables. So easy and can be made ahead as a snack if made in smaller portions or a take to work lunch. It's a great recipe with so many meal options for you to choose from.
Get the recipe here.
Cashew Nut Chicken Lettuce Wraps
If you're looking for a simple healthy meal that doesn't take up too much of your time then try these Cashew Nut Chicken Lettuce Wraps. The nuts give it a nice crunch. Take it to work or serve it up for dinner with a healthy serving of salad or veg like we did. There isn't enough vegetables here in our opinion to create a well balanced meal.
Get the recipe here.
Grilled Lemon and Herb Mediterranean Salad
You must try this recipe, Karina has done a fantastic job at presenting this dish to us. Anything "Mediterranean" or "Greek" automatically gets my attention Hold the olives unless you like them and go and create this delicious chicken recipe. The avocado gives it some added good fats needed in our diets .
Get the recipe here.
Super Healthy Broccoli Salad
It's got a few naughty bits but that's okay every now and then. The title doesn't do it much justice, here we have a Broccoli salad full of nuts, seeds, cheese, cranberries, bacon and spices that make it sweet, savoury and crunchy. A nicely balance meal for anyone on a high protein low carb diet.
Get the recipe here.
Whether you use the recipes or just use them to inspire you to create your own versions of them make sure you take action and plan your meals, stay ahead of the game and always be in control of your diet. That's the key to long term weight management.
Until next time!