This might just be my new favorite breakfast smoothie. This protein packed blueberry oat smoothie is delicious.
.
If like me you have hectic mornings and don't really like breakfast as a meal then here is your answer. Smoothies. Smoothies are an amazing way to get a lot of nutrients from foods you might not normally eat.
.
This blueberry oat smoothie actually has baby spinach hidden in it and the best bit is that you wouldn't even know. Spinach is an extremely nutrient rich vegetable packed full of goodness. And while it doesn't taste bad it's one of those veggies that most of us probably need more of.
.
If you are okay eating a few carbs, this recipe does include oats to help you feel nice and full for the morning, giving you a little more energy to tackle whatever your day throws at you. If you like a lighter option you can hold back on the oats.
.
.
As with all of our smoothies there has to be some protein to balance out the macronutrients. We have added half a scoop of whey protein powder to our blueberry smoothie to give it about 15g of protein, the ideal amount for muscle repair and some extra calories.
.
The inclusion of oats and whey protein coincidently makes this an ideal post workout smoothie. The sugars from the oats, blueberries and honey will help refuel your muscles while the protein will help aid the recovery of worked muscles.
.
Blueberry Oat Protein Smoothie Recipe
Give this blueberry recipe a try, I'm sure you will like it.
.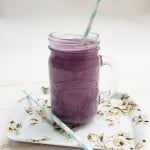 Blueberry Oat Protein Smoothie
A delicious protein packet smoothie great for breakfast or post workout.
Ingredients
1

cup

Almond Milk

1

cup

Frozen Blueberries

1/2

cup

Oats

1

handful

Baby Spinach

1

tsp

Cinnamon

1/2

scoop

Vanilla Whey Protein Powder

5

Ice Cubes
Instructions
Place all of the ingredients into your blender and blitz!
We really hope you enjoy this blueberry oat smoothie recipe. For more recipes like these 8 delicious smoothie recipes here, all packed with protein to aid your health and fitness goals.