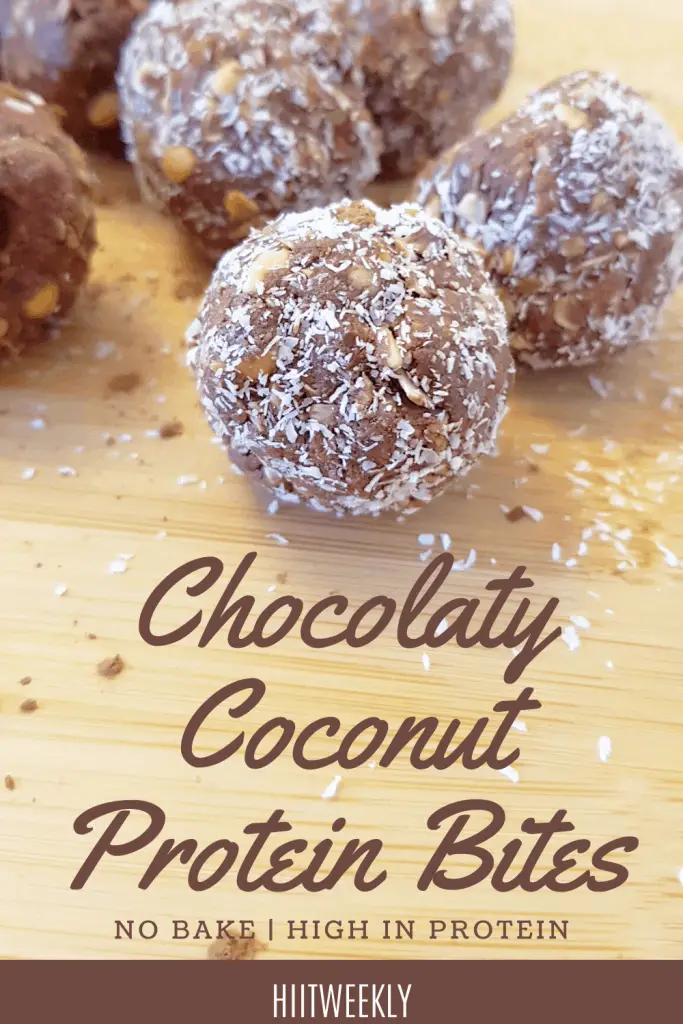 Are you a fan of chocolate? If so you will love these chocolate protein bites made with raw cacao, chocolate protein powder and milk choc chips! Oh and there's no baking involved. Win!
Protein balls, bits or energy bits, whatever you choose to call them are delicious treats or snacks usually packed full of goodness!
Unless you are not a fan of eating healthy, you will love these "triple chocolate protein bites", made with raw cacao, chocolate protein powder and milk chocolate chips, our son can't get enough of them, and it's one of his favorite treats to make.
We tell him every time he eats one he needs to do 10 push ups so he can get big and strong like daddy. Bless him.
If you are wondering whether it's okay for kids to eat protein powder then worry not, as long as your protein powder is just protein and nothing added, which it should be for cooking then it's okay for them to have some protein. The argument isn't whether it's good or bad but whether they should be consuming high amounts be it from added protein supplements or through regular food.
Kids generally only need a small amount of protein compared to adults and they will be able to get that from a balanced diet.
Back to protein bites, if you haven't tried them before then oh my, there are so many possibilities. This was the first time we've made chocolate ones.
We usually make no bake protein bites with vanilla whey protein, peanut butter, oats and honey, simple. And the kids like them. Easy. But we ran out of vanilla whey.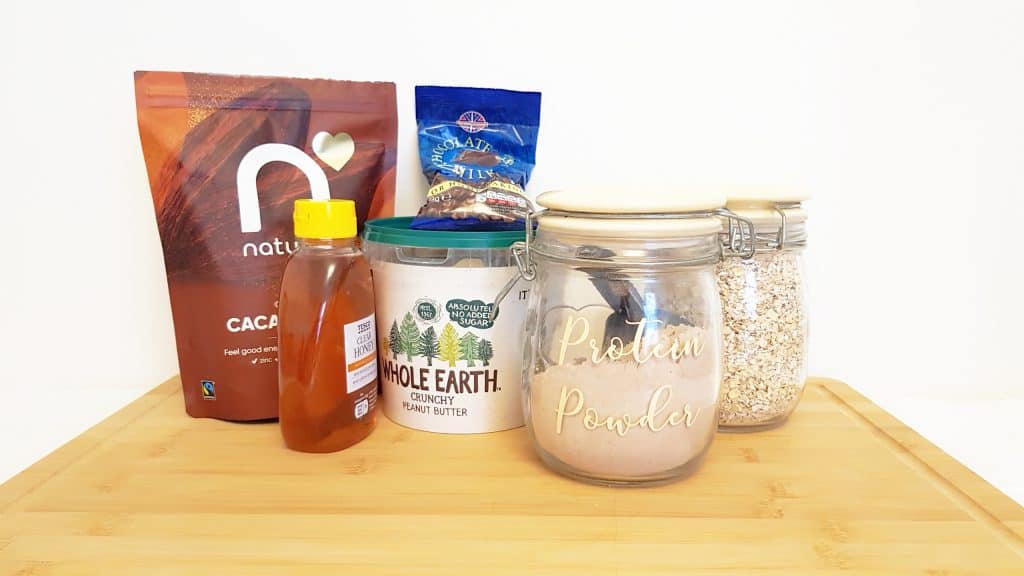 We had some chocolate protein powder so we tried it with that but it just wasn't chocolaty enough. What's the point of going chocolaty if you can't taste the chocolate? Soooo, we added a heap of milk chocolate chips, go dark for a lower sugar option, and some raw cacao powder and boy does it taste better. Combined with the crunch from the peanut butter, ooh they are good.
Now, the basis of these and many protein bites is a nut butter combined with dry ingredients such as oats and a little bit of honey, that's the glue.
You then add in the fancy bits, superfoods, and such to make it more interesting. You could add nuts, Chia seeds, flaxseed, dried fruit, protein powder, cacao powder, take your pick. If your mix gets a little dry, simply add in wet, such as nut butter, stevia, honey or even a little water. They are just that easy to make.
As such we made two sets of protein bites today, the first was our triple chocolate protein bits and then we rolled half of them in decorated coconut, they were the best ones.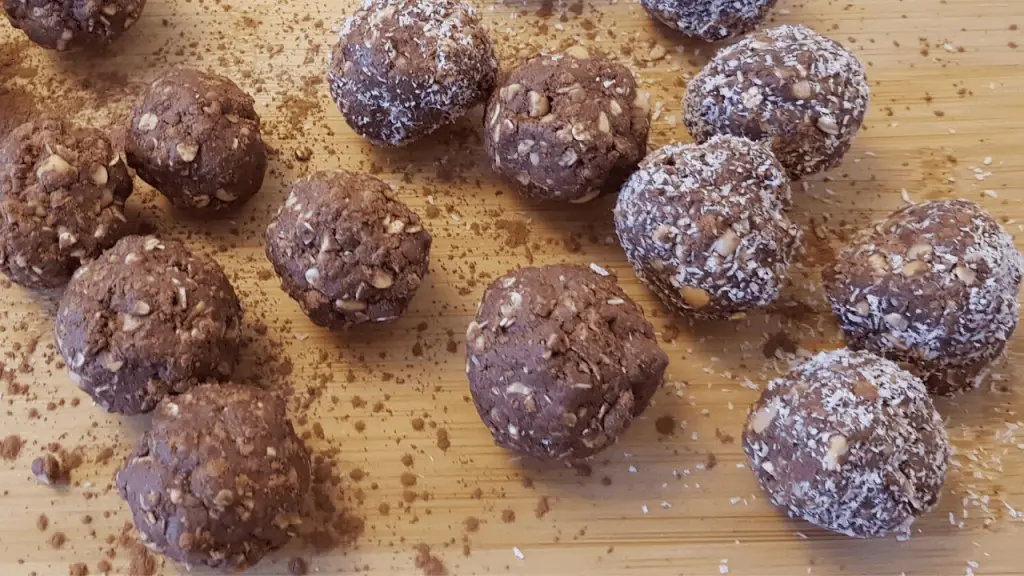 Why add protein powder?
So why do we add protein powder to protein bites? While there is some protein in peanut butter and a small amount in oats and chocolate chips (from the milk) the amount is very minimal. Without adding protein powder these protein bits would be fat and carb bites. And you don't want to be just eating fat and carbs, that wouldn't be good for your waistline.
The addition of protein powder raises the protein content of these protein bites by about 4g per bite, which lifts the overall protein yield per bite to 8g. The overall calories in each bite are 150, making this an ideal snack option.
You don't need to use protein at all but then they wouldn't be protein bites they would become energy bites.
If you did remove the protein powder you should add more dry ingredients to make up the difference. You could add more of what you have or add in something else such as flaxseed, chia seeds, or coconut.
To make these protein bites you can use whatever protein powder you have although chocolate is best in terms of flavor, and a powder that doesn't contain any added nutrients such as BCAA's, Green Tea Extract, etc. Try to use a protein powder that is as clean and simple as you can. We used a simple whey isolate with just whey protein and some flavorings.
If you wanted to go full plant-based for this recipe you can simply swap out the protein for a plant-based protein powder. Just remember that some protein powders protein content varies so the volumes may be different for your recipe.
When to eat your protein bites
Protein bites make for an ideal on the go snack. Enjoy with a cup of coffee in the morning or mid-afternoon with some berries. They also make for an awesome high protein post-workout snack. Be aware that these protein bites are yummy and you may be inclined to eat more than one at a given time. Try not to as the calories will quickly add up!
We made this recipe during the COVID-19 lockdown and just couldn't find dark chocolate chips so made do with milk chocolate ones (happy we did), for a healthy lower sugar option you should use dark chocolate chips and maybe even stevia instead of honey, although honey is a natural product and there isn't much in this recipe nor per serving. We tried to keep the sugar content as low as we could.
As for the peanut butter, you can use whatever nut butter you like, the chunky peanut butter we used added a nice crunch to our bites. Always try to choose a nut butter as close to 100% nuts as possible.
Use what you have and make it your way!
How to make Triple Chocolate Protein Bites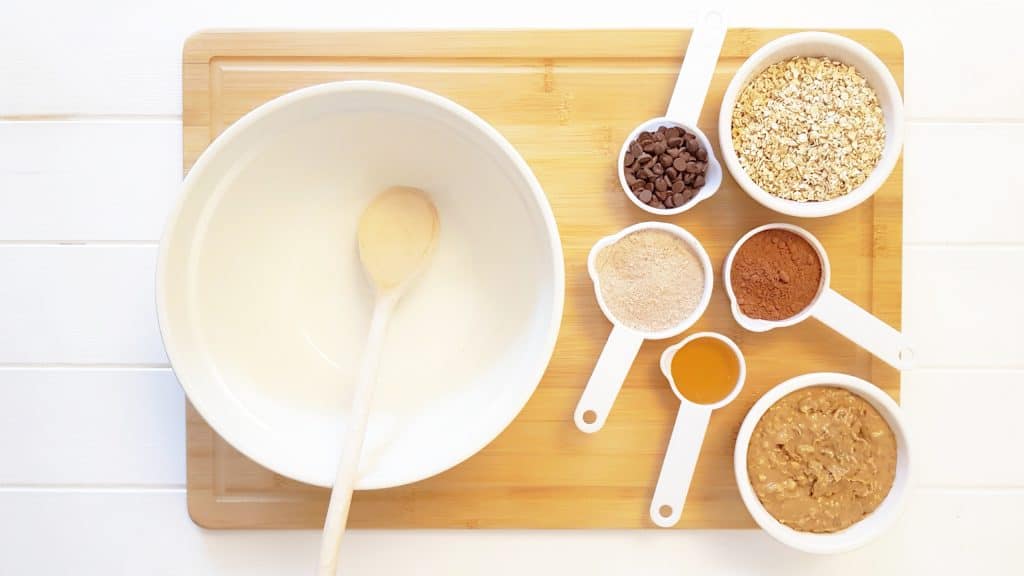 To make these protein bites first add the dry ingredients to a large bowl and mix, then add in the wet, being the glue the peanut butter and honey. Combine well and use your hands if you needed to. This will help warm the peanut butter making it easier to combine the mix and then shape into small balls.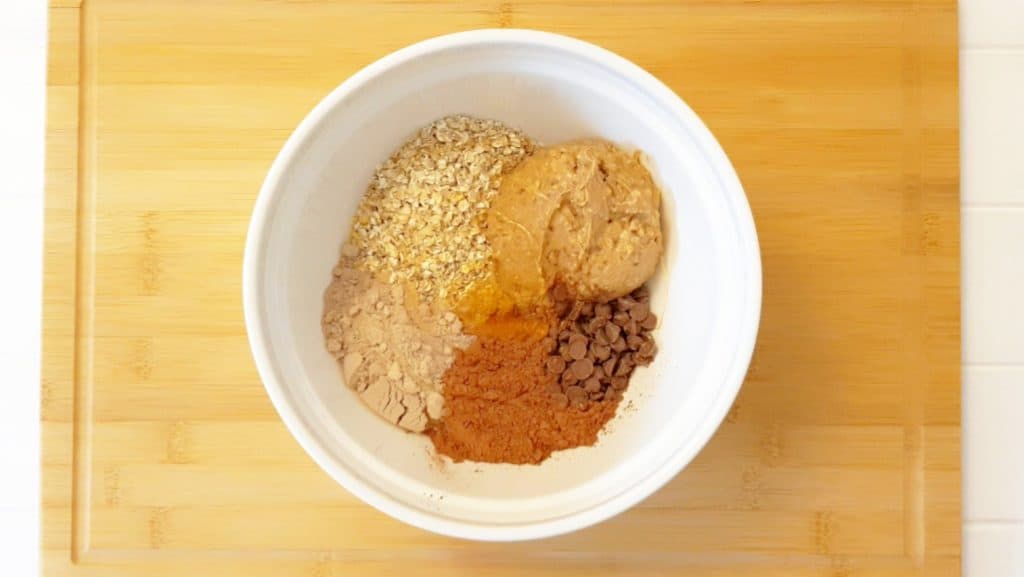 Once the mix is combined, shape into 1.5 inch balls. The mix should make about 16 x 1.5 inch balls.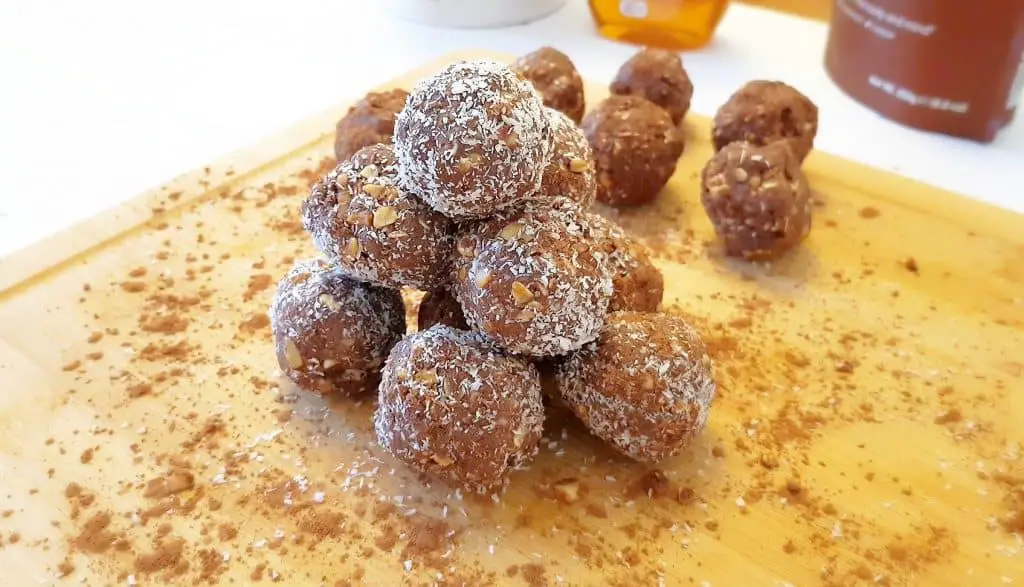 We then took about half of our chocolaty protein balls and rolled them in desiccated coconut. They are just the best! Of course, this is totally optional but worth it if you like coconut and chocolate.
Once you have your protein bites all rolled and ready store them in a sealed container. It's up to you if you refrigerate them or not. Personally we do not refrigerate them as it makes them too hard. They would last about a week or so in the fridge and longer if you froze them. I'd be surprised if these lasted longer than a few days anyway!
Why is your mixture dry?
The mix should be slightly crumbly, as you press the mix together it should stick. If you are concerned the mix is too dry and the balls won't stick, add in some more honey a little bit at a time until you get the consistency you desire (so the balls stick).
Watch the recipe video below
If you try these no bake protein bites and like them, please be sure to leave a star rating below.
Triple Chocolate Protein Bites
You need to try these yummy chocolatey protein bites, they are the perfect mid-morning snack. Try them rolled in desiccated coconut.
Recipe yields about 16 servings (16 x 1 inch bites), 1 serving is about 150 calories.
Ingredients
1 cup Rolled Oats
1 cup Chunky Peanut Butter
1/2 cup Chocolate Protein Powder
1/3 cup Raw Cacao Powder
1/4 Cup Chocolate Chips
2 tbsp Honey
Instructions
1. In a large mixing bowl combine the dry ingredients.
2. Add in the peanut butter and honey and combine, use your hands, and get stuck in.
3. Roll into 1.5 inch balls.
4. Roll in desiccated coconut for coconut chocolate protein bites.
Notes
Don't panic if your mix seems a little dry, once you start to shape your bites and the peanut butter warms up the mix will combine nicely into small balls.
If it is to dry add a little bit more honey or even a drop of water.
1 inch balls can be quite dry to eat, try splitting them into 3 smaller balls, they taste even better and will make you feel like you've eaten more.
Nutrition Information:
Yield:

16
Serving Size:

1
Amount Per Serving:
Calories:

155
Total Fat:

9g
Saturated Fat:

2g
Trans Fat:

0g
Unsaturated Fat:

7g
Cholesterol:

0mg
Sodium:

84mg
Carbohydrates:

12g
Fiber:

3g
Sugar:

5g
Protein:

8g
Nutrition information isn't 100% accurate but a close guide.
We hope you enjoy these no bake protein balls as much as we do.
Until next time.