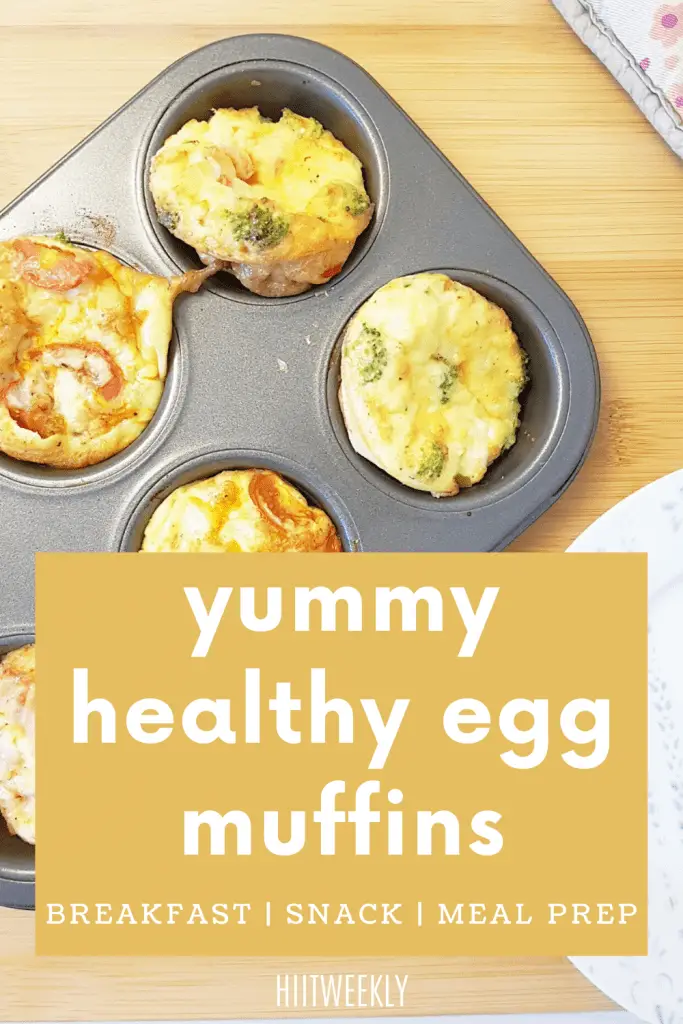 When hunger strikes and you need a grab and go high protein breakfast or mid morning snack you'll be happy to know you've already made these healthy egg muffins.
Having stocked up with these muffins you'll be ready for anything.
Breakfast egg muffins are little muffin sized fritters baked to perfection with healthy fillings of your choice to add goodness and flavor to this high protein breakfast or snack. The kids even like them and it's a great way to hide extra veggies that they normally wouldn't eat, as long as they are cut small enough.
Egg muffins really are the pinnacle of a high protein breakfast or snack. With hardly any carbohydrates, egg muffins pack at least 7g of protein per muffin. So if you are trying to lose weight, gain muscle, go keto or cut carbs out of your day slightly then these are the perfect solution.
If you are into meal prep then these egg muffins are an ideal meal prep choice as you can batch make them and store in the fridge or freezer for a later date. They don't need to be reheated you can eat them cold when on the go. In fact, we held a fitness retreat a few years ago and taught our group of 12 clients how to make egg muffins and then we took them with us on a 4 hour hike and sat in the sun eating our egg muffins for lunch. Most of them loved them.
With so many flavor options you can't go wrong. Today we have three flavor options for you to try that are some of our favorites.
Ham, Cheese and Red Pepper
Broccoli, Cheddar, Onion and Tomato
Chorizo, Tomato and Onion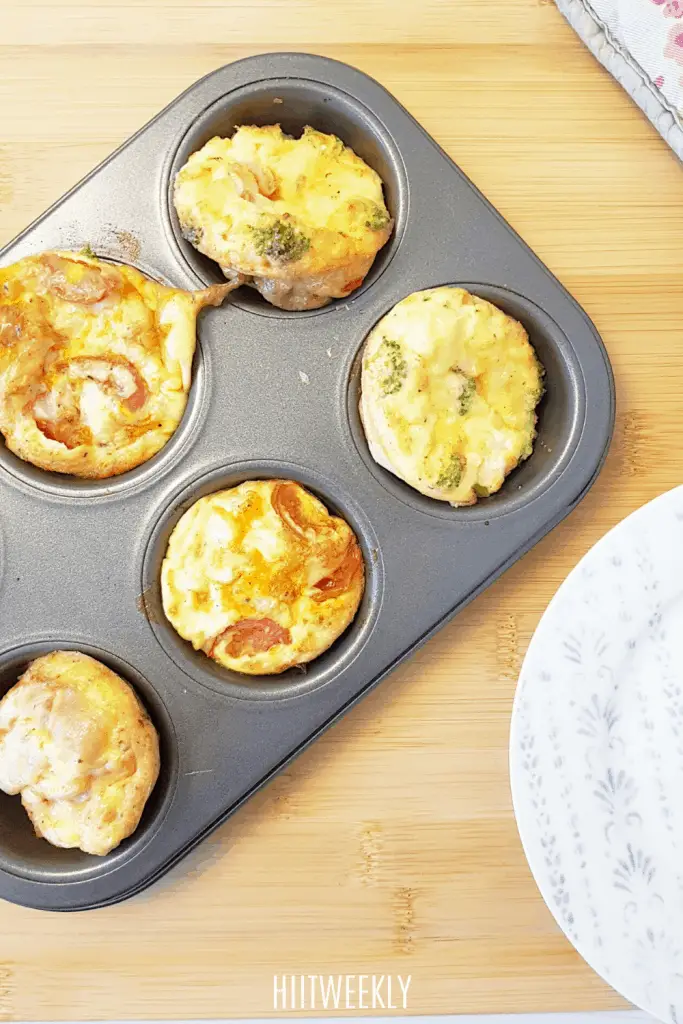 Our youngest son is a little chef in the making and was desperate to help us make these for you today so he is with us giving a helping hand.
How to make egg muffins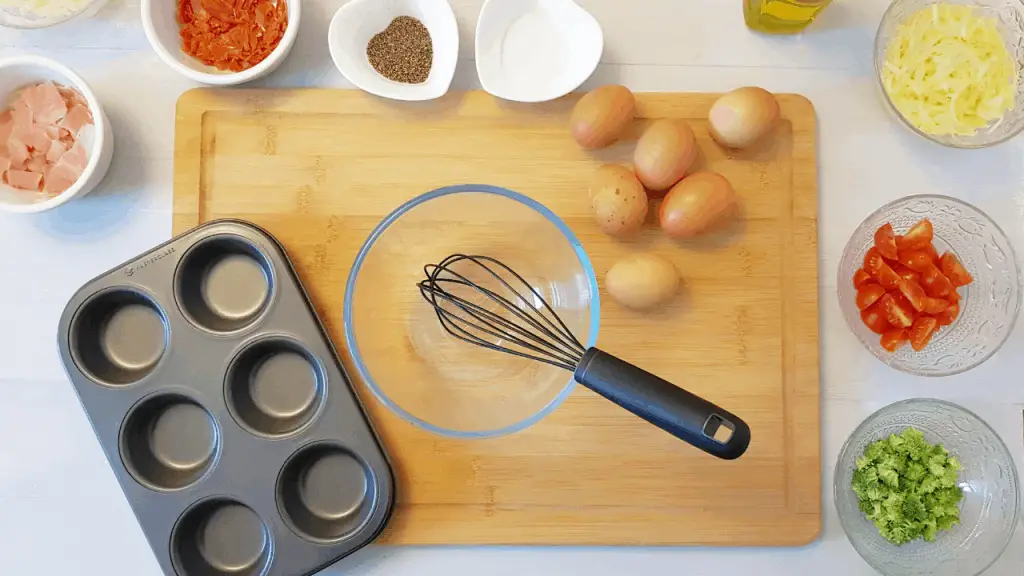 To make egg muffins you will need a muffin tray, if you do not have one you can use small ramikins, eggs and fillings.
This is where you can get creative and experiment with different flavors by adding in your chosen fillings.
You have veggies that pack plenty of healthy vitamins and minerals as you know and should be the bulk of your healthy egg muffin. You can then add in other ingredients for added protein such as ham, chicken, chorizo, or cheese. What about a three cheese and tomato egg muffin, ummm.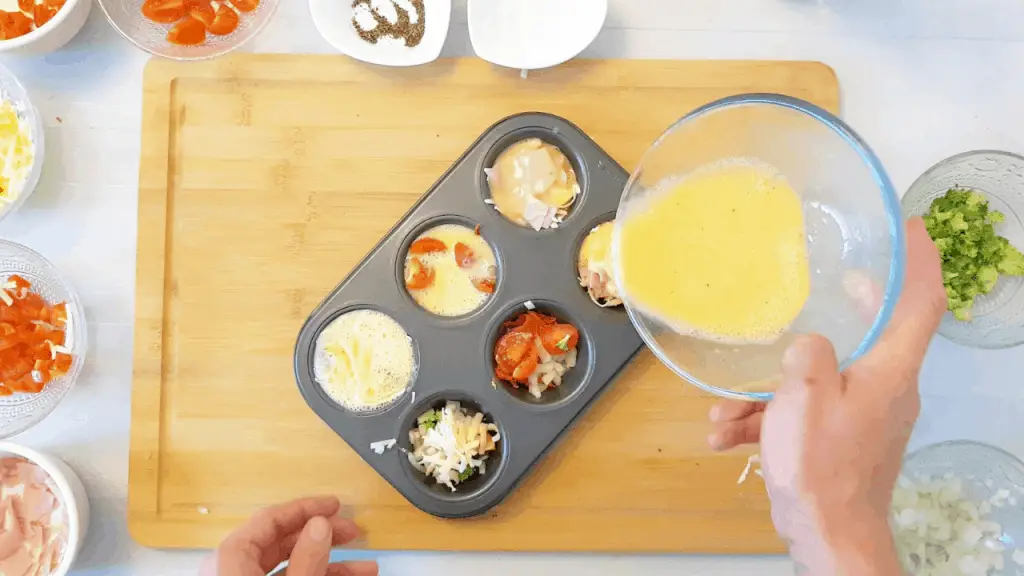 Don't stop with salt and pepper, bring your egg muffins to life with some added flavor from herbs and spices such as paprika, garlic or basil to name a few.
To make life easy we go in with 1 whole egg per muffin, you may find you like to alter your egg mix to 1 egg to half egg white or just all egg whites. Have a play and see what you like the taste and texture of the most. We like to leave in the yolk as this is where most of the goodness is resides.
steps to make egg muffins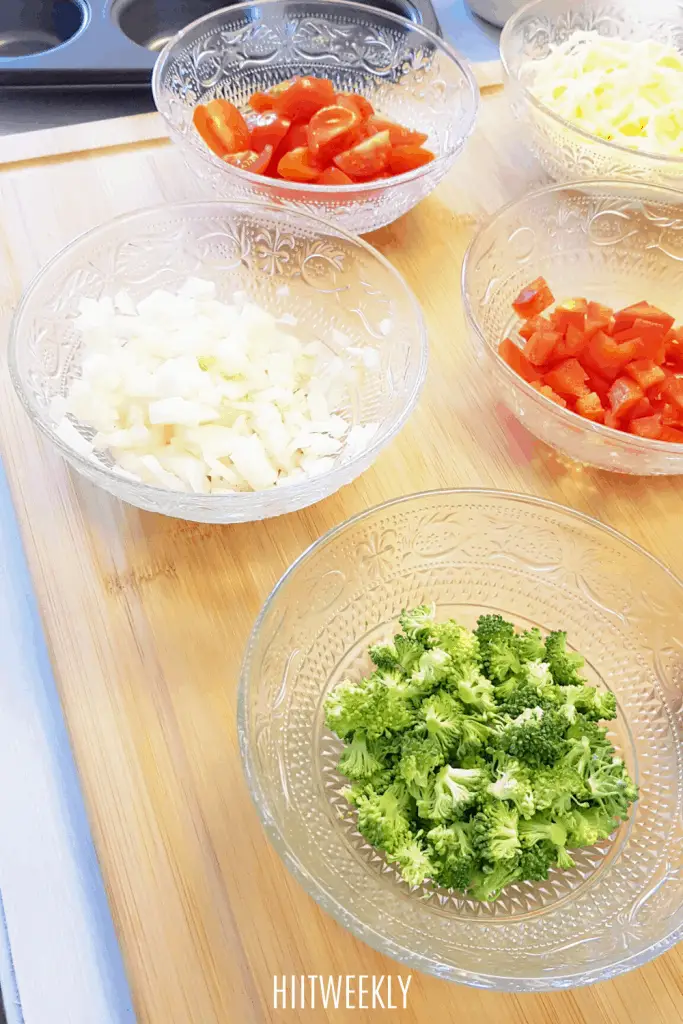 Preheat oven to 350F/180C
Coat your muffin tray with oil so reduce sticking.
Beat one whole egg per muffin case and set aside.
Fill your muffin cups 2/3 to 3/4 with your chosen fillings.
Cover/fill each muffin cup with the egg mixture until full.
Bake 15-20 minutes. Check with a sharp knife to see if they are cooked through.
Enjoy immediately out of the oven, oven-fresh, or let them cool and then store them for enjoyment later on.
Storing and reheating your egg muffins
For lasting freshness store your egg muffins in airtight containers, ziplock bags or cling film. Ensure they are cooled before storing.
Your tasty egg muffins will last a few days refrigerated. Personally I'd make them for a day or two in advanced and freeze the rest and reheat in the microwave for 1-2 minutes from frozen or 30 seconds if thawed. Make surethey are piping hot in the centre.
In the freezer your egg muffins will last for up to three months.
Get the recipe below. Please note, the ingredients are a rough guestimate and we made two of each for you to try. Once you find a recipe you like, go ahead and batch make it. any leftovers can be used to make a healthy omelet. Enjoy.
Healthy Egg Muffins
Yummy super healthy high protein breakfast or snack egg muffins that are naturally low in carbohydrates making them an ideal keto or low carb meal option.
Ingredients
6 Medium Free Range Eggs
1/2 cup Cherry Tomatos Quartered
1/2 cup Brown Onion, finely chopped
1/2 cup Red Bell Pepper, finely chopped
1/2 cup Broccoli, finfley chopped
1/2 cup Cheddar Cheese, grated
10g Chorizo, chopped
10g Ham, chopped
Salt and Pepper to taste
Instructions
Preheat the oven to 350F/ 180F.
Using a spray oil or paper towel, generously grease your muffin tray.
Beat your eggs and season with salt and pepper and set aside.
3/4 fill your muffin cups with your chosen fillings, see below for fillings.
Full cover/fill each muffin cup with the beaten eggs.
Place in the oven and bake for 15-20 minutes, If you overcook your eggs they will come out rubbery.

Ham, Cheese and Red Bell Pepper
3/4 fill 2 muffin cups with ham, cheddar cheese and red bell pepper
Broccoli, Cheddar, Onion and Tomato
3/4 fill 2 muffin cups with broccoli, grated cheddar cheese, onion, and cherry tomatos
Chorizo, Tomato and Onion
3/4 fill 2 muffin cups with Chorizo, cherry tomatoes and onion.
Notes
If you have a good nonstick tray you won't need much oil, alternatively, you can try lining your muffins with baking paper.
Store in sealed containers or ziplock bags to retain freshness and store in the fridge for up to three days or in the freezer for up to three months.
This recipe makes 2 of each flavor egg muffin.
Nutrition Information:
Yield:

6
Serving Size:

1
Amount Per Serving:
Calories:

130
Total Fat:

8g
Saturated Fat:

3g
Trans Fat:

0g
Unsaturated Fat:

4g
Cholesterol:

175mg
Sodium:

220mg
Carbohydrates:

5g
Fiber:

1g
Sugar:

2g
Protein:

9g
Nutrition isn't 100% accurate. Egg muffins without ham or chorizo yield about 8g protein.
Enjoy these healthy breakfast egg muffins as part of a healthy diet. We hope you have fun making them. Please leave a review if you enjoyed them.