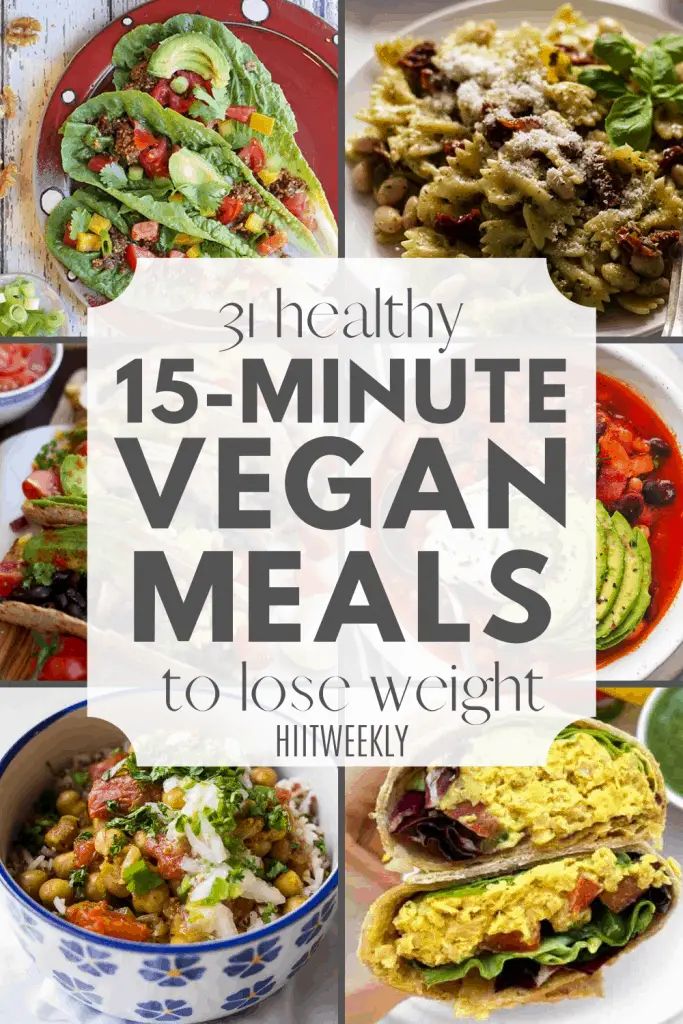 Looking for a super quick and easy vegan recipe that is not only healthy but will help you to lose weight? Then you've certainly got to try some of these healthy 15-minute vegan meals.
The great thing about begin vegan and eating a plant-based diet is that there is no meat, why is this good? Because you dont have to wait to make sure the meat is cooked, saving you a lot of time in the kitchen.
Thats why these quick and easy 15-minute meals are so great.
If you want some more vegan meals that will help you to lose weight then you will like our post of 70 healthy nutrient-dense vegan recipes, just remember that most are longer than 15-minutes to make.
These vegan meals are great for weight loss as they all contain natural wholesome ingredients.
Using fresh, healthy ingredients means you are getting the nutrients your body needs and nothing processed.
This is good for losing weight as your body is better able to digest it and being natural and whole means you will feel fuller for longer, a term often referred to as "satiety".
When you eat well-balanced meals you will find it difficult to overeat. Yes, some of these recipes are high in carbs but that doesn't instantly mean you will gain weight. Weight loss and weight gain are just a numbers game.
Over-eating is what really causes weight gain. So eating healthy, natural foods that will ultimately fill you up, with a low saturated fat content will make you feel fuller for longer and less hungry, reducing the chance of you eating snacks unhealthy between meals.
How easy is it to eat four donuts in a row, yet after a bowl of rice or oats you can't move? It's the same reason why you can eat a bowl of cereal (the bad type) in the morning to only be starving an hour later.
The more wholesome natural foods you can eat the better your chances of achieving satiety.
These quick and easy vegan meals will help you achieve just that, increasing your chances of weight loss.
31 Healthy 15-Minute Vegan Meals To Lose Weight
Here are 31 super yummy vegan recipes that you can make in 15-minutes or less that are ideal if you are trying to lose weight or are just in a rush and need to make a quick and easy plant-based meal.
We hope you find some that you like!
Healthy 15-Minute Vegan Recipes For Weight Loss
These healthy vegan recipes can be made in 15-minute or less are perfect for helping you to lose weight.
We hope you found a healthy recipe here in our 15-minute vegan meals round up.