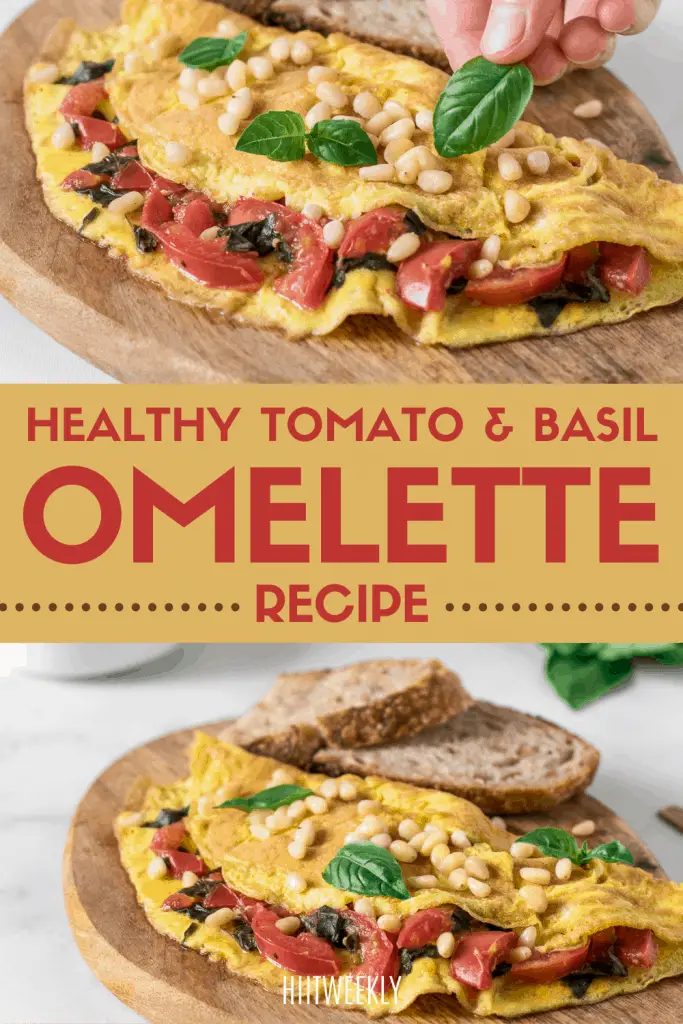 This super tasty, healthy omelette recipe for weight loss is perfect for either breakfast, lunch or dinner as a quick, low-calorie high protein meal.
Omelettes are great, they are cheap to make, super quick, you can add any sort of filling you desire like ham, cheese, crispy bacon, mushrooms, tomatoes you name it you can add it in to make your healthy omelette more exciting, and best of all they are so easy to make.
Literally, you can make a healthy omelette in a matter of minutes! All you need is a few everyday ingredients a hot pan and you are ready to go.
You can enjoy your health omelette as a healthy breakfast, a light lunch or even as your evening meal. Omelettes are a great light, low-calorie meal option if you like to watch what you eat for maintaining a trim figure. A basic 3 egg omelette with just fresh vegetables in comes in at around 200-300 calories. Not much, which makes them the ideal weight loss meal.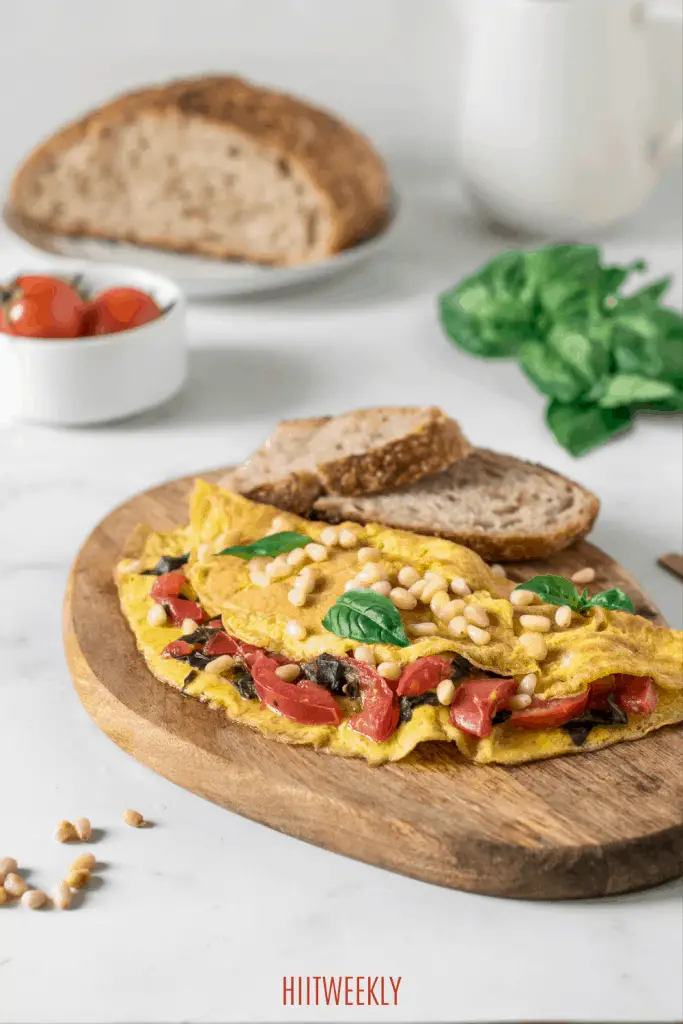 Are omelettes healthy?
Are omelettes healthy? Omelettes widely considered a very healthy meal. As with anything an omelette can be made to be healthy or unhealthy depending on the fillings you add.
Made with a few eggs and then cooked in a pan an omelette loaded with fresh ingredients will be super healthy and good for you.
Eggs are one of the best forms of good quality protein. Protein is a macronutrient that is essential for good health and the support of muscle and cell growth.
Adding more quality protein into your diet is also really helpful if you are trying to lose weight as it helps to keep you feeling nice and full.
How to make the perfect omelette
We all like our omelettes a little different, some like it a little undercooked and some prefer it a little overcooked. Yet the basics remain the same. Whisked eggs, a little seasoning. Some people add in milk but traditionally you don't need it.
To make an omelette quite simply follow the steps below.
Heat a pan on medium heat with some olive oil in and or a nob of butter and coat the bottom of the pan.
Crack 2-3 eggs into a bowl and whisk together with a pinch of salt and pepper.
Pour all of the eggs into the pan.
Slowly cook the eggs moving it around the pan with your fork or spatula and move the pan around to fill the gaps and then let it sit and cook.
Let it cook and watch to see when the egg on top is just about cooked.
Once you are happy, go around the edge of the egg to loosen up your omelette. Then give the pan a slight shake to see if it's free and loose.
If it isn't let it cook a little more or get your spatula under and around the sides again to try and loosen it. If it tears you've either not got enough oil or it's not cooked enough.
Once you are happy and your omelette is moving freely in the pan with a little shake, it's time to fold it in half. If you are adding a filling, you can add these now.
Take your spatula and get it under one side of your omelette and flip one side over onto itself.
It's done. Serve it up.
If you are adding fillings to your omelette it's best to fry up your fillings first, set them aside and then add them once the omelette is ready as you'll end up overcooking your omelette.
You can also mix in some ingredients to your egg mix before you add it to the pan where they don't require much cooking.
If at first, you don't quite get the consistency you like just try again and adjust the cooking time.
Watch this video to learn how to make a quick and easy healthy omelette. It's an oldish video but it's perfect.
how to make a healthy omelette
An omelette is pretty much healthy by default, it's fresh light and yummy. But you can definitely make it healthier.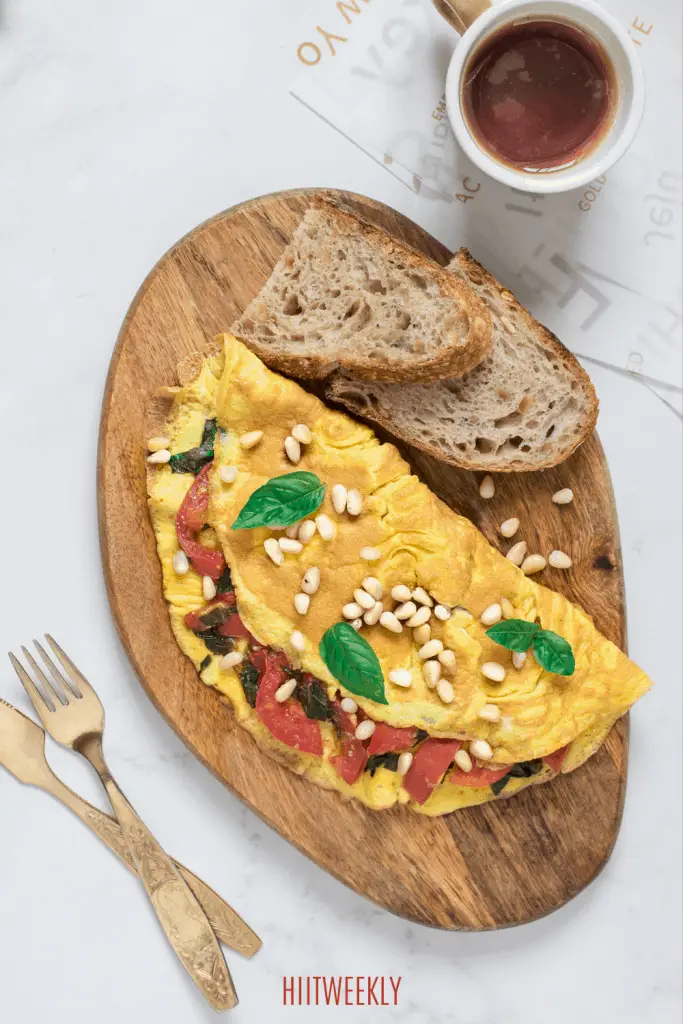 To make a healthy omelette recipe for weight loss, begin by adding some fresh veggies such as broccoli, mushrooms and baby spinach, maybe add in some lean protein from shredded chicken or ham and then give it some flavor, that could be from a little cheese or some herbs. After all, eating the same plain omelette day after day will get boring and tasteless.
To make a healthy omelette start with these winning combos to get you started and remember to try not to add too much of the foods that are high in saturated fat like processed meats and hard cheese.
Mushrooms, chive, tomatoes, and cheddar
Ricotta, tomatoes, baby spinach, onion
Tomatoes, basil, and garlic
Broccoli, ham, tomato, and bell pepper
Mushrooms and spinach
Get creative and see what you like. The simpler the better.
HEALTHY OMELETTE RECIPE FOR WEIGHT LOSS
As you now know an omelette is a brilliant meal for weight loss. Here is a quick and simple healthy omelette recipe for weight loss, it's our simple but tasty tomato and basil omelette.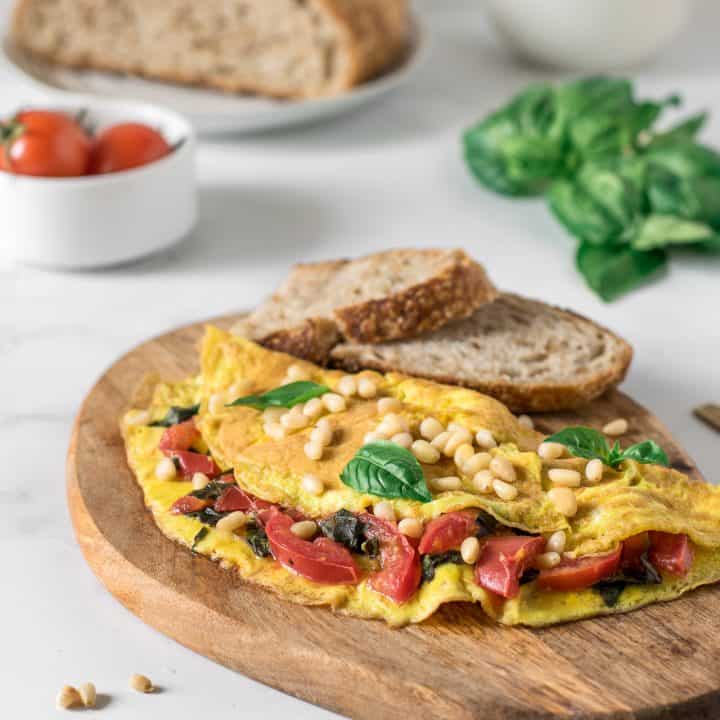 Tomato and Basil Omelette
A quick healthy breakfast that's high in protein and low in calories, this tomato and basil omelet is a classic healthy breakfast.
Ingredients
2 Medium Eggs
2 tbsp. Whole Milk
1 tsp. Olive Oil
Sea Salt and Ground Black Pepper (to Taste)
4 Big Basil Leaves + Extra for Serving
4 Cherry Tomatoes or 1 Medium Size Tomato
Some Pine Nuts for Serving (Optional)
Instructions
Cut cherry tomatoes in half. Roughly tear basil leaves (hold some for serving).
Crack the eggs into a mixing bowl, add water or milk, a pinch of sea salt and black pepper. Beat well with a fork.
Place a pan on medium heat, add 1 tsp. of olive oil.
Pour the egg mixture in the hot pan and move the pan around to spread the eggs out evenly.
Swirl the eggs around the pan a little using spatula.
Put tomatoes and basil on one half of the omelette, season the filling with salt and pepper.
When the omelette is almost ready, ease around the edges of the omelette using a spatula and fold it over in half. Cook for 30 seconds.
Remove the pan from the heat and slide the omelette on to a dish.
Serve the omelette with more fresh basil and pine nuts.
Nutrition Information:
Yield:

1
Serving Size:

1
Amount Per Serving:
Calories:

225
Total Fat:

14g
Saturated Fat:

4g
Trans Fat:

0g
Unsaturated Fat:

9g
Cholesterol:

330mg
Sodium:

729mg
Carbohydrates:

11g
Fiber:

3g
Sugar:

7g
Protein:

14g