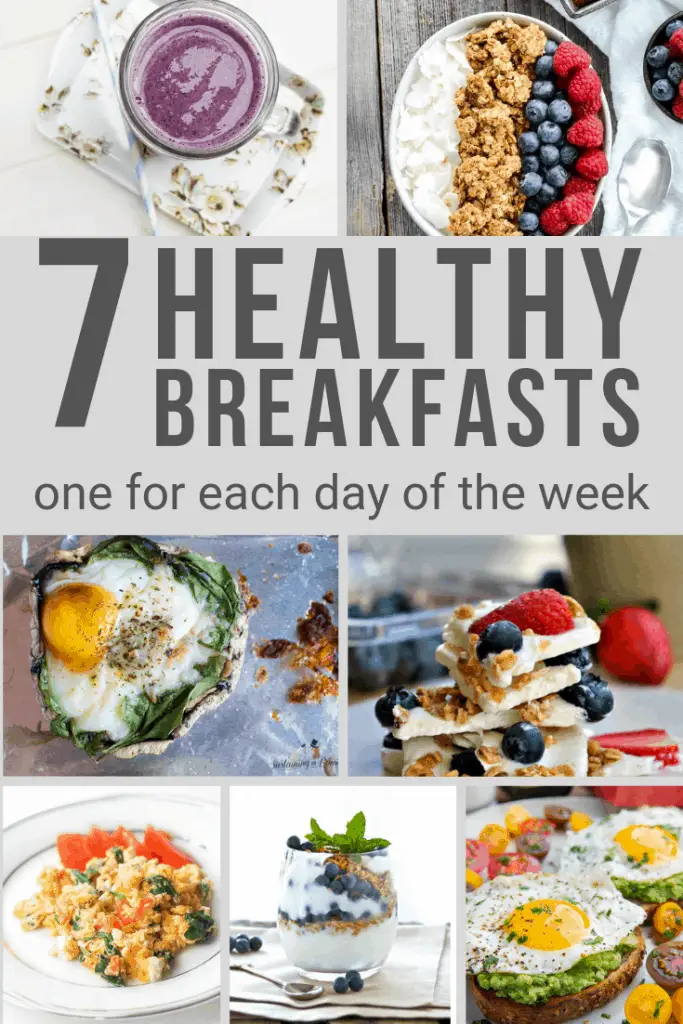 Unless you are intermittent fasting, breakfast is one of the most important meals of the day. Having a good healthy breakfast in the mornings will leave you energized for the day ahead and help you avoid making any unhealthily meal choices.
Start your day right with one of these clean eating healthy breakfast recipes to help you lose weight.
We have put together 7 healthy breakfast recipes to get you through your week. They start off easy and simple for those busy mornings and then there are two for the weekend that you can cook and enjoy when you have a bit more time on your hands.
We have tried to make them varied and all are clean eating approved with all natural ingredients. Most all of these breakfast recipes have a high amount of protein in to complement your training and weight loss goals.
As they are varied try them all and see what you enjoy. One of the best ways to stay on track on any diet is to find what you like and stick to it.
I don't know about you but I have the same breakfast most days when I'm in a rush. Breakfast seems to be one of those meals that repetition suits.
7 easy clean eating healthy breakfasts to get you through the week
Monday – peanut butter granola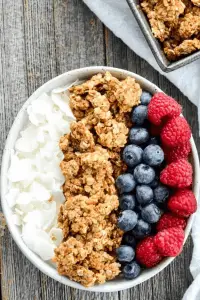 Start the week off right with this healthy granola breakfast recipe with protein packed Greek yoghurt and health fresh berries.
Get the recipe for the peanut butter granola here at Joy Food Shine
tuesday – protein berry smoothie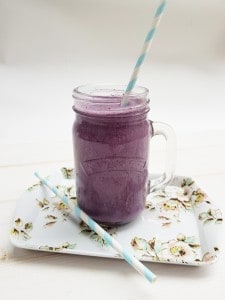 Demi loves her blueberry protein smoothie in the mornings. Especially when she doesn't have much time to sit around. With a smoothie you can quickly make it up and drink it as you get on with your daily tasks.
Wednesday – scrambled eggs med feta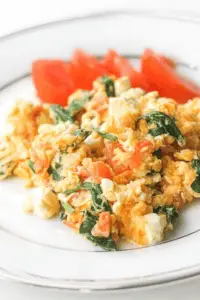 Of all the ways to make eggs, scrambled eggs is definitely one of the fastest and easiest to do. You can whip this tasty breakfast up in no time with some fresh spinach, tomatoes and feta for a protein packed keto friendly breakfast.
Get the recipe here at Ahead Of Thyme
thursday – berry granola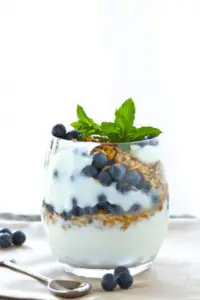 If you love something sweet in the mornings this healthy granola and yogurt recipe is delicious and you will love it. Feel free to swap the blueberries for raspberries or strawberries.
Get the recipe here at Shades Of Cinnamon
Friday – Breakfast bark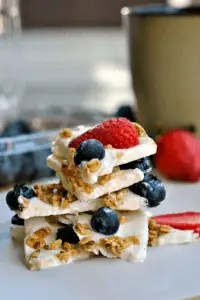 As you already have the supplies from the granola and yogurt you can premake this Greek yoghurt breakfast bark. It's a frozen yoghurt that you can grab and go with in the morning.
Get the recipe here at Go Eat and Repeat
Saturday – Portobello mushrooms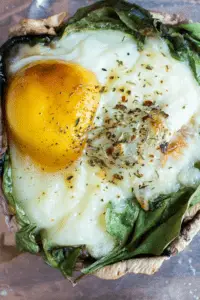 So it's saturday and you have a bit more time on your hands. It's time for a hot breakfast. If you don't like mushrooms try making this with a beef tomato or bell pepper. Its packed full of protein and is naturally low in carbs making this an ideal weight loss breakfast.
Get the recipe here at Sustaining The Powers
Sunday – Avocado and eggs on toast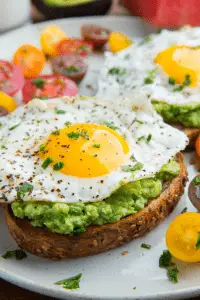 Its sunday, and in our books it's time for a little bit of a cheat meal, well kinda. Poached or fried egg on smashed avocado on toast with pan fried tomatoes is our idea of heaven in the mornings.
The only "bad" part of this breakfast is the bread but hey it's Sunday and you've been eating clean all week, Bread won't do you any harm once in awhile.
Get the recipe here at Closet Cooking
Follow the 7 day plan and find out which breakfasts you like the best or suit your current lifestyle. We have more recipes like these in our 7 Day Challenge. Get it below.