These sweet and crunchy honey roasted sunflower and pumpkin seeds are the ideal toppers for yogurt or a healthy high protein snack.
Packed full of protein, antioxidents, fibre, manganese, omega-3 oil, numerous vitamins and minerals, you can make up a batch of roatsed seeds to enjo through the week ahead. This will make your morning routine and snack time that much more efficient.
You can virtually add anything you like to add in even more nutrients and flavor like we did, by adding oats and desiccated coconut.
We love this recipe, the crunchy texture of the roasted seeds along with the sweetness of the honey feels like a cheat but actually it's healthy and nutritions.
So how can you use Honey roasted sunflower and pumpkin seeds?
When we get hungry we often pop to the jar and pour a handful out just to eat as a sweet snack. But mostly it tastes amazing over some natural greek yogurt and fruit in the morning, with maybe some nut butter or more honey. That natural greek yogurt can taste bitter!
You could even use them as a tastey topper on some overnight oats to give it some much needed texture and crunch!
Why not just buy it ready-made?
To buy a big bag of honey roasted seeds is expensive plus you don't exactly know what is in it. by making it yourself you know 100% what went into it and you can make it your way by adding in what you love. By making it yourself you are also able to watch the sugar content that you put in as a lot of store-bought products have extra hidden sugar to make them sweeter.
How to Make Honey-Roasted Sunflower and Pumpkin Seeds
1. combine
Making roasted seeds is actually relatively easy. Simply combine all of your ingredients together in a large bowl and then transfer onto a large tray lined with baking paper. We made sure that the baking paper was slightly too big for the tray so that we could easily pick up the paper to transfer the seeds once cooled into a jar without making too much mess.
2. bake
Once your honey-coated seeds, oats and coconut mix is on the tray, spread it out evenly and then pop into a preheated oven and bake at 350°F/180°C for 15-20 minutes.
Seeds and honey burn easily so you must mix the seeds every 4-5 minutes throughout and keep an eye on them so that they do not burn! Once you have achieved an even toast which should be after about 15-20 minutes you can remove the seeds from the oven.
2. cool
Once removed from the oven, let your seeds cool. Once cooled you will need to break up the mixture a little with a wooden spoon or your hands before transferring to your preferred airtight storage container.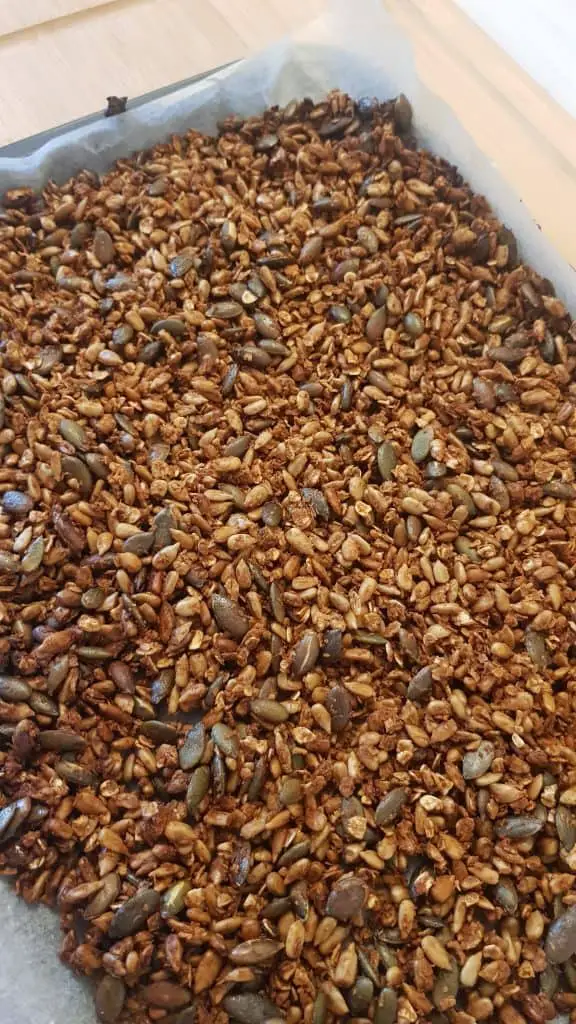 Watch the video below for a step by step guide to make this honey roasted seeds recipe.
How to Store Roasted Seeds
Once cooked, allow your seeds to completely cool. Once cooled place in an airtight jar, container, or bag. They should last about 1 month.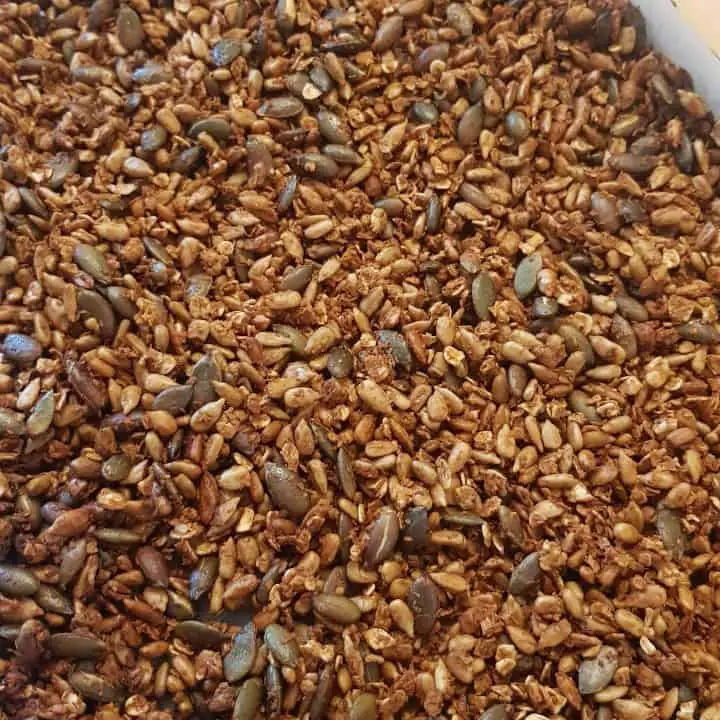 Honey Roasted Sunflower and Pumpkin Seeds with Coconut and Oats
Additional Time:
10 minutes
The perfect topper for yogurt, overnight oats or alone as a healthy high protein snack - Honey Roasted Sunflower and Pumpkin Seeds with Coconut and Oats
Ingredients
1 cup Rolled Oats
1 cup Sunflower Seeds
1/2 cup Pumpkin Seeds
1/3 cup Desiccated Coconut
1/4 cup Honey
Instructions
Preheat the oven to 350°F/ 180°C
Combine all of the dry ingredients in a large bowl.
Add in the honey and mix until the entire mixture is fully combined.
Transfer the mixture to a large tray lined with baking paper and spread evenly.
Place the baking tray into the oven.
Check and stir seeds every 4-5 minutes until the entire mixture is golden brown.
Remove from the oven and let cool completely.
Transfer into your airtight container of choice.
Notes
Honey and seeds burn easily, make sure you are checking and stirring the mixture every 4-5 minutes.
1 portion is about 2 heaped tablespoons as a breakfast topper.
Double the portion size to 4 tablespoons for a snack.
Nutrition Information:
Yield:

25
Serving Size:

1
Amount Per Serving:
Calories:

61
Total Fat:

3g
Saturated Fat:

1g
Trans Fat:

0g
Unsaturated Fat:

3g
Cholesterol:

0mg
Sodium:

311mg
Carbohydrates:

7g
Fiber:

1g
Sugar:

3g
Protein:

2g
We hope you enjoy this recipe if it's not sweet enough you could add a little more honey to the recipe or a sugar-free alternative. If you are wondering how to use them to create a healthy breakfast then check out our fruit and yogurt recipe.
Enjoy and have a great day!