Kettlebells are the ideal piece of equipment that you can start working out with right off the bat to achieve a mind-blowing workout. In today's workout, we are doing to focus on helping you develop a tighter more defined upper body with this 28-minute upper body Kettlebell workout for women.
There is no doubt that Kettlebells are the perfect home workout companion, being extremely versatile, you can perform many exercises with just one Kettlebell. From full-body moves to squats to challenging core exercises, all with one weight.
All of the exercises in today's upper body workout are compound exercises meaning that they will work multiple muscles across multiple joints so not only can you expect a great upper body workout but you can expect to work hard and get a little bit of a sweat on to help burn plenty of calories and of course FAT.
Choosing the right weight of Kettlebell
The Kettlebell you chose will greatly impact the quality and intensity of your workout. In my professional experience as a personal trainer if you are brand new to Kettlebells you should start off with a 6-8kg/13-18lb Kettlebell, if you are somewhat athletic you can go ahead with an 8-12kg/18-26lb Kettlebell. Of course there will be some exercises that you will be able to lift more weight than others but as a n all round weight that you can throw about without having to splash out too much cash and worry about storage at home, these weights should be ideal.
Beginners – 6-8kg/ 13-18lb
Intermediate to advanced 8-12kg/ 18-26lb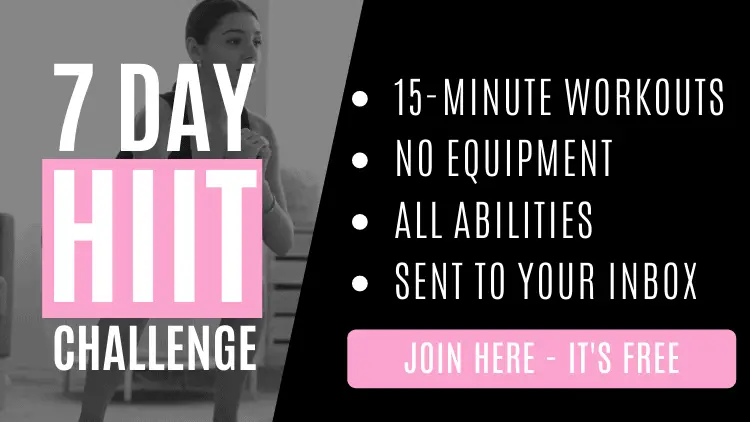 The exercises
First, we will go through each exercise in today's upper body Kettlebell workout one by one before getting to the workout. If you want to skip ahead to the workout click here.
1. KB Lunge to Overhead Press
The lunge to overhead press is a great all-round exercise, not only is it a great shoulder burner but being a unilateral movement you'll also be engaging and challenging your core muscles.
2. KB Bent Over Row
The bent-over row hones in on your biceps, (the muscles on the front of your upper arm) and your lats in your back. Here you are really focusing on a great upper body exercise that not only makes you look great but will help you stand taller with improved posture as it works the muscles that help with posture.
3. KB Clean and Press
Working your arms and shoulders the KB clean and press is also an important exercise for developing a strong core and upper back strength which are important for improving your posture. Once mastered the KB clean and press is a huge calorie burner as it uses most of the muscles in your body.
4. KB Upright Row
Working the muscles in your shoulders, upper back and arms the upright row can be one of the best all-round upper body exercises, however, it isn't for everyone. The upright row can internally rotate your shoulders which can cause problems in some people leading to shoulder impingement. When done properly you shouldn't have a problem. If you can't perform the upright row without internally retaining your shoulders then try the renegade row instead.
5. KB Renegade Row
You may not be a fan but we love them, they are such a simple yet challenging exercise. Granted, with a Kettlebell they can be a little bit awkward, they are much better with dumbbells but give it a try. They'll challenge your core whilst working your muscles of your biceps and lats.
6. KB Swings
You can't have Kettlebell workout without having the Kettlebell swing involved. Adding the swing at the end of this circuit will not only increase your heart rate and boost your calorie burn but, the swing works your upper chest, glutes, hamstrings, lower back, lats, abs and shoulder muscles, helping you to finish off your already tired arm muscles.
Warm-Up
Now you know how to complete all of the exercises it's time to warm up and get into today's kettlebell workout. Complete the workout below or do your own before moving on to the workout.
The workout – 28 Minute Upper Body Kettlebell Workout For Women
What you'll need: Kettlebell, Timer
Level 1: 30 seconds on, 30 seconds off
Level 2: 40 seconds on, 20 seconds off
Level 3: 50 seconds on, 10 seconds off
The Workout
KB Lunge to Overhead Press
KB Clean and Press
KB Bent Over Row
KB Upright Row
KB Renegade Row
KB Swings
Rest for 1 minute after each round. Complete 4 rounds.
For continued development and further results complete this 28 minute upper body circuit 2-3 days a week.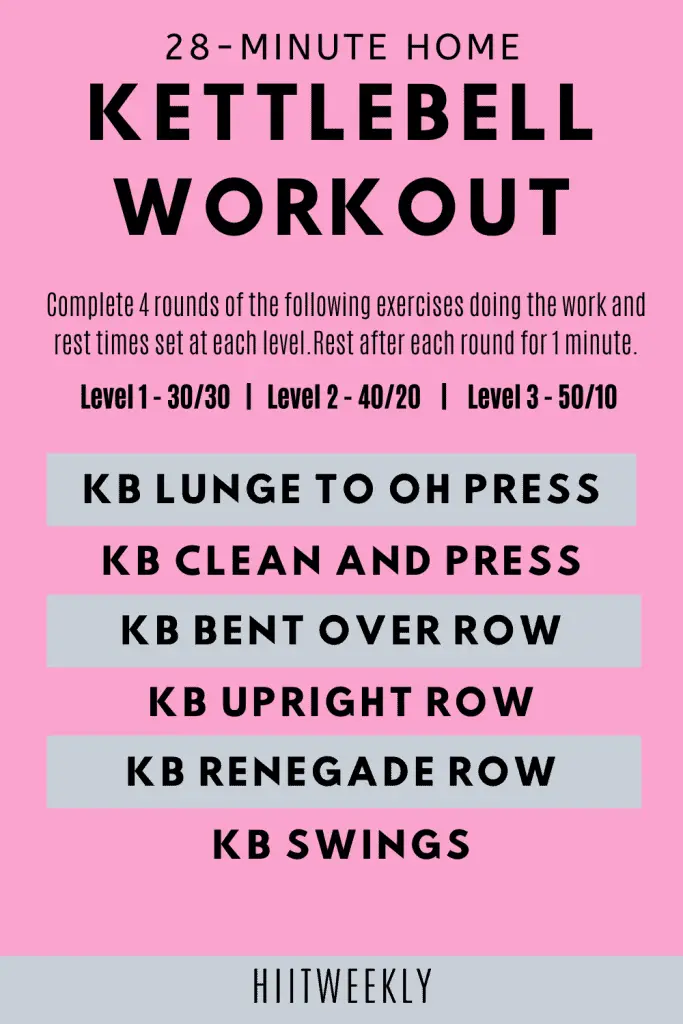 For more workouts like this one checkout Our 7 Day HIIT Challenge below!