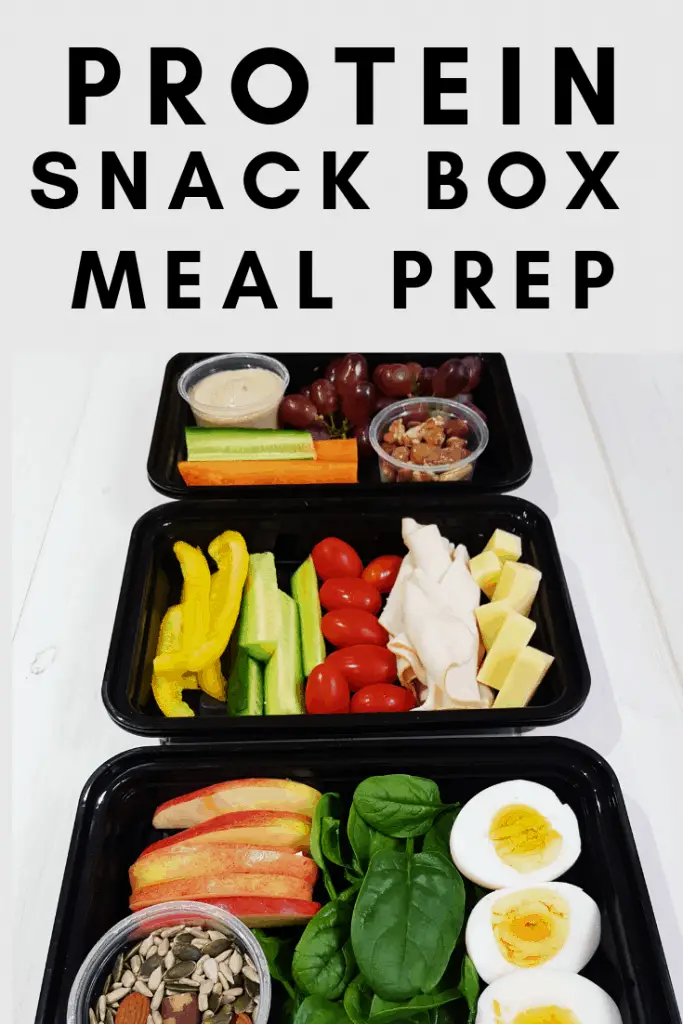 These healthy snack ideas are all packed full of protein and goodness to keep your going through your day whilst keeping you on track with your weight loss goals.
.
They would also double up as a packed lunch for work or college for the health conscious.
.
Quick and easy to make with practically no cooking required other then boiling an egg, these protein packed snacks are filled with eggs, nuts, seeds, cheese, chicken, hummus fruit and veggies!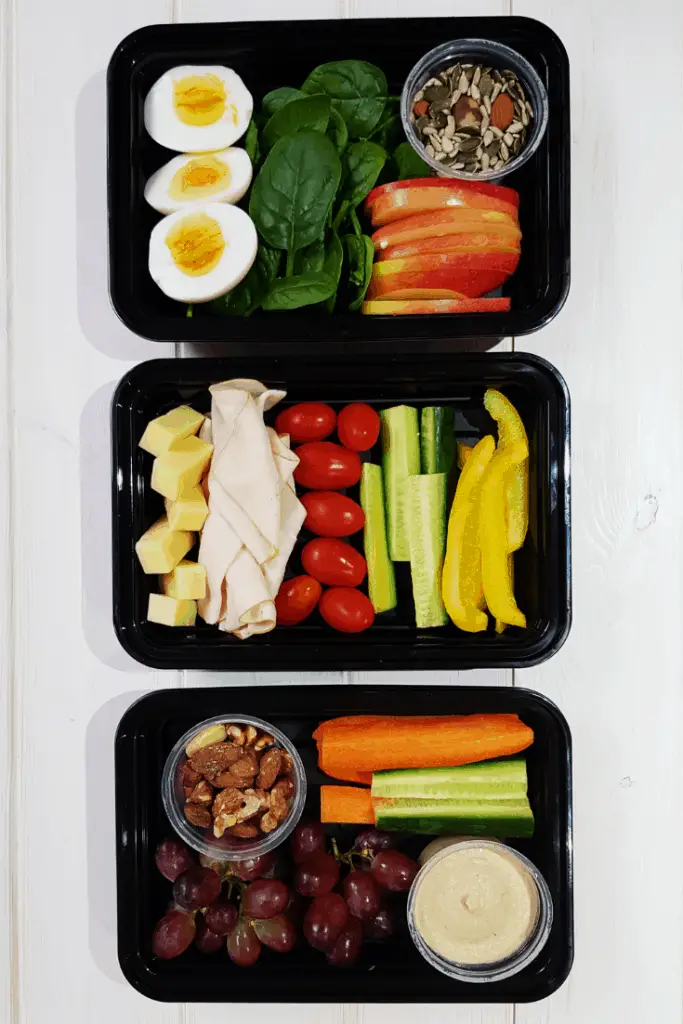 We know what it's like when you're between meals and the hunger sets in, when you're not prepared it's all so easy to find something unhealthy to eat.
.
Before you know it you've derailed from your diet and your beating yourself up for it.
.
You hit the kitchen cupboards to find nothing healthy, and then you go back to the same cupboard 5 minutes later to find there's still nothing healthy to eat.

.
As if something was going to magically appear that wasn't there 5 minutes ago. Why do we do that!

.
.
Preparing meals and snacks takes away a lot of stress of having to worry about what you're going to eat next. That's why meal prep is so important if you want to be successful on a new healthy eating quest.
.
That's why these little protein snack packs are so handy. They can be made 2 or 3 days ahead of time or even longer. You can keep them in the fridge and whenever you feel peckish between meals you know there's a healthy snack waiting for you in the fridge.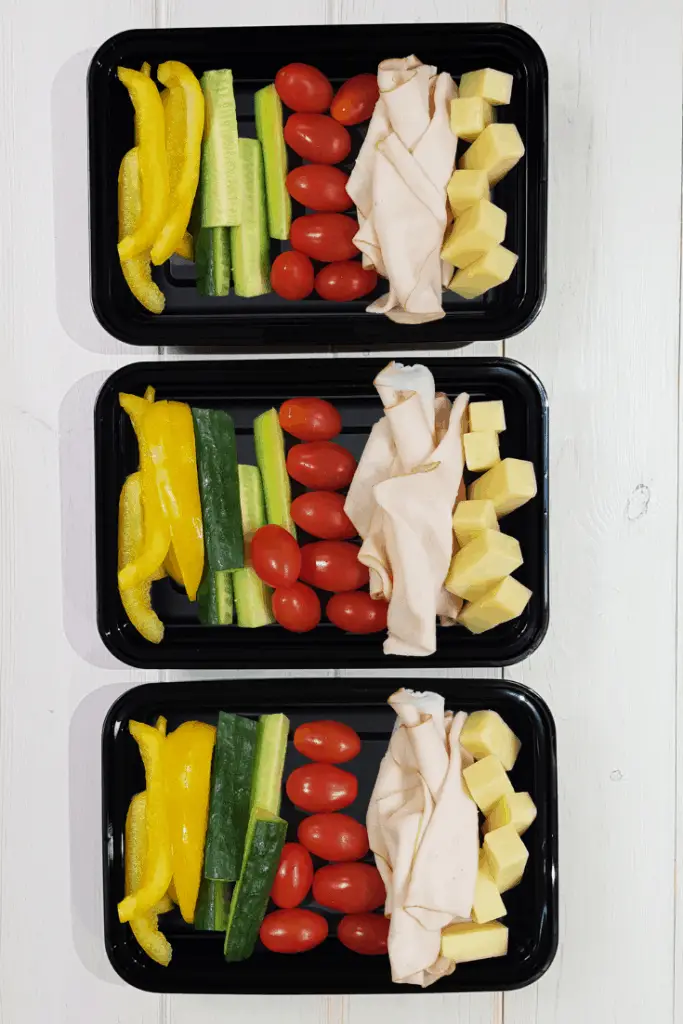 Why these protein snacks
1. We've purposely made these snack ideas low carb to keep within our guidelines in our 7 day challenge to help you lose fat faster.
2. They are also high in protein at between 7 and 10g of protein per serving. This is ideal for anyone who is training and needs a constant intake of protein throughout the day for muscle repair and recovery while the protein also helps to fill you up.
3. We wanted to make these as easy as possible to make with as little cooking as possible. The only ingredient that needed to be precooked was the boiled eggs. Everything else was added straight out of the packet or as we brought them.
4. They are kid friendly which is always a bonus when your children like to eat what you are. Making them an ideal snack or lunch idea for when you are out and about.
5. These healthy snack ideas can be changed and customized to suit your taste buds.
To make the perfect health snack you just need a quality protein like cut meats with what I call goodness/flavor. This would be something like raw veg or fruit.help you lose fat faster.
.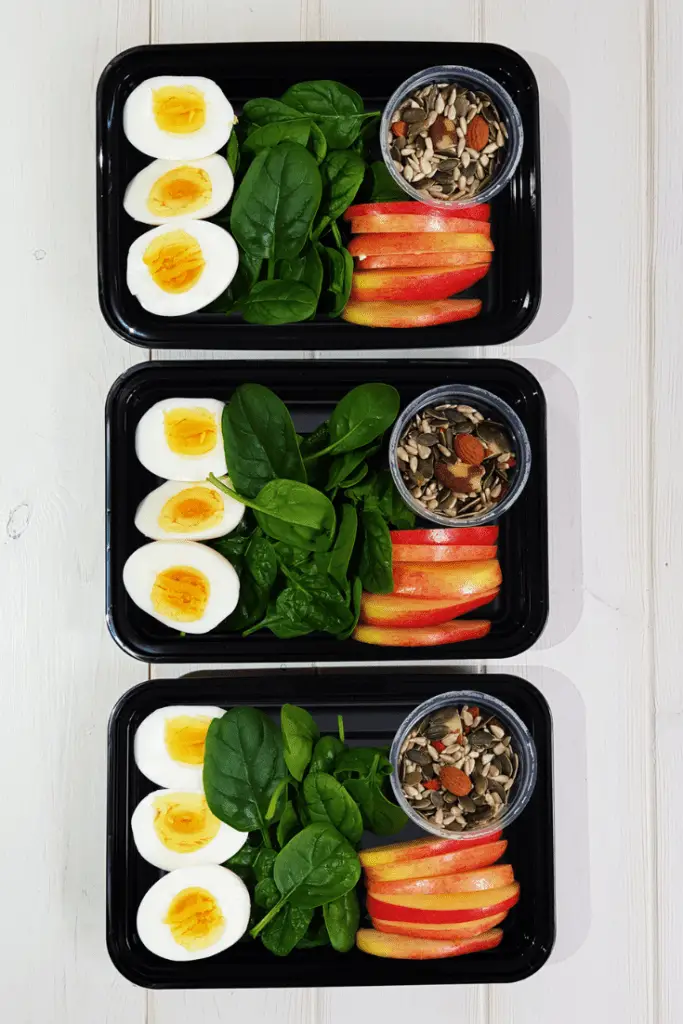 .
What you need to make these on the go protein snack pots
Of course these are best stored in Tupperware that you can make up, store in the fridge and then grab and take with you wherever you go. Tupperware is your ideal choice. If you are new to the whole meal prep thing then we suggest getting Tupperware that is stackable when stored! It can take up so much space in your cupboards when not in use to always try to get Tupperware that can be neatly and minimally stored like these we get from Amazon.
Ingredients needed
We made up 6 snacks into 3 tupperware tubs.
Protein
eggs
nuts of your choice
seed or trail mix
cooked chicken or deli meat
hummus
cheddar cheese
Fruit/ veggies
baby plum tomatoes
bell pepper
cucumber
carrots
grapes
apple
Feel free to change any of the above ingredients making sure you combine a lean protein with a fruit/ veggie to make your snack pack.
Put two proteins and 2 fruit/veggies in each of your tupperware tubs to make your ideal healthy snacks. Make up as much as you need for the week or coming days and store them in the fridge to keep them fresh.
There you have it, 6 more healthy snack ideas you can make in no time to take away any worry of junk snacking to keep you on your weight loss journey.
Snap to it! Make up those snack packs today.