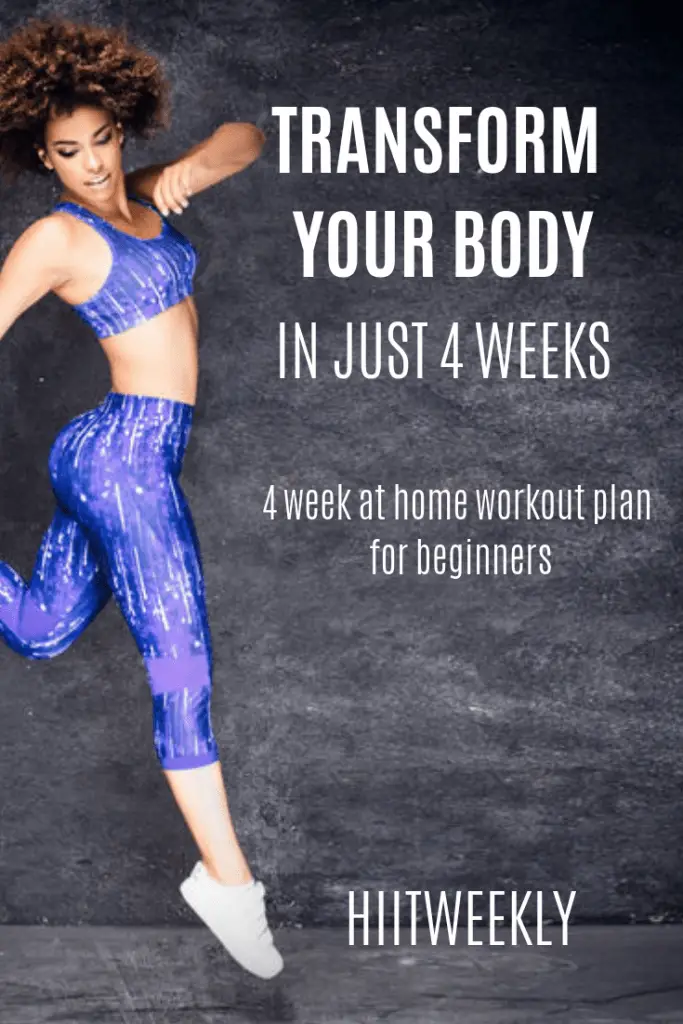 If you haven't got access to a gym and no equipment at home there is still hope! There are plenty of exercises you can do to transform your body in a short space of time with this beginner 4 week workout plan for weight loss that uses no equipment at all.
Welcome to HIIT WEEKLY, I'm Luke, a certified Personal Trainer, and along with my wife Demi we help women get back into shape and feel amazing.
While we love weights for sculpting and toning you can still get amazing results at home with no equipment.
The plan we have for you today will help guide you through 4 weeks of bodyweight high-intensity interval training (HIIT) and low-intensity cardio designed to transform your body.
What's great is that you can do it absolutely anywhere as you will not need and equipment, so no excuses not to train.
This 4-week workout plan for weight loss is perfect for beginners who just want to follow a simple plan to get fit.
About the 4-week workout plan
This 4-week home workout plan consists of just 12 bodyweight exercises split up into 4 workouts so you do just 3 per day.
Over each week you will hit all the muscles in your body for a great all-round workout. There are specific exercises for your abs, arms, and legs in each workout so nothing gets left out.
Follow the 4-week plan as outlined below and supplement your training with daily steady-state cardio such as walking to burn up extra calories and fat. Aim for 45 minutes a day as a minimum, every day of the week.
You can also combine this with our 7 day clean eating diet plan which you can get here for free.
To the workout.
How to follow the plan
Fit the 4 workouts in around your lifestyle, making sure you do each of the 4 workouts each week. It might look something like this;
Monday – workout 1
Tuesday – rest
Wednesday – workout 2
Thursday – workout 3
Friday – rest
Saturday – workout 4
Sunday – rest
Walk for 45 minutes every day
The plan is very easy to follow and each workout lasts less than 20 minutes.
Aim to do each exercise for 1 minute, you should be able to move from one exercise to the next without resting. If you need to rest that's fine take as long as you need but make sure you try to beat your overall workout time on the next day.
Once you have completed each of the 3 exercises in the workout rest for 30-60 seconds and then repeat for 5 rounds. If 5 rounds are too much to begin with, reduce the number of rounds you do, maybe start with three and then increase to 4 the following week and 5 rounds the next.
As you get fitter through the 4 weeks try to reduce all rest times and increase how hard you work during each exercise.
It's fun to challenge yourself and count how many repetitions of each exercise you can do and try to beat it on the next round or following week., Just remember to take a little note.
Before each workout try the warm-up routine that we use before most workouts. If it's too difficult, feel free to modify it. The main aim is to get your joints and muscles warm and ready for the workout ahead.
The 4-Week No Equipment Workout Plan For Beginners To Lose Weight
Here is your beginners 4-week workout plan to lose weight that uses absolutely no equipment at all. Follow the plan below for amazing results.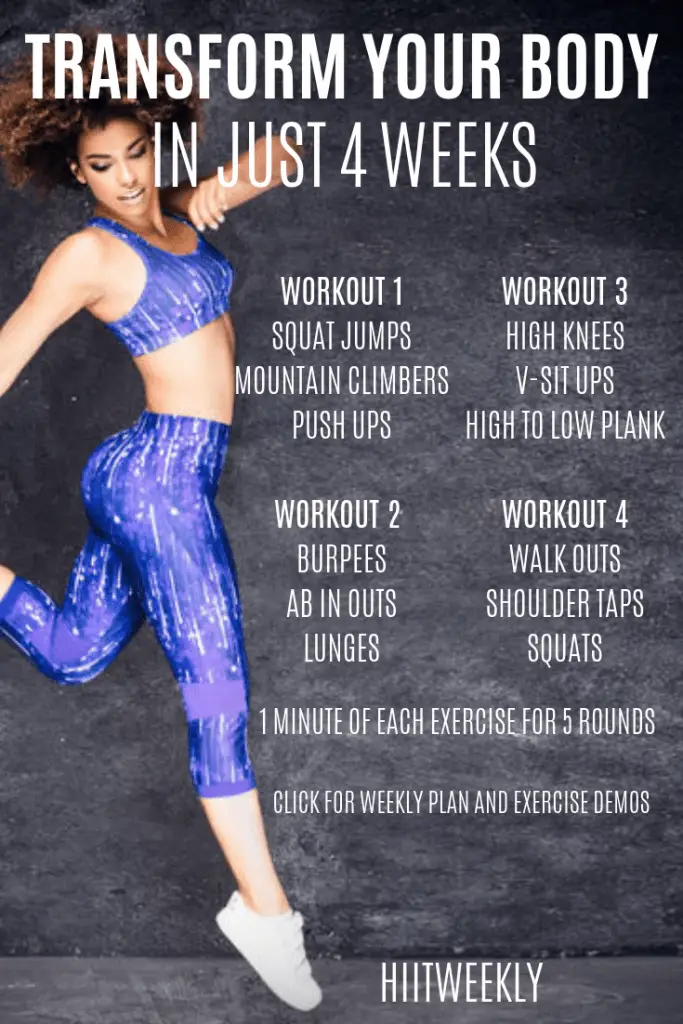 Format – 3 station circuit for 5 rounds
Time – 1 minute on, no rest
Rest – 30-60 seconds between circuits
Workout 1
Squat Jumps
Mountain Climbers
Push Ups
Workout 2
Workout 3
High Knees
V-sits
High To Low Plank
Workout 4
Walk Outs
Shoulder Taps
Squats
The exercises
Below are all of the exercise demos to make completing your 4 week transformation easier.
1. Squat Jumps
2. Mountain Climbers
3. Push Ups
4. Burpees
5. Ab In Outs
6. Lunges
7. High Knees
8. V-sits
9. High To Low Plank
10. Walk Outs with jump
11. Shoulder Taps
12. Squats
Get started asap so you can start reaping the rewards. Make sure you do all of the workouts each week while following the 7 day diet plan for faster results.

Want to really accelerate your fat loss while getting into great shape?
Lose weight and get in great shape with our 6 Week Flat Belly Challenge. Where we guide you through our diet and exercise plan designed to help you drop the pounds fast while transforming your body shape.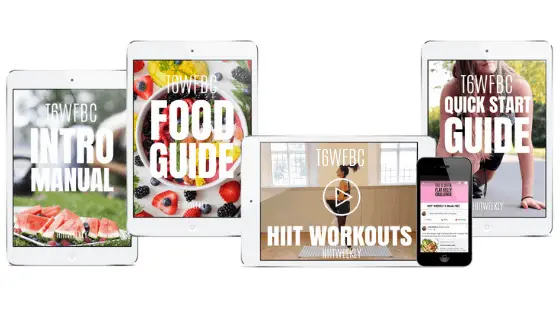 The plan will help you learn new healthy habits, helping you to lose weight long into the future.
The program comes complete with a food guide, our HIIT workouts with videos and more that can all be done at home or at the gym.
Click Here To Learn More About The 6 Week Flat Belly Challenge