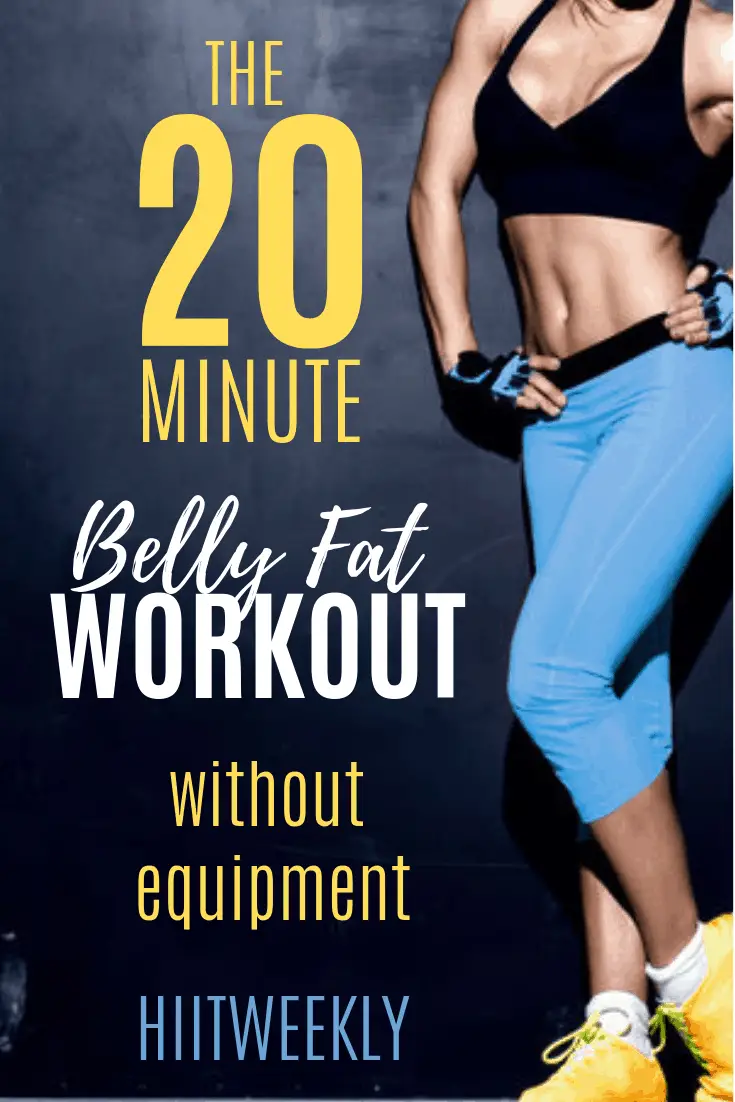 If you want to lose belly fat fast then you need to grab a workout that's not only designed to target belly fat but burn a lot of calories over the coming days. This belly fat workout that you can do at home with no equipment is on fire!
High-Intensity Interval Training or HIIT is one of the best workouts that will do this.
Couple that with healthy diet and a few great weight loss tips, you'll soon start melting away that unwanted belly fat.
The main reason why HIIT workouts are so good for helping you lose weight is down to the intensity of the workout.
They help you to burn heaps of calories in while you are physically working out and then you'll send your metabolism into overdrive as your body recovers and adapts. Depending on how hard you push during your workouts will determine how long your metabolism is raised.
A raised metabolism can last up to 72 hours after the initial workout. That doesn't mean you can eat what you like in the following days as that will be counterproductive to your belly fat goals.
The workout – At home no equipment workout to lose belly fat
Do this workout 3 days a week for fast results or try some of our other bodyweight HIIT workouts. Be sure to warm up before you start this workout. Here's one we do often.
Intensity Level
Level 1– 30 on 30 off
Level 2– 45 on 15 off
Level 3– 60 seconds on a rolling clock with no rest
Format – 6 Station Circuit
Burpees
High Knees
In Out Squats
Plank Jacks
Spiderman Push Ups
Squat Thrusts
Rest – 1-2 minutes after each circuit as needed
Rounds – Perform 3-4 rounds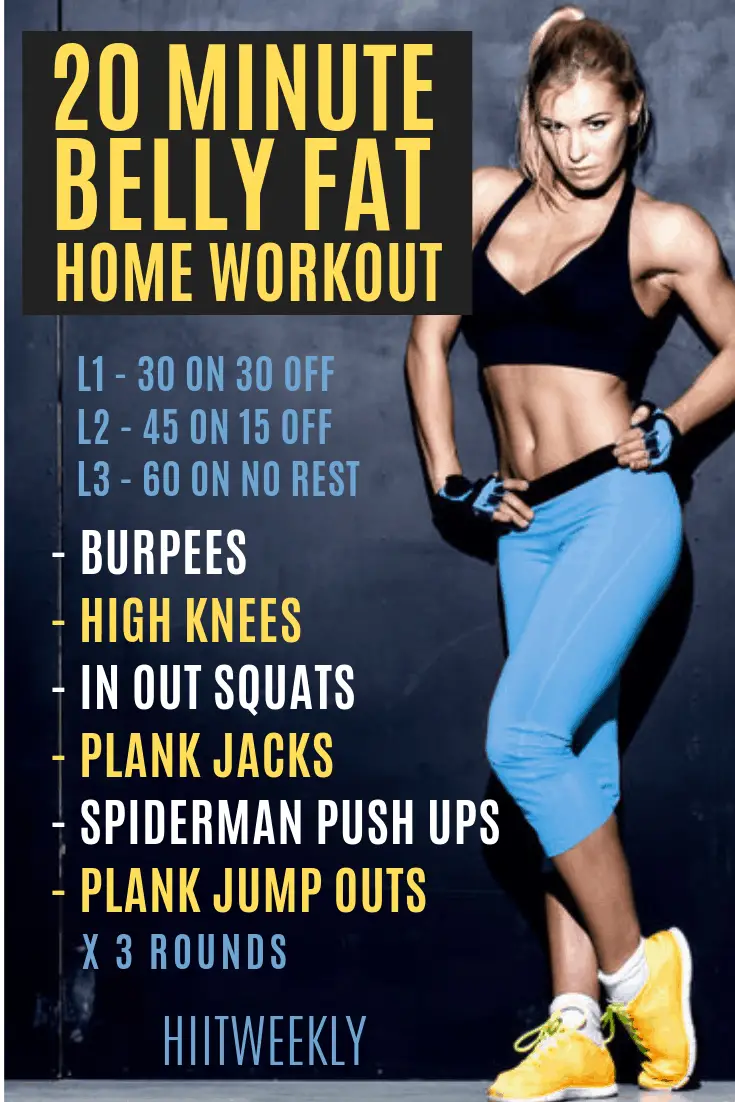 The Exercises
Here are the exercises you will perform in this quick HIIT workout.
1. burpees
Let's start off this bodyweight HIIT right with the mother of all bodyweight exercises, the Burpee. Get down and see how many you can do in the set time.
2. High Knees
Keep your heart rate up after those burpees with some high knees to target your lower ab muscles and get your sweat on.
3. In Out Squat Jumps
These are a gentler version of the traditional squat jump exercise which makes them better on your joints whilst still burning lots of calories in the process. Stay light on your toes.
WANT GREAT LOOKING ABS AND A FLATTER STOMACH?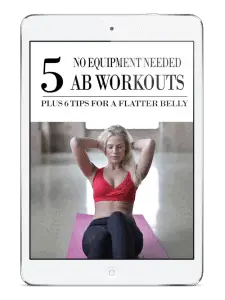 Enter your NAME & EMAIL and I'll send you 5 awesome AB WORKOUTS. PLUS 6 tips to lose belly fat fast!
4. Plank jacks
Combining core exercises with HIIT is a great way to burn belly fat fast. Try to keep your hips down as shown in the video.
5. Spider-Man Push Up
Spiderman push ups are tough! Not only will you be working your chest and arm muscles but by lifting your knee and crunching to the side you'll hit your oblique muscles working your waistline.
6. Plank Jumps/ Squat Thrusts
This a great core exercise when done properly. Keep your abs engaged throughout and let your upper body take most of your weight as you jump in and out.
To make it easier you can place your hands on a raised step of some sort.
Work hard and smash the workout. Remeber you need to be working out at least 3 days a week to see results.
Need more help reducing that belly fat?
Workouts like this are a great way to start when trying to lose belly fat but that age old saying that abs are made in the kitchen is 100% true.
If you want a flat stomach and you need to lose a few extra pounds then you need to try tor FREE 7 Day Challenge.
The challenge is a 7-day diet and exercise plan that's designed especially for women. It even has an optional workout program to complement the diet plan. If you're serious about losing weight then it's worth a look to see if it's something you might be interested in.
Otherwise check out our posts about weight loss and workouts to help get that body you've always wanted.