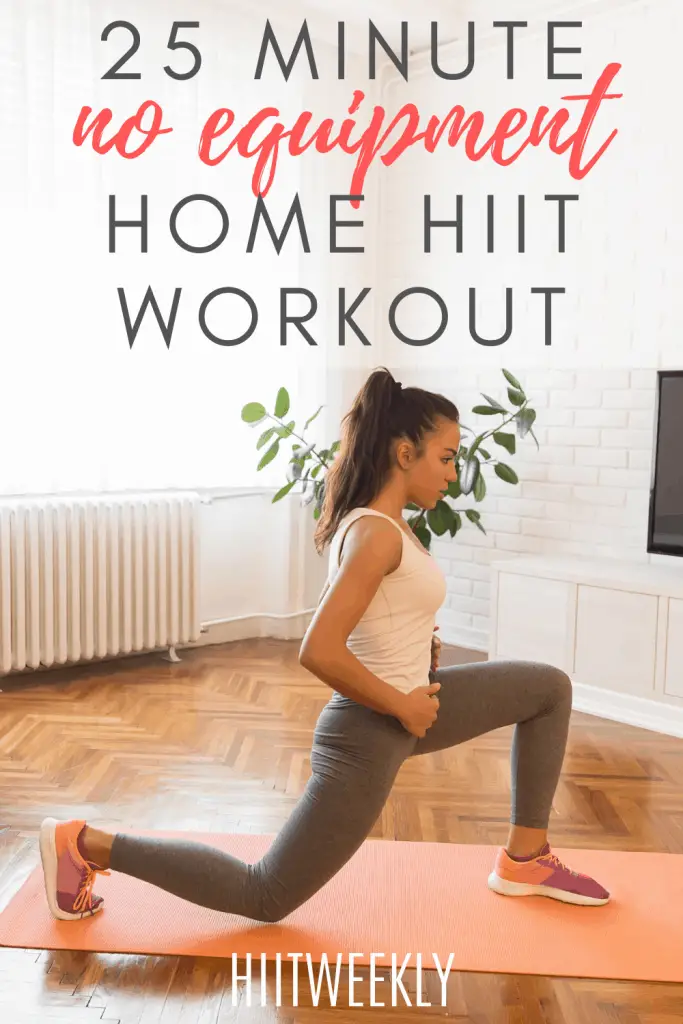 This 25-minute no equipment HIIT workout for fat loss is going to get you hot, sweaty and out of breath while prepping you for the day ahead.
If you are new to HIIT weekly, welcome, I am Luke a personal trainer and along with my wife Demi, we create fat burning workouts to help you achieve your weight loss and fitness goals faster and effectively.
HIIT (High-intensity interval training), is one of the best forms of training you can do to lose weight and get fit quickly. We love HIIT, that's because nothing gets you going more than a bodyweight workout!
HIIT is a workout format with emphasis on short periods of high-intensity work followed by small brief rest intervals. Don't be afraid of the name because it simply means you will be working hard but the actual workout will be of a very short duration. Most HIIT workouts are in fact very short and can range from just 4 minutes up to 30 minutes in total.
So it doesn't matter how little time you think you have, you can always squeeze in a quick HIIT!
Even if you don't have access to a gym or any equipment at home, it doesn't mean you can't do a highly effective workout that will get your heart pounding, sweat dripping and metabolism firing high for extra calorie burning.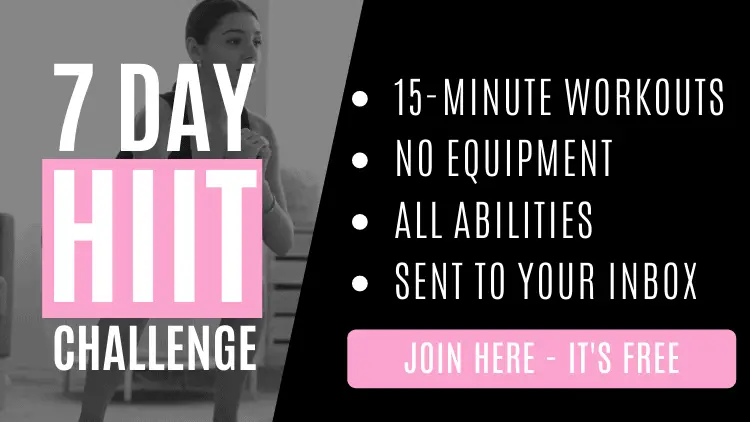 The Workout – Sweaty No Equipment HIIT Workout
Today's no equipment HIIT workout comprises of 8 exercises in a circuit format with 3 different varying intensity levels, so you can do it regardless of your fitness level. You will do 30 seconds of each exercise with little to no rest between each exercise. See the intensity levels below.
Warm Up
Main workout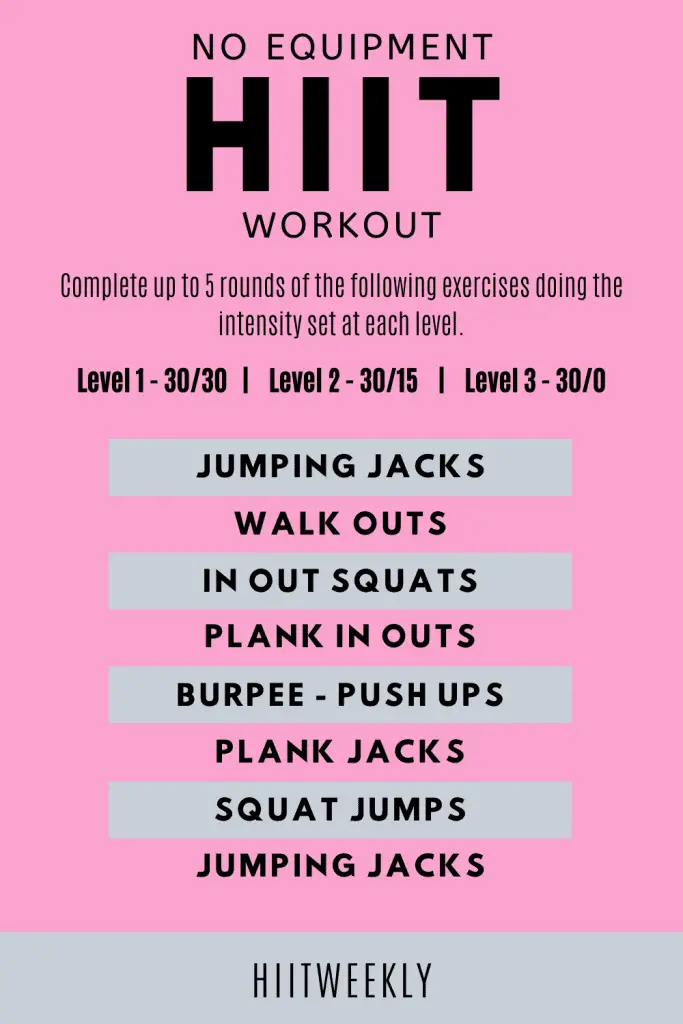 Complete the set amount of rounds as instructed per intensity level below. Each workout is roughly 25 minutes. At the end of each round of 8 exercises rest for 1 minute.
Level 1 – 30 seconds on 30 seconds off x 3 rounds
Level 2 – 30 seconds on 15 seconds off – x 4 rounds
Level 3 – 30 seconds on, no rest x 5 rounds
The exercises
Jumping Jacks
Walkout Jumps
In Outs Squats
Squat Thrusts
Burpee Push Up
Plank jacks
Squat Jumps
Jumping Jacks
the exercises demo Videos
If you do not know any of the exercises above, please use these videos as a refresher before you start.
Jumping Jacks
Walkout with Jump
In outs squats
Plank in outs
Burpee push up
Plank jacks
Squat jumps
Thanks for completing one of our challenging HIIT workouts, Remember to always work as hard as you can.
finish off your workouts with our abs workout plan
Compliment your fat-burning HIIT workouts with our challenging ab and core workouts that Demi did and still does to maintain her tight, toned flat belly.
Our plan promises that in 21 days you'll have noticeably flatter abs after following the workout plan and accompanying food guide. Learn more by clicking the image below or heading to —> 21 Day Flat Belly Abs & Core Plan.