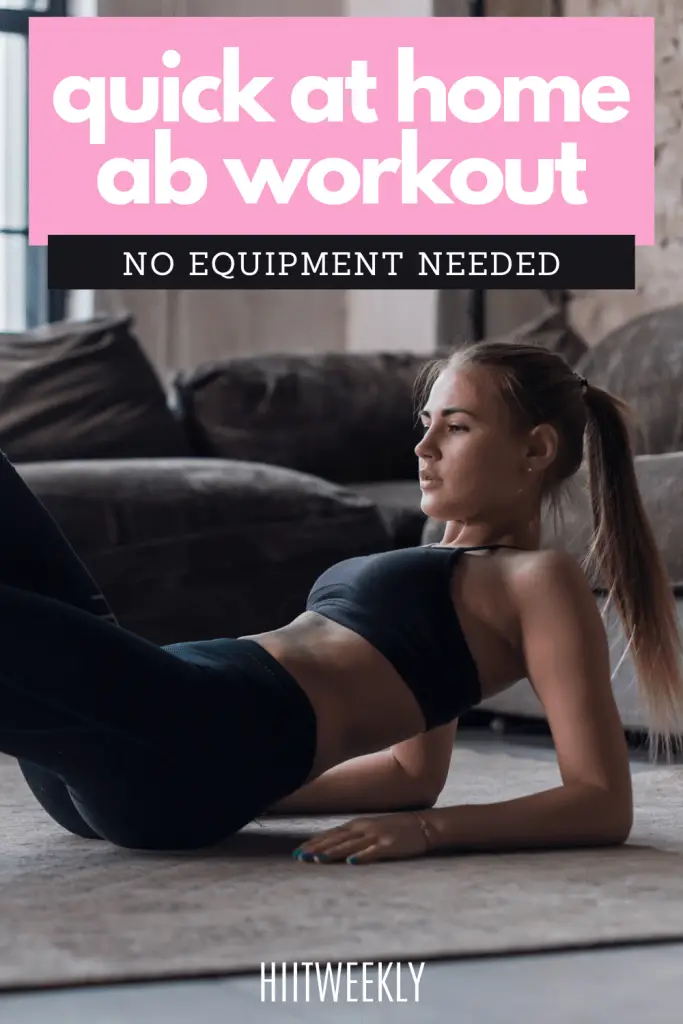 You are going to love this full-on ab workout that can be done at home with absolutely no equipment needed. It's tough but not so tough that you can't get through it, and you will feel and love the results!
Demi is all about toning her abs and bum, and I think that most of my clients, if they were honest, would agree.
Most nights Demi gets her headphones out, puts her music on and does her ab routine. She doesn't like planks very much and asks me what else she can do to feel the burn? So I try to create ab routines with minimal planks involved.
Being able to workout at home is great. You can spend your time doing all that you need to do, day to day, and still fit a workout in.
But what is the best ab workout without equipment? That's a hard one to answer as what works for you might not work for me and vice versa. I love reverse crunches and leg lifts for your lower abs but you might struggle to do them. Planks again are great for developing a strong core but you might hate them, I know Demi does. For the most effective ab workout, you need to be hitting most if not all of your core muscles that make up your mid-section.
If you can't tackle your entire mid-section in one workout then maybe you can do it over two or three throughout the week.
Our ab workout will work all of your muscles in your mid-section, from your abdominals, obliques and transverse abdominals deep within your core. You'll also be working other core muscles and even the muscles in your legs.
Not only does a flat belly look great but doing our ab workouts will help improve your core strength thus helping to strengthen your posture which, in turn, will help you stay injury free and build your strength for when you do our home High Intensity Interval Training (HIIT) workouts.
Having a strong core really does help when trying to do exercises such as squats, jumps, lunges and push ups, to name but a few of the exercises we recommend. The stronger your core is, the better you can execute these exercises that we use in our HIIT workouts.
Like we said, the best part of this workout is that you do not need any equipment as it relies on just using your own bodyweight.
So, if you want a flatter, more defined mid-section, let's get to the workout!
The workout – quick at home abs workout without equipment
What you'll need: Optional exercise mat
Complete 4 rounds of the following 4 exercises one after the other in order. Resting for no longer than 30 seconds after each round.
Level 1 – 30 seconds on 20 seconds off
Level 2 – 30 seconds on 10 seconds off
Level 3 – 30 seconds on, no rest
The exercises
Large Flutter Kicks
Crunches
Russian Twists
Low Mountain Climbers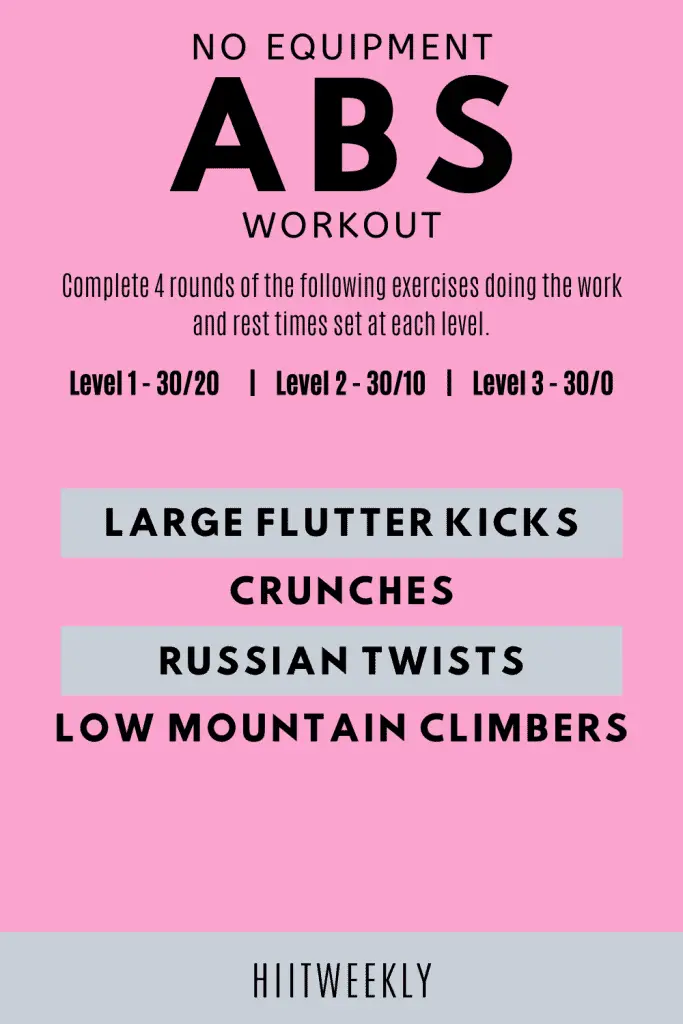 The exercises
If you are unsure of any of the exercises listed, here are some demo videos.
Large Flutter Kicks
Crunches
Russian Twists
Low Mountain Climbers
Keep at it until you can manage 4 rounds at level 3. combine this with some of our other no equipment ab workouts such as 5 minute abs and 15 minute Tabata abs.
Do you want a 21 day plan to get flatter abs?
Our ab plan promises that in 21 days you'll have noticeably flatter abs after following the workout plan and accompanying food guide. What's even better is that the plan has three levels of intensity so if you are just starting out with your ab workouts not only will you get super-fast results but you'll be able to repeat the plan at level 2 and 3, giving you a 63 day or 9-week ab plan to keep you busy.
Learn more by clicking the image below or heading to —> 21 Day Flat Belly Abs & Core Plan.