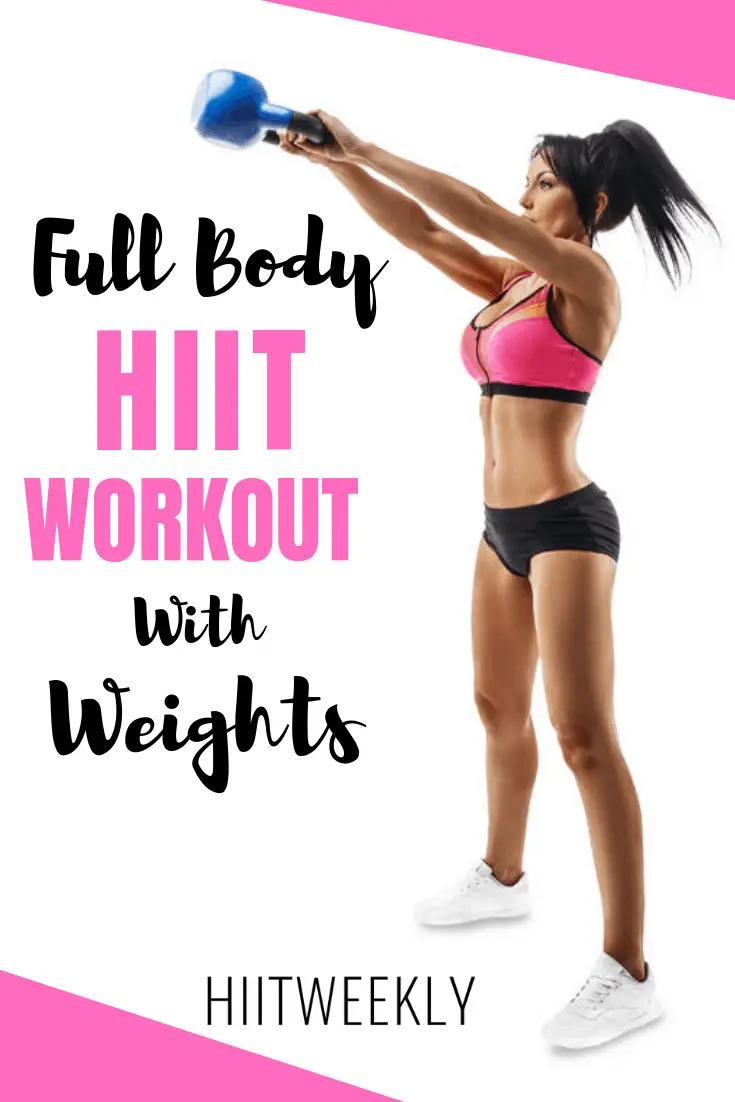 Looking to get your sweat on with a full body HIIT workout with weights? As always we've got your back!
HIIT is great, but it's even better with weights. If you want to change your body shape weights are 100% the best way to go about it.
Yes, traditional bodyweight HIIT is great for toning and burning calories but when you lift weights you instantly burn more calories.
Think of it as a supercharged high intensity interval training session. Which is perfect if you want to burn that unwanted belly fat.
I've been using this exact technique with my client for years and it's been super successful.
With the addition of weights to your training arsenal, you can expect your overall body shape to improve compared to bodyweight only HIIT.
Why? You'll be able to do new exercises that target specific muscles that previously wouldn't have been activated as much. There are a whole bunch of exercises that target your hips, waist and butt that need weights to make them intense.
That's the reason my clients love the way we train. And that's the reason you should get on board and start adding weights into your HIIT workouts.
This workout is supercharged with compound exercises that use weights to burn extra calories. You can expect to burn up to 1000 calories during this full body HIIT workout.
The Workout – Full Body HIIT Workout with Weights
Do the warm up below before you dive into the main workout.
What you need – Kettlebell, Dumbbells and Yoga/ Exercise Mat.
Intermediate – 35 on 15 off.
Advanced – 40 on 10 off.
Kettlebell Swings
Thrusters
Renegade Row
Burpee to Deadlift
Squat Jumps
Mountain Climbers
Rest 1 minute after each round. Repeat for four rounds.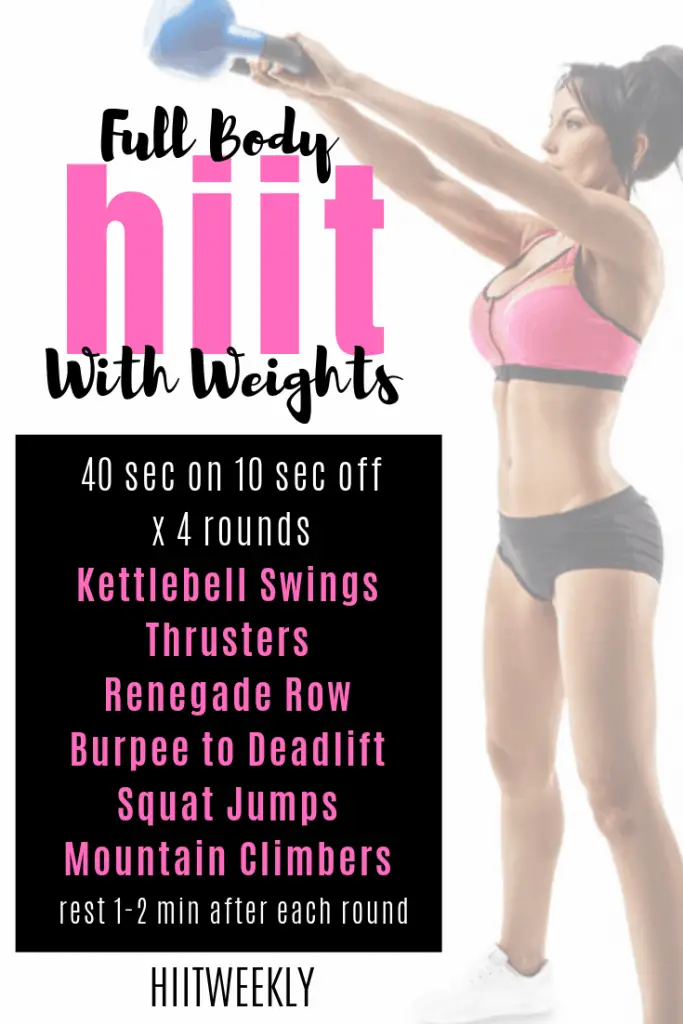 The Exercises
1. Kettlebell Swings
Kettlebell swings are a great exercise to elevate your heart rate whilst working under used muscles of the posterior chain. Aim to use an 15-25lb kettlebell.
2. Dumbbell Thrusters
An all time favorite and must have exercise in any HIIT workout with weights. I like to think of it as the burpee of weights.
3. Renegade Row
This is a great exercise to tone your core and back muscles. It's harder than it looks. If it hurts your hands simply place one hand on the floor while the other lifts and swap after each rep.
4. Burpee to Deadlift
It's always fun to spice up old exercises. Best done with heavy weights if you have them. If not just go faster!
5. Squat Jumps
Enough said. Put everything you have into these. Watch out for a forward lean. try to use your legs and not your back to push up on the jump.
6. Mountain Climbers
Climb that mountain! After you've burnt your legs out these will be interesting. Go fast for a cardio HIIT effect.
If you enjoyed this full body HIIT workout with weights please let us know what you thought in the comments below so we can keep making more like it! Quickly before the DOMS to set in.
Need more fat burning home workouts like this?
If you enjoyed this workout then come back and check out our 3 week HIIT workout plan. It's a collection of 12 fat burning HIIT workouts like this one using just a kettlebell and dumbbells.
The plan from start to finish takes you through 4 workouts a week to get you fitter, stronger and leaner.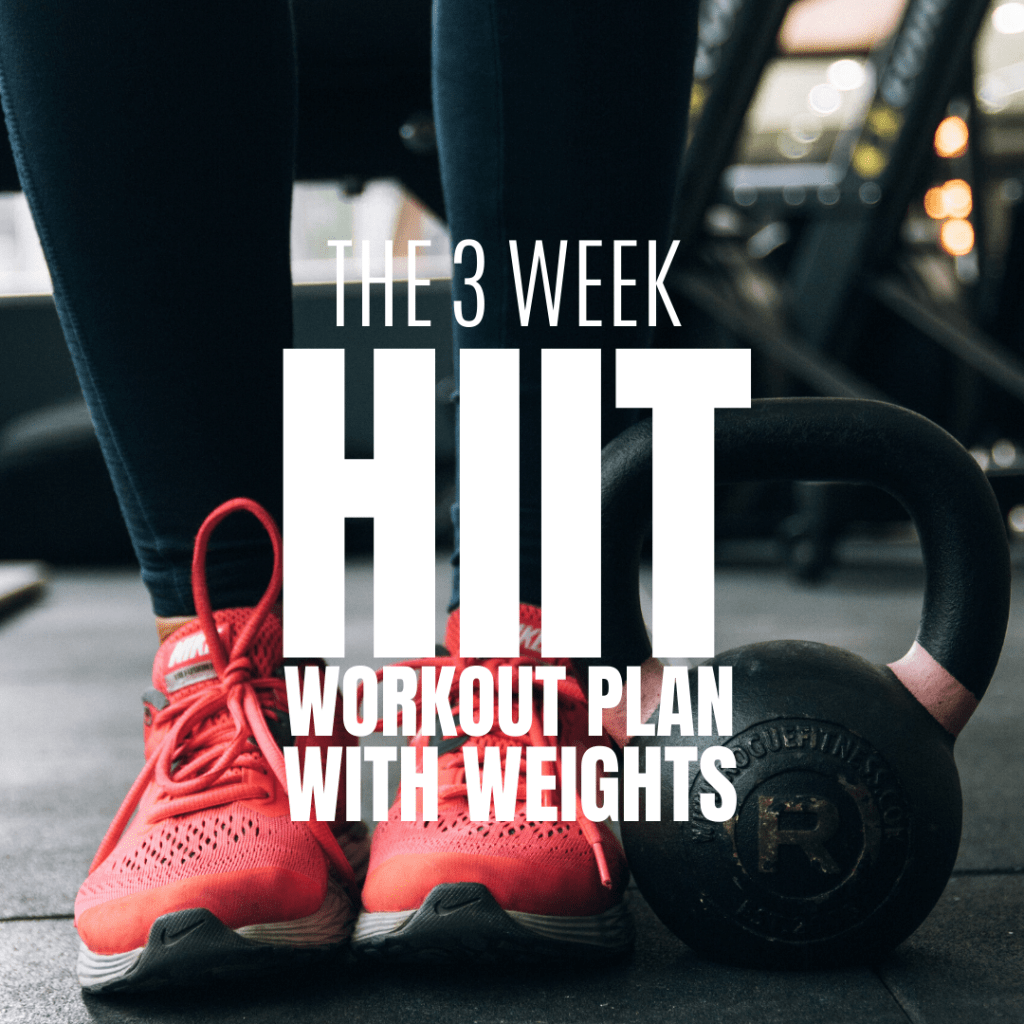 If you're interested take a look at it here.