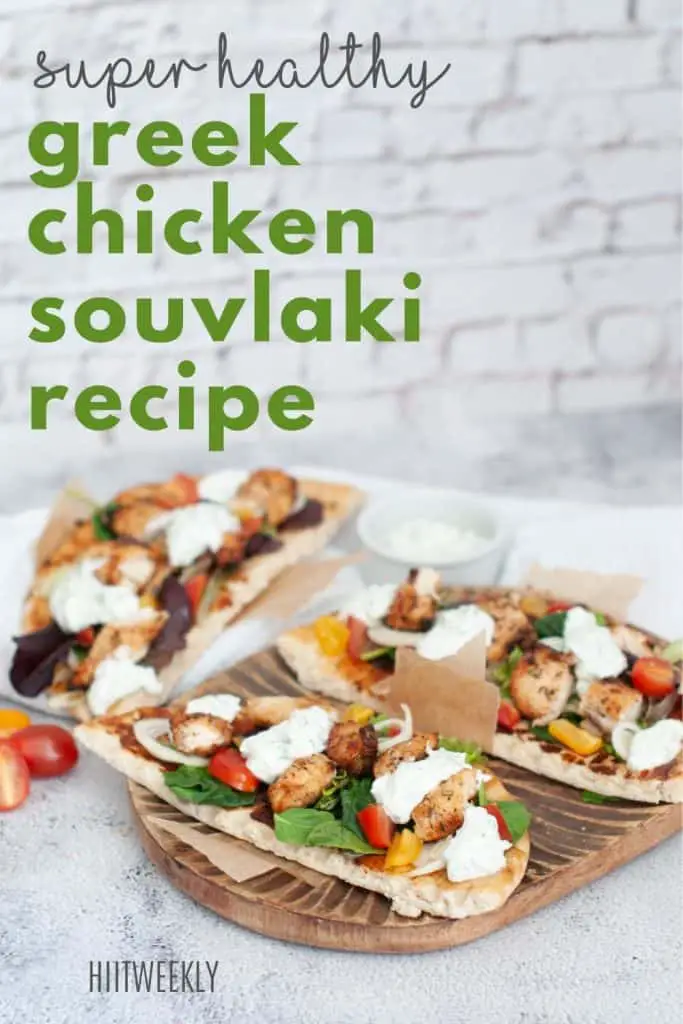 This has to be hands down one of our favorite summer recipes, Greek chicken souvlaki, or put simpler Greek chicken kebabs. The chicken is so tender and juicy wrapped in a Greek flatbread with lettuce, tomatoes, and red onion dressed with refreshing tzatziki or mayo. It's just so damn good.
What's great about this recipe is that once you've got it nailed down it's quite simple to make and is best made on the BBQ or griddle pan making it a great healthy meal in the summer.
We first stumbled upon this recipe when we were looking for a healthy chicken kebab recipe one day to help save some money. Takeaway chicken kebabs can be expensive. This recipe takes on what we learned and loved about Greek chicken souvlaki to deliver our very own healthy chicken kebab recipe that you can enjoy guilt-free!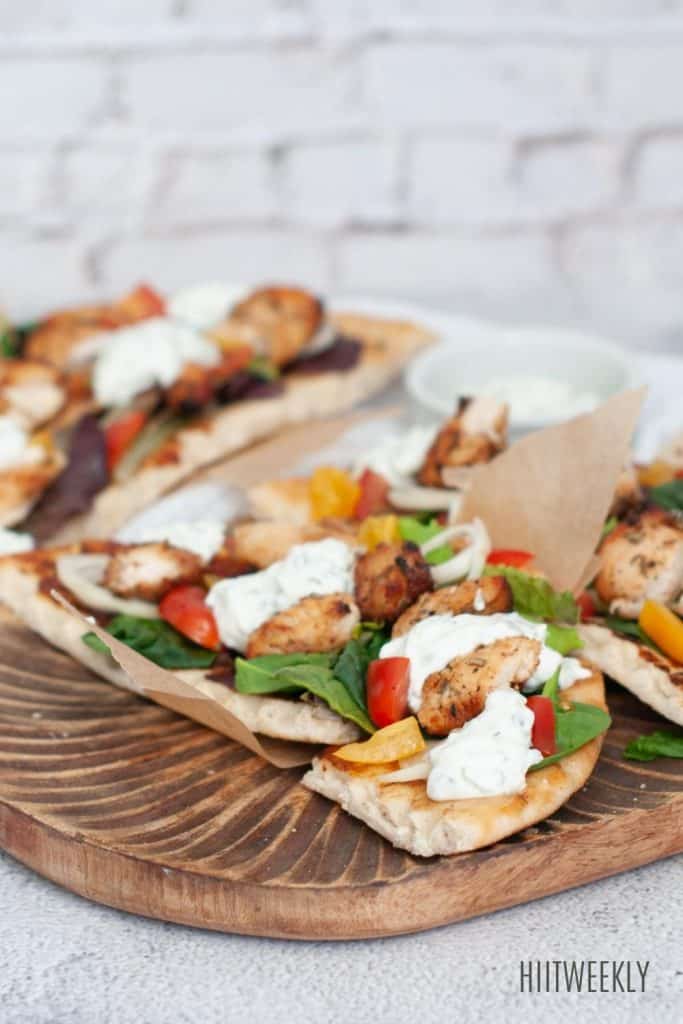 It's a recipe we have used to serve to friends and family and without a doubt, it always goes down well and everyone asks us for the recipe.
When making your chicken souvlaki there's a process. The most important part is the brine which is used to marinate the chicken. A brine is basically salty water, in this recipe, we add a mixture of ingredients to the water before bringing it to a boil, and then let it cool before adding the chicken to absorb its delicious flavor.
When I first made the brine and added the chicken I didn't think much of it. I honestly thought it looked awful but once we got those beautiful pieces of chicken off the grill, oh my goodness, heaven.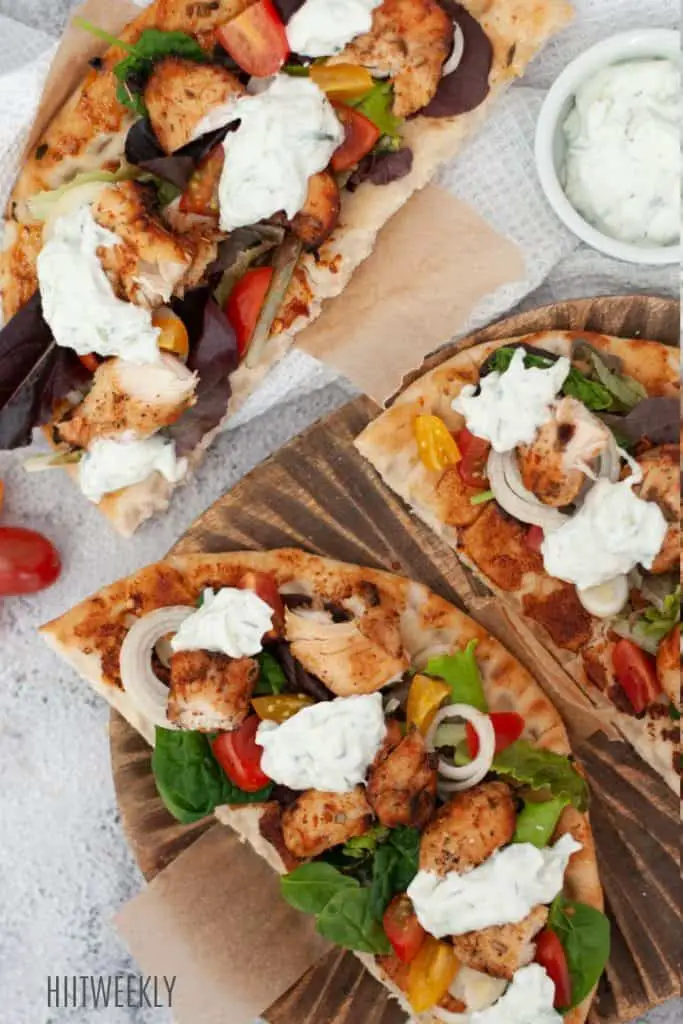 If you like salty food you will like this recipe.
If you don't have the time, however, you can also just use the ingredients as a rub which we have done on many occasions. In fact, the recipe we used to photograph this dish was done without the brine simply for speed, however, trust me when I say it tastes better with the brine and we will be sharing the recipe as a brine today.
How to make the brine
The brine is super easy to make. Start by adding all the ingredients listed for the brine to a large pan, adding the water last. When you add the lemon we like to chop it in half and give each ¼ a squeeze.
Bring the bring to a boil stirring as and when you feel like it. As soon as it reaches a boil you can turn it off and leave it to cool.
Once the brine has fully cooled, you will want to strain it so that you are left with only the salty water. You can discard the remaining herbs and lemon as you won't be needing them.
You just want the salty water.
Once you have your brine you will use this as your marinade. You just need to add the chicken and put it in the fridge. We prefer mini fillets but you can use chicken breast or thigh fillets.
Leave it for at least 20 minutes and up to one hour any longer and it will be too salty.
Once you are happy with the marinade time, drain the chicken and then add to skewers. You don't have to cook the chicken on skews if you don't want to. It's just more authentic.
The best way to cook the chicken is either on the grill or griddle pan. This gives the chicken the best color and taste.
Once your chicken is nearly cooked take out your Greek flatbreads, drizzle them with little olive oil, salt, pepper, and oregano then place them on the grill or in the oven for a few minutes to toast up a little.
Serve your chicken with the flatbreads, a fresh salad, and of course, it must be served with tzatziki or failing that our old friend mayo.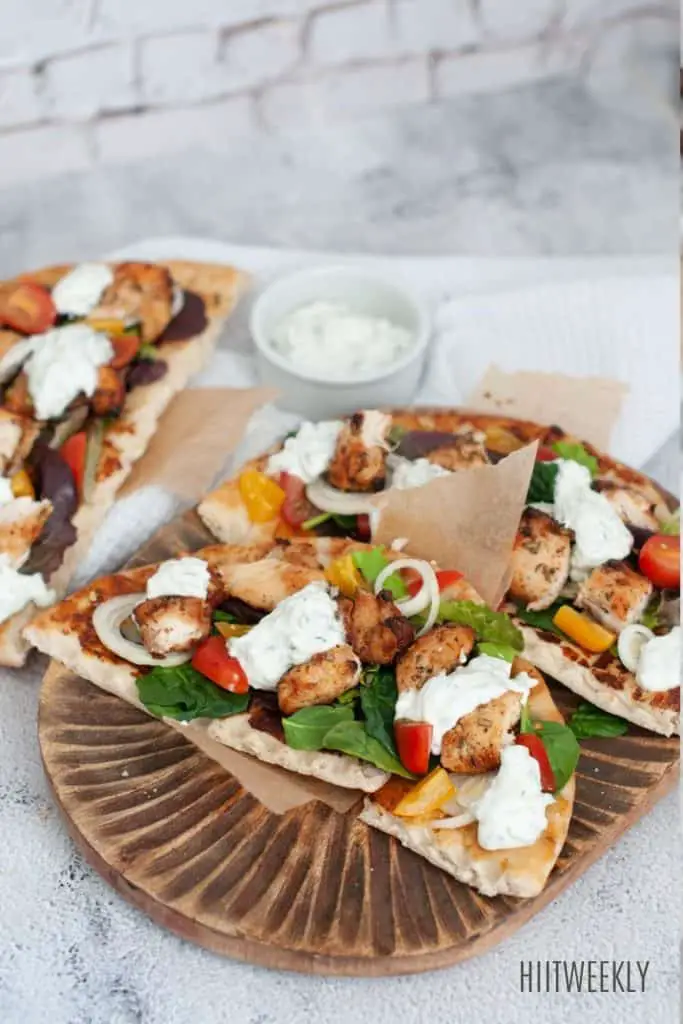 When we are entertaining, we love to serve up the chicken with a few sides and let our guests help themselves.
healthy greek chicken souvlaki recipe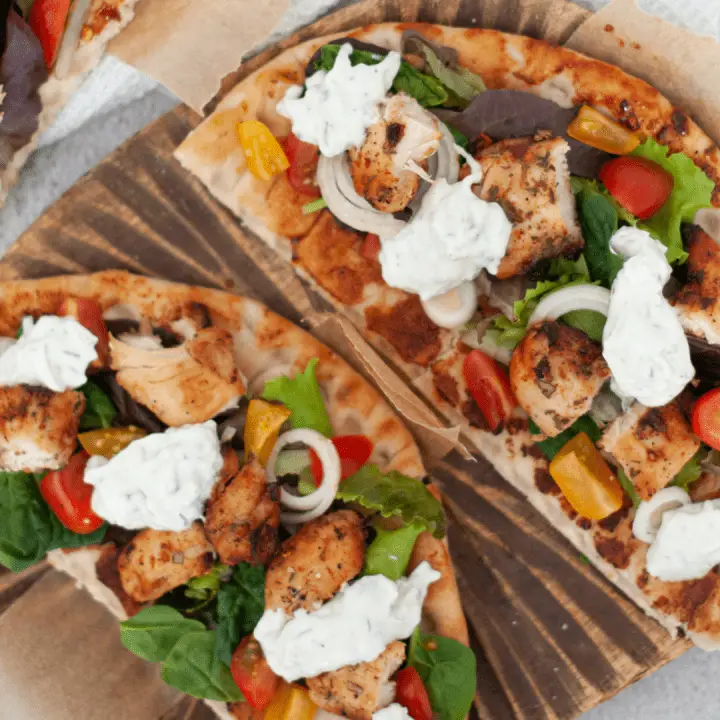 Greek chicken Souvlki
Prep Time:
1 hour
30 minutes
Total Time:
1 hour
45 minutes
A super healthy high protein meal that the whole family will enjoy, greek chicken souvlaki.
Ingredients
500g chicken mini breast fillets
Chicken brine/marinade
4 Greek stye flatbreads
Romain lettuce
Cherry Tomatoes
Red onion
For the brine
500ml water
½ lemon cut in half
3 bay leaves
1 tbsp. parsley dried
1 tbsp. thyme dried
1 tbsp. honey
2 tbsp. salt coarse
1 tbsp. pepper corns
1 whole garlic crushed
Instructions
Add all the ingredients for the brine to a saucepan and bring to a boil. Once boiled turn off and leave to cool.
Once cooled, strain the brine into a bowl and add the chicken, cover and set it in the fridge for 30-60 minutes (the longer you leave it the saltier it will get).
Remove the chicken from the brine and strain it or pat dry with kitchen tissue so that the chicken is free from liquid.
Cook the chicken in a pan or griddle with some oil until it turns brown on all sides and is cooked through.
Meanwhile drizzle the flatbreads with olive oil and season with salt, pepper and oregano, and bake in the oven for 5 minutes.
Serve the chicken in the flatbreads with chopped lettuce, tomatoes, red onion and mayonnaise or tzatziki.
Nutrition Information:
Yield:

4
Serving Size:

1
Amount Per Serving:
Calories:

380
Total Fat:

10.1g
Saturated Fat:

2g
Trans Fat:

0g
Unsaturated Fat:

3g
Cholesterol:

2mg
Sodium:

123mg
Carbohydrates:

35g
Fiber:

7g
Sugar:

3g
Protein:

35g