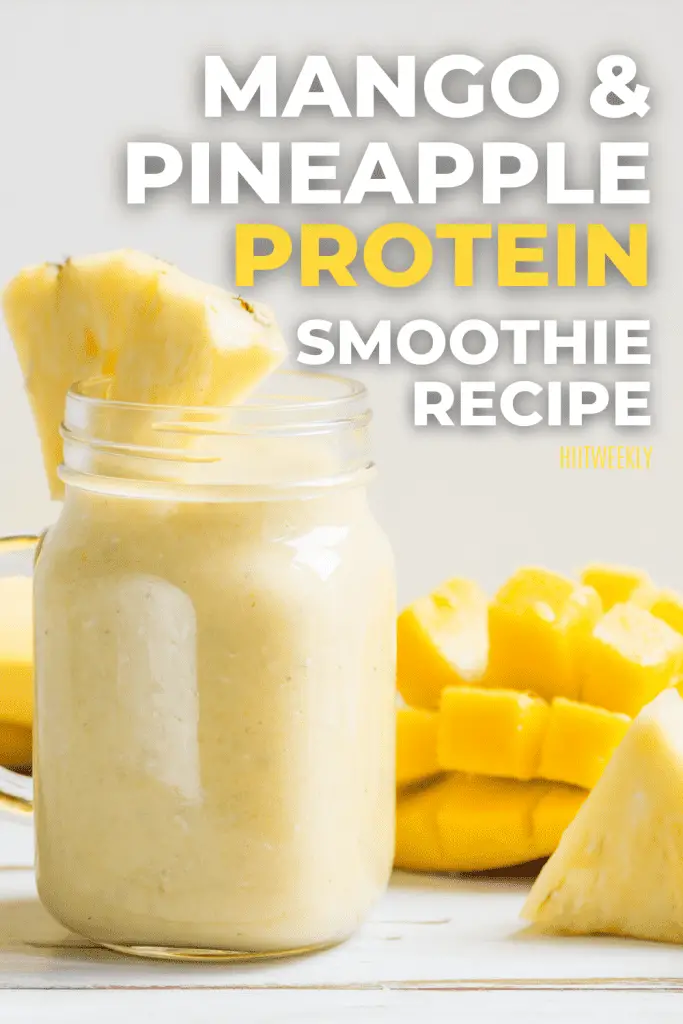 Indulge in the refreshing flavors of the tropics with our Tropical Mango and Pineapple Protein Smoothie recipe! This vibrant and nutritious smoothie combines the tropical sweetness of mango and pineapple with the added benefit of protein and oats to fuel your day.
We are excited to share with you our new and refreshing Mango and Pineapple Protein Smoothie that will take you to sun-kissed beaches and swaying palm trees.
Not only is this tropical protein smoothie a treat for your tastebuds but it's also packed full of vitamins, minerals, and antioxidants.
As the name suggests we've added some protein to help boost the protein content, we incorporate a high-quality protein source such as whey protein powder or plant-based protein powder. This addition helps promote muscle recovery and keeps you feeling satisfied for longer.
This is also a great breakfast smoothie recipe as we've added in nutrient-rich oats to give it that extra kick to help you stay nice and full between meals.
Mango and pineapple – tropical heaven
The star ingredients today are the tropical fruits of mango and pineapple. Mangoes, known as the "king of fruits," bring a luscious sweetness and a vibrant orange hue to the smoothie. I don't know about you but when it comes to smoothies I love frozen fruit. No mess, no fuss.
Mangos– Here's why we love a mango, they are rich in vitamins A and C, dietary fiber, and antioxidants that promote healthy skin, boost immunity, and aid digestion.
Pineapples – with their juicy and tangy flavor, provide a tropical twist and are packed with vitamin C, bromelain, and manganese, offering anti-inflammatory and digestive benefits.
The power of protein
Here at HIIT Weekly, we love to train and part of that means we need to provide our bodies with the right nutrients. Protein plays a crucial role in our body's functioning, especially when it comes to muscle repair, growth, and overall health.
By incorporating a high-quality protein source, such as whey or plant-based protein powder, into our Mango and Pineapple Tropical Protein Smoothie, we take its nutritional value to the next level. As an added benefit to those of us wanting to maintain a healthy weight, protein helps to keep you feeling full and satisfied, making it an excellent addition to your post-workout routine or as a meal replacement option.
Here's why we love smoothies
Smoothies offer several benefits that contribute to their popularity and reputation as a healthy beverage option. Here are some reasons why smoothies are considered good:
Nutrient-Dense: Smoothies are a convenient way to pack a variety of nutrients into a single drink. By blending together fruits, vegetables, yogurt, nut butter, and other nutritious ingredients, you can create a power-packed beverage that contains vitamins, minerals, fiber, and antioxidants.
Increased Fruit and Vegetable Intake: Many people struggle to consume an adequate amount of fruits and vegetables daily. Smoothies provide an easy solution by allowing you to blend several servings of produce into a delicious and drinkable form. This helps increase your overall intake of fruits and vegetables, supporting a balanced diet.
Fiber Boost: Smoothies can be an excellent source of dietary fiber, especially when whole fruits and vegetables are included with their skins or peels. Fiber promotes digestive health, helps regulate blood sugar levels, and contributes to feelings of fullness, aiding in weight management.
Hydration: Smoothies can contribute to your daily hydration goals, especially if you include hydrating ingredients such as coconut water, cucumber, or watermelon. Staying adequately hydrated is crucial for overall well-being and supports various bodily functions.
Convenience and Portability: Smoothies are quick to prepare, making them an ideal option for busy individuals or those looking for a fast and nutritious meal or snack. They can be easily prepared in advance and taken on the go in a portable container.
Customization: Smoothies offer endless possibilities for customization to suit individual preferences and dietary needs. You can experiment with different combinations of fruits, vegetables, protein sources, and flavor enhancers to create a smoothie that suits your taste and specific nutritional goals.
Satiety: Smoothies can help promote feelings of satiety due to their fiber and protein content. Including ingredients like Greek yogurt, nut butter, or protein powder can increase the protein content, which helps keep you full and satisfied for longer.
Versatility: Smoothies can be enjoyed as a meal replacement, snack, or post-workout recovery drink. They can be adapted to meet various dietary preferences, including vegan, vegetarian, gluten-free, or dairy-free options.
While smoothies can be a healthy addition to your diet, it's important to be mindful of portion sizes and the ingredients you use. Adding excessive amounts of sweeteners or high-calorie ingredients may diminish their health benefits. It's also advisable to consume whole fruits and vegetables alongside smoothies to ensure you benefit from the fiber found in their natural form.
Ingredients you will need to make our tropical protein smoothie
Milk
Ice
Mango
Pineapple
Protein powder
Oats
How to make the tropical protein smoothie
To prepare this mouthwatering smoothie, simply blend together fresh or frozen mango chunks, pineapple chunks, your choice of protein powder, a liquid of your preference (such as almond milk or coconut water), and some ice for a chilled and refreshing texture.
Pour into two glasses and serve!
The result is a creamy and tropical delight that delivers a balance of sweet and tangy flavors, while providing a protein-packed boost to support your active lifestyle or post-workout recovery.
Enjoy this Tropical Mango and Pineapple Tropical Protein Smoothie as a quick breakfast, pre- or post-workout refresher, or a satisfying snack that transports you to a beachside paradise. Cheers to a taste of the tropics in every sip!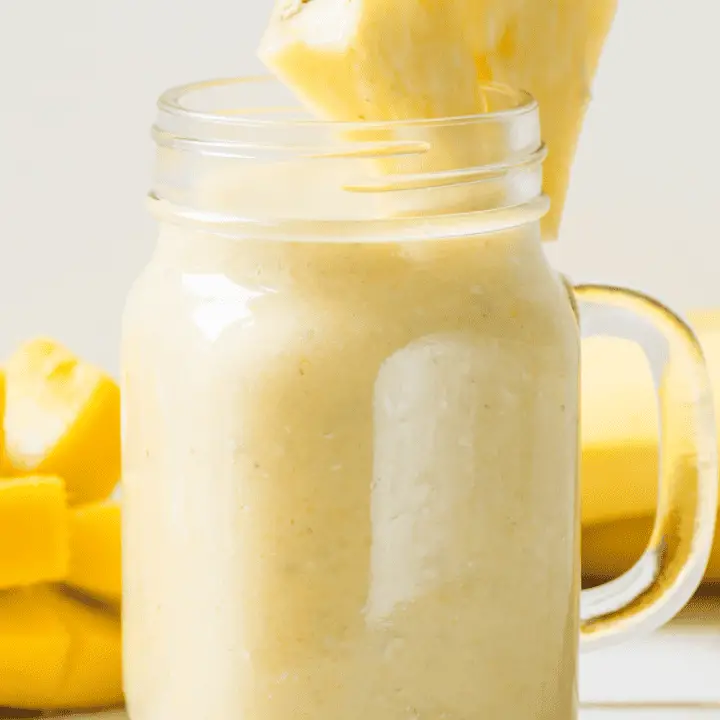 Tropical Mango and Pineapple Protein Smoothie
Indulge in a taste of the tropics with our Tropical Protein Smoothie! This refreshing and nutrient-packed beverage brings together the vibrant flavors of tropical fruits, combined with the power of protein for a truly satisfying and energizing treat
Ingredients
1/2 cup Pineapple
1/2 cup Mango
1/2 cup Ice
1 cup Milk
1 scoop Protein Powder
1/2 cup Oats
Instructions
Combine all of the ingredients in a blender and blend for 30-60 seconds until smooth.
Serve in 2 glasses and enjoy!