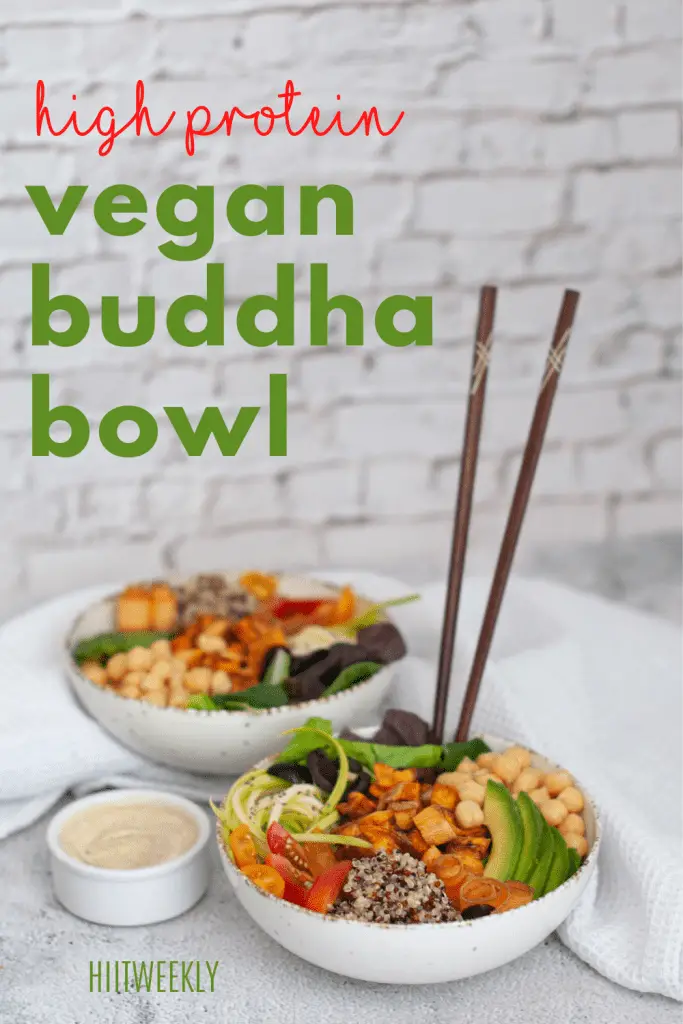 The best vegan protein buddha bowl with cajun spiced sweet potato, chickpeas, quinoa, and fresh tomatoes, avocado, mixed salad with a simple hummus dressing.
What are Buddha bowls?
A Buddha bowl is usually a vegan or vegetarian meal served in a single bowl. They contain a variety of foods and often provide a balance of nutrients that can be tailored to your taste and needs.
They typically contain fresh ingredients combined with carbohydrates, plant protein, and a tasty sauce.
Although usually served cold, you could use hot ingredients if you wish. It's your prerogative.
A Buddha bowl is said to get its name as the bowl looks like the round belly of a Buddha!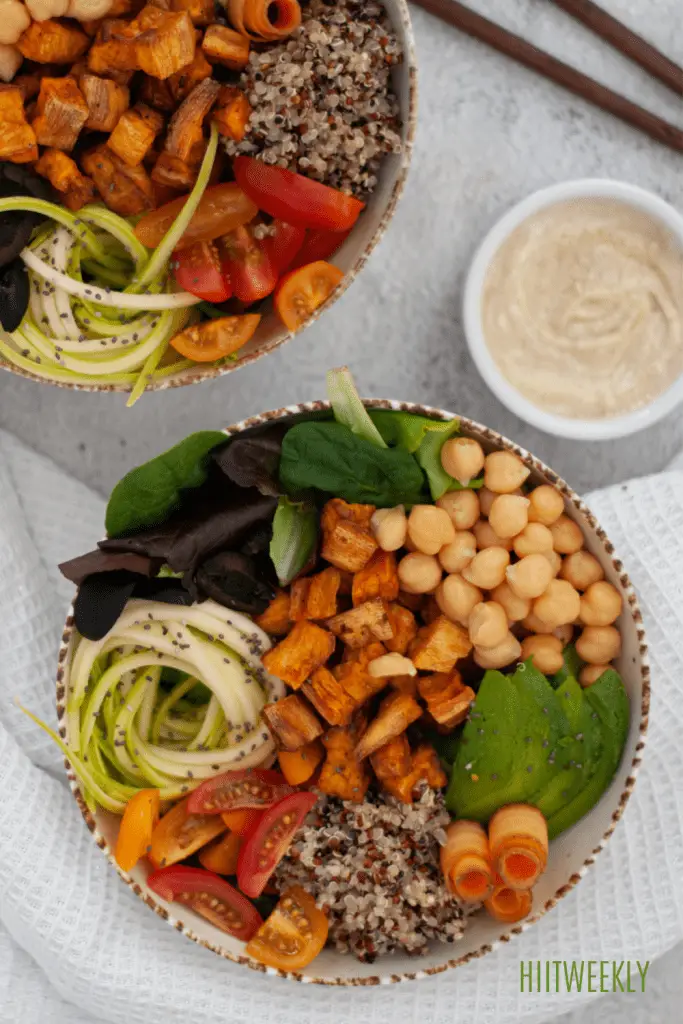 How to make a Buddha bowl
A Buddha bowl is a super easy meal to make, and you essentially throw nutritious food together in a bowl, and off you go. Real simple and quick!
There are no real rules to making your own Buddha bowl which is why they are great.
You can easily customize them to your goals.
For example, if you wanted a high-protein meal you could add more protein-packed ingredients such as legumes or tofu, simlarly, if you wanted to lose weight you can customize your Buddha bowl to meet your needs by maybe swapping the carbs for something such as cauliflower rice.
Something that is definitely important to the enjoyment of a Buddha bowl, is the sauces. If you are new to eating healthy then being able to add a sauce that you enjoy could be the difference between you eating your buddha bowl or not. And when you don't eat your healthy meals on your diet it's all so easy to stray and find soothing tasty the isn't necessarily good for you to satisfy those taste buds.
So, if you want to enjoy what you're eating sauce is defiantly the way to go.
Some of our favorite Buddha bowl dressings include peanut sauce, a simple vinaigrette, hummus or keep it dead simple and just use out of the bottle mayo.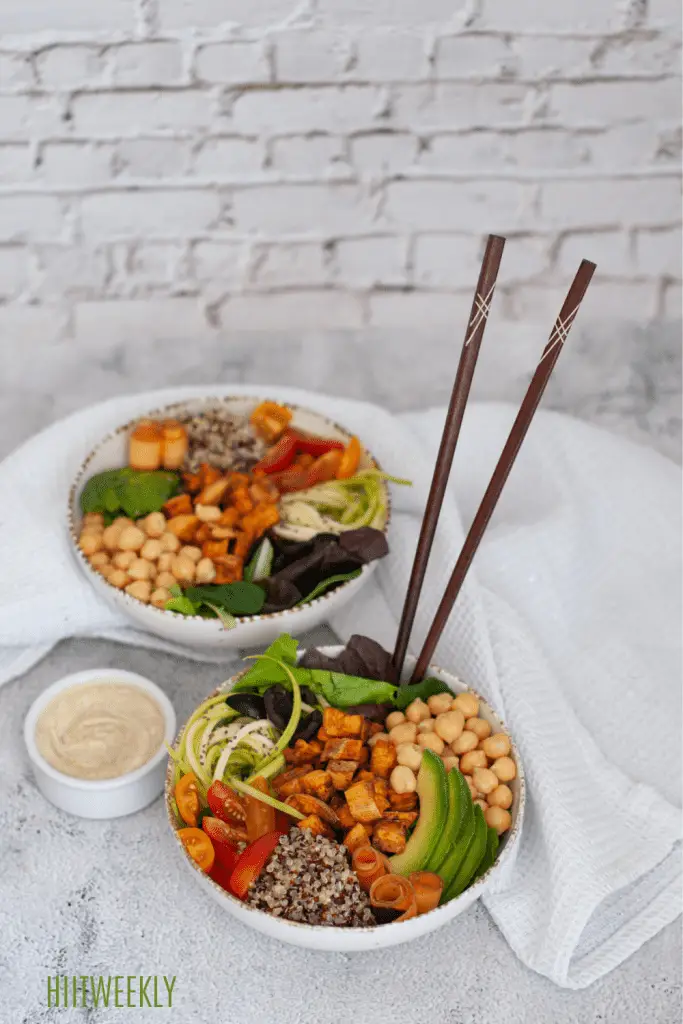 Things to remember
Keep it simple and use a variety of nutritious ingredients to create your own healthy buddha bowls whether they are vegan or veggie.
Veggies – vary the veggies, you could go for peppers, onions, and broccoli, you could vary how you cooked them, you could grill, roast, or boil for example. You could even go for a raw approach and make it more like a refreshing salad like we did today.
Protein – we love a high-protein dish and Buddha bowls are no exception. It's good to try different types of protein.
You could try lentils or beans such as black beans or kidney beans. Maybe you like chickpeas or edamame. You could even add in some tasty fried tofu or meat substitute.
Carbs – grains and carbs are very often the main part of a buddha bowl and as such you have a few options, you have your typical rice but why not try quinoa or couscous.
Maybe you are not a grain lover, but that's okay you could add a root vegetable such as white or sweet potato. you could even go for some rice noodles or something similar.
Sauce – as we said before the sauce can make or break a diet plan. Play with different sauce recipes to see what you like. Sometimes a simple drizzle of balsamic vinegar does the job other times you may want to find something tastier to complement your meal. Don't be afraid to have a play, try new recipes, and see what you like
Without further ado let's get down to making this delicious Vegan Protein Buddha bowl.
How to make this easy and delicious protein vegan Buddha bowl
With ease in mind, we assume that you have previously cooked your sweet potato and quinoa.
If you haven't we suggest you do this first or earlier on in the day unless you want a warm meal in which case you can cook the sweet potato and quinoa shortly before making this buddha bowl.
The best way to cook sweet potatoes is to roast them. We roasted ours in cajun seasoning with a little bit of olive oil to give it extra flavor and a little kick. The quinoa was cooked with some vegetable stock for added flavor.
The recipe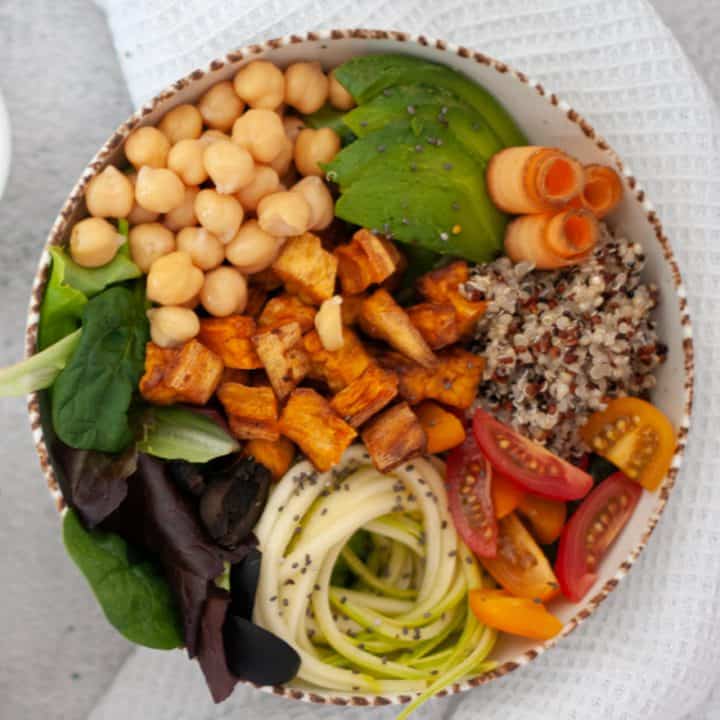 Protein Vegan Buddha Bowl
Ingredients
1/2 cup Chickpeas
1 cup cubed Sweet potato
1/2 cup cooked Quinoa
1/4 Avocado
5 Plum Tomatoes
1/2 Zucchini or Courgette
1 handfull Mixed leaf salad
1/2 Carrot
1 tbsp Hummus
Instructions
With the sweet potato and quinoa already cooked, slice the avocado, chop the tomatoes into halves, and spiralize the zucchini and carrots.
Drain the chickpeas.
To assemble start by adding a handful of the mixed leaf salad to your bowl, followed by the sweet potato, quinoa, chickpeas, and remaining salad. Top with a spoonful of hummus.