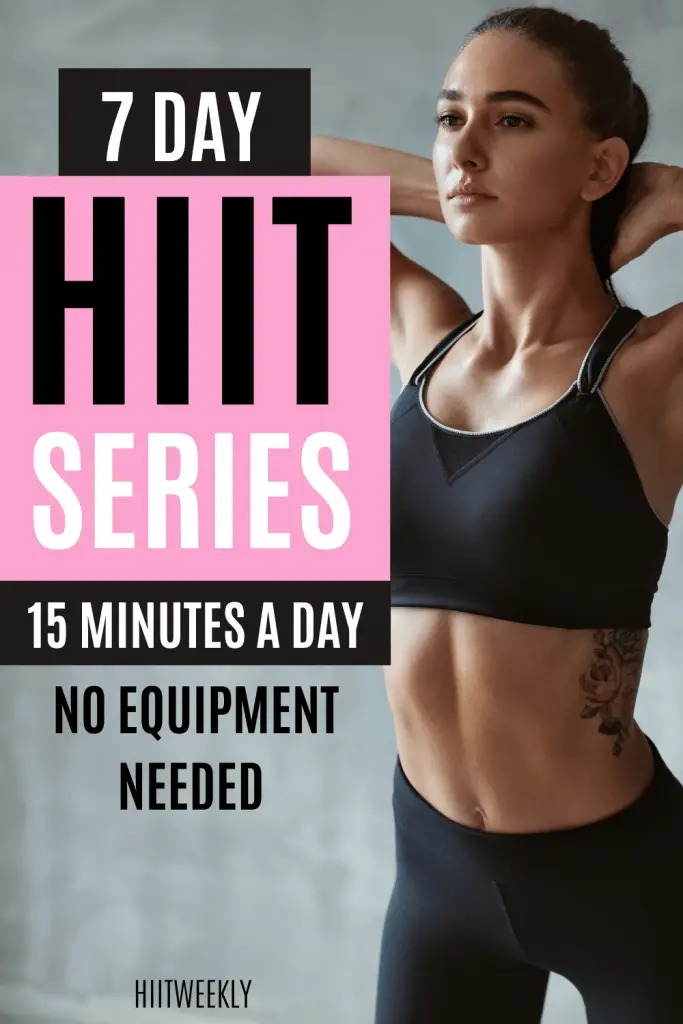 Today we are going to begin our 15-minute at-home HIIT workout series where you will do just 15 minutes of HIIT every day for the next 7 days. It's going to be beautiful.
The idea of the 15-minute HIIT series is to challenge yourself and see what you can achieve in just 7 days and well just get you up and active again. You might just surprise yourself.
HIIT, which stands for High-Intensity Interval Training, is a style of training where you work really hard for short bursts with short rest intervals between work periods. It is hugely popular and it can be a great way to get fit and lose weight quickly.
What's great about our 7 days, 15- minute HIIT workout series is that it doesn't matter how fit or unfit you think you are, we have created this 15-minute workout series for all levels.
If you are super fit you'll have longer work intervals with minimal rest, if you are just beginning your home workout/ HIIT training then you will have shorter work intervals and longer rest.
We actually use a very simple system that you can use to select your intensity level for most of our workouts.
Level 1 is for beginners, so if you are new to this type of training or consider yourself "unfit" at the moment.
Level 2 is aimed towards the intermediate level, this may be you if you do some exercise and are familiar with this type of training.
Finally, Level 3 is for advanced exercisers and higher who would be able to do most exercises we throw your way well.
It really doesn't matter where you are starting, just give it a go and see what you can do.
Challenge yourself to do just 15-mintes each day.
How will the 7 day, 15-minute HIIT workout series work?
Starting today, for 7 consecutive days we will send you a new short 15-minute HIIT workout that you can do at home with no weights at all, and no equipment needed.
Day one is here in this post. To receive the remaining workouts on the 15-minute HIIT workout series you will need to sign up below. It's 100% free, it's just easier for us to email you the workouts.
We will build the warm-up into the workout so it will truly be a 15-minute workout. Start to finish. If you do want to warm up a little longer then we have the warm-up we do before our HIIT workouts below.
Your challenge is to do as much as you can every day for the next 7 days. It's not a lot of time to give up, so set that time aside for yourself, maybe before your morning or evening shower, because we aim to get you hot and sweaty.
If you are ready to begin, sign up below, and then let's start today's 15-minute no-equipment HIIT workout.
Day 1 – 15-Minute No Equipment HIIT Workout – The 7-Day HIIT Series
What you'll need; interval timer and exercise mat
Complete the warm-up and then 2 rounds of the main circuit.
Part 1- the warm-up – total time 4 minutes
Complete 30 seconds of the following three exercises for 2 rounds.
High Knees
Walkouts
Reverse Lunge
1 minute rest before moving on to Part 2.
Part 2- the main circuit – 11 minutes
Complete 2 rounds of the following 6 exercises for the duration set out below.
Level 1 (beginner) – 30 seconds on 20 seconds off
Level 2 Intermediate-advanced) – 40 seconds on 10 seconds off
In Outs
Burpee
Mountain Climbers
Shooters
Plank Toe Reach
High Knees
Rest for 1 minute after the round and then repeat once more.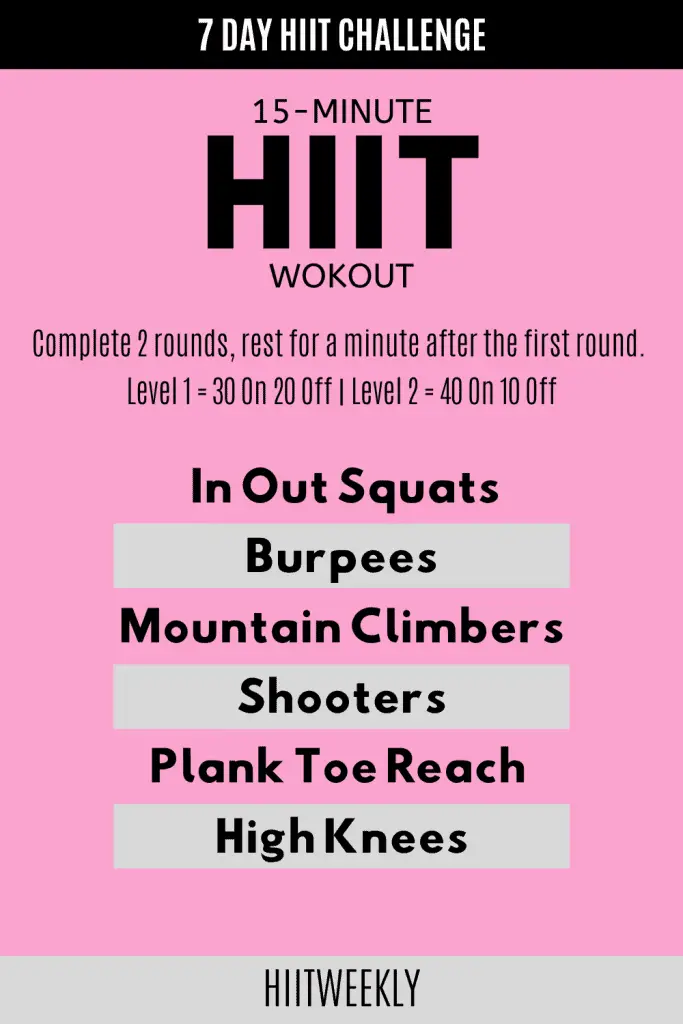 The exercises
If you are unsure of any of the exercises used in today's 15-minute HIIT workout then please watch the video below for short demonstrations.
Remember, sign up below to get the remaining 6 at-home bodyweight 15-minute HIIT workouts, every day, for the next 6 days (7 workouts altogether).