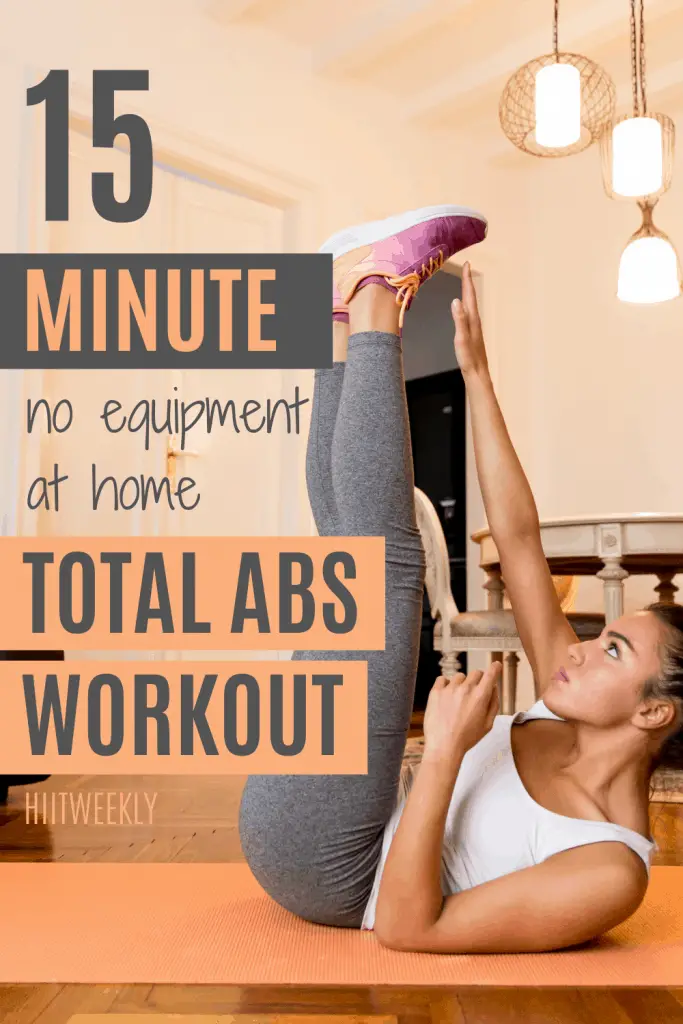 If you are looking for a great all-over total abs workout then you've arrived at your destination. Todays 15 minute total abs workout is going to work your core and top to bottom and side to side as you work through 14 challenging ab and oblique exercises.
In order to get great looking abs, it is a good idea to work through multiple ab exercises that target different areas of your torso. From lateral movements such as twisting to isometric holds that really work the muscles that stabilize your core.
in this 15 minute abs workout we have even included some erector spinae work, the muscles on your lower back. It is extremely important to work these muscles as they are often neglected. The muscles of your lower back indeed make up your core and are responsible for keeping your back straight, supporting your spine, and assisting with side to side movements.
The best news is that you don't need a gym to do this 15 minute ab workout routine as it doesn't require you to use any equipment at all. So wherever you are, you can keep your dream alive to get tight and toned abs.
The 15 minute abs workout routine
There are a whopping 14 core exercises to work through in today's total ab workout routine. Don't worry some are easier than others and will serve to help rest your neck or rest other parts of your core so that you will be able to work through the entire plan.
You'll do 30 seconds of each exercise with no rest between exercises, for two rounds, split by a 1-minute break. So the idea is that you do as best you can during each exercise. If you struggle to make the full 30 seconds, do not worry, just do what you can.
This is a great total abs workout, so we encourage you to do it today and then again later on in the week or next week as part of your ab routine. Every time you do it, you will get a little bit better, a little bit stronger. Before you know it you'll be easing through each 30-second interval.
If you haven't got an ab routine then we advise you to try to train abs 4-5 days a week if you want to see great results. Demi trains her abs 6 days a week and they continue to look better and better each week. You can get the plan she started with here.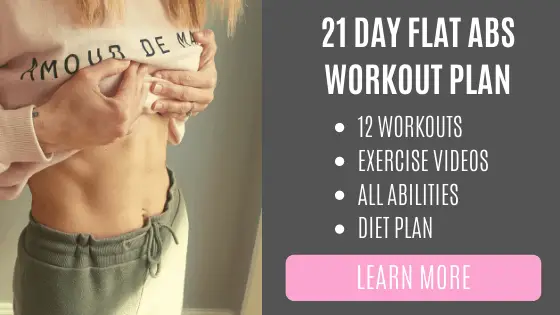 So lets get started and begin working on those 11 lines!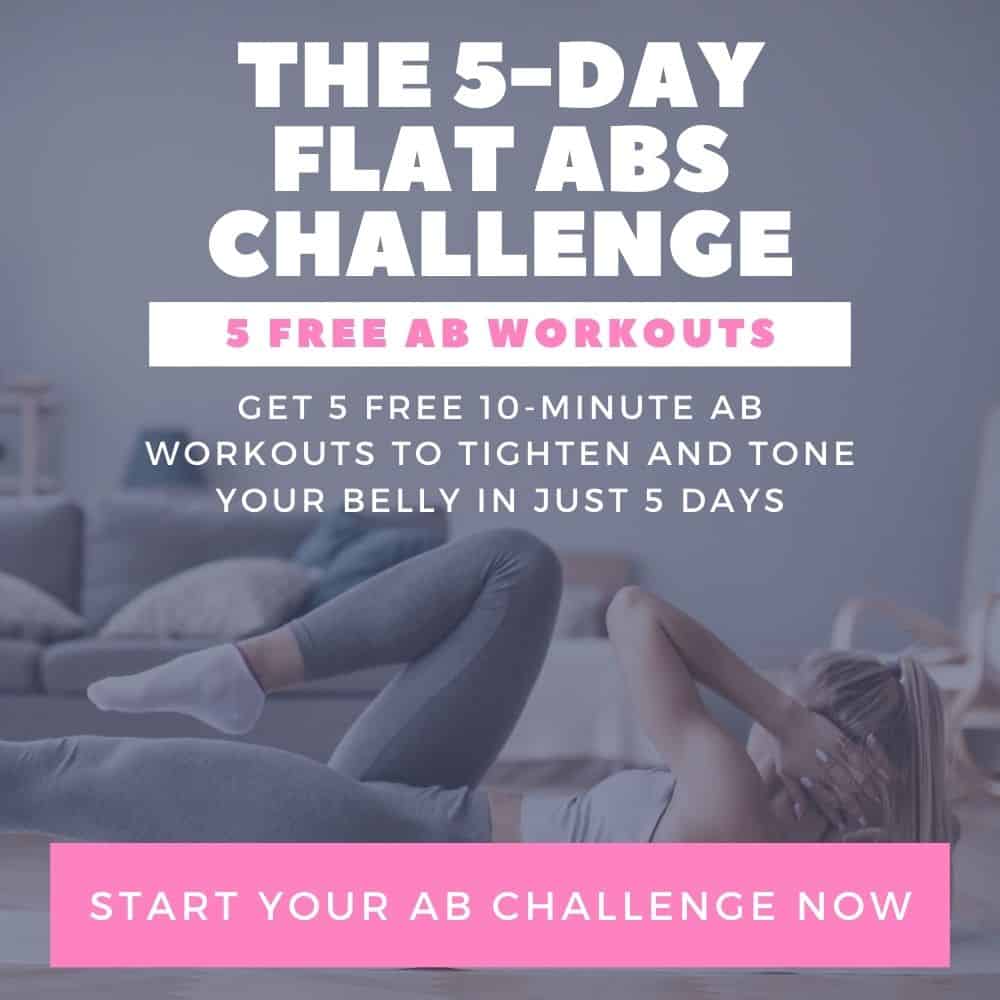 15-minute at-home total abs workout plan // no equipment
What you need: timer, an exercise mat and your favorite tunes.
Format: Circuit format moving through the exercises one by one. Complete 30 seconds of each exercise no rest between. Once the 14 exercises are complete take a 1-minute rest and then restart the circuit.
The Exercises
Ab Crunch
Ab cycle
Alt leg crunch
Russian twists
Reverse crunch
Heel taps
V hold
Slow mountain climbers
Super-woman
Spiderman plank
Left side plank
Right side plank
Plank
Back extensions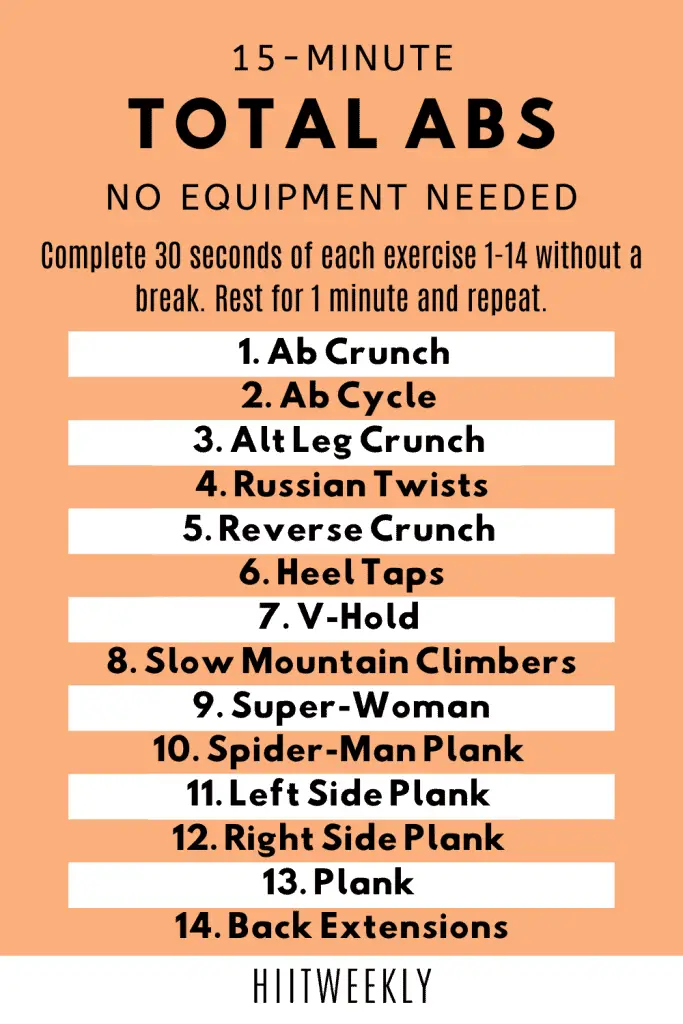 If you are unsure of any of the exercises above then watch the video below to see all of these core exercises in action.
Remember to do this workout as is or with other ab workouts, 4-5 days a week like Demi does for rapid results.
Get More Ab Workouts Like This One With Our 21 Day Flat Abs Plan
Our plan promises that in 21 days you'll have noticeably flatter abs after following the workout plan and accompanying food guide. Learn more by clicking the image below or heading to —> 21 Day Flat Belly Abs & Core Plan.