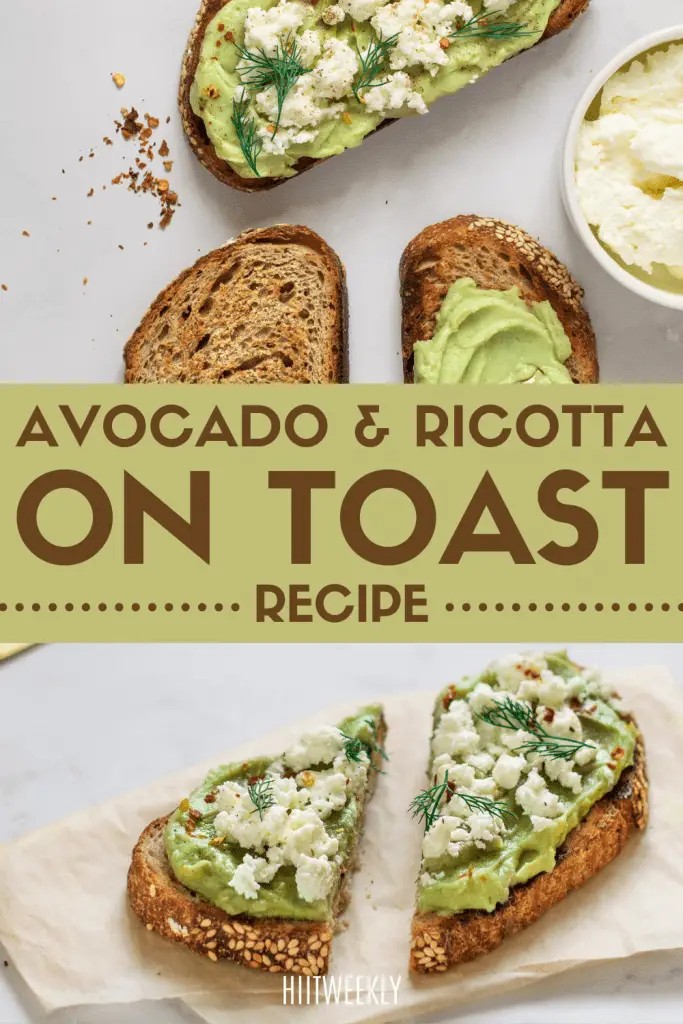 One of the healthiest and easy go-to breakfasts is a simple smashed avocado on toast. Our avo on toast comes with a healthy serving of protein from ricotta cheese and a hot kick from the chili flakes.
The creaminess of the avocado spread over freshly toasted sourdough is just the best. You should know that we love adding protein to all of our meals, not only to help with muscle growth and repair after a hard workout but it will make you feel fuller for longer.
If you've been avoiding avocado on toast, like I did until Demi forced me to try some, then you are missing out my friend.
If on the other hand, you are an avo on toast fan, then we hope you will like our protein-loaded version that doesn't include eggs.
Demi is slightly anaemic so this is, in fact, a great meal for her as it's got 31% of her recommended daily iron intake in.
Choosing and preparing your avo
Let's start by saying, to make the best avocado on toast you will need ripe avocados. When feeling your avo's, look for one that has just a little give when you squeeze them. Too much give and you may have an overripe avo. I always say, if it feels like a tensed lean muscle, then it's good to eat. So if you haven't got any of those yet, it's a good excuse to feel up the arms of a hunk.
Once you've mastered how to cut and de-seed your avo, if there are any brown flesh scrape that out and discard it.
Some people like to spread the avo right not the toast but we are going to hold back today as we are adding some extras to our avo spread.
Usually, we would keep it nice and simple with just salt, pepper, lemon juice, and maybe garlic. However, this tasty little recipe has to be shared, and you'll see why once you taste it.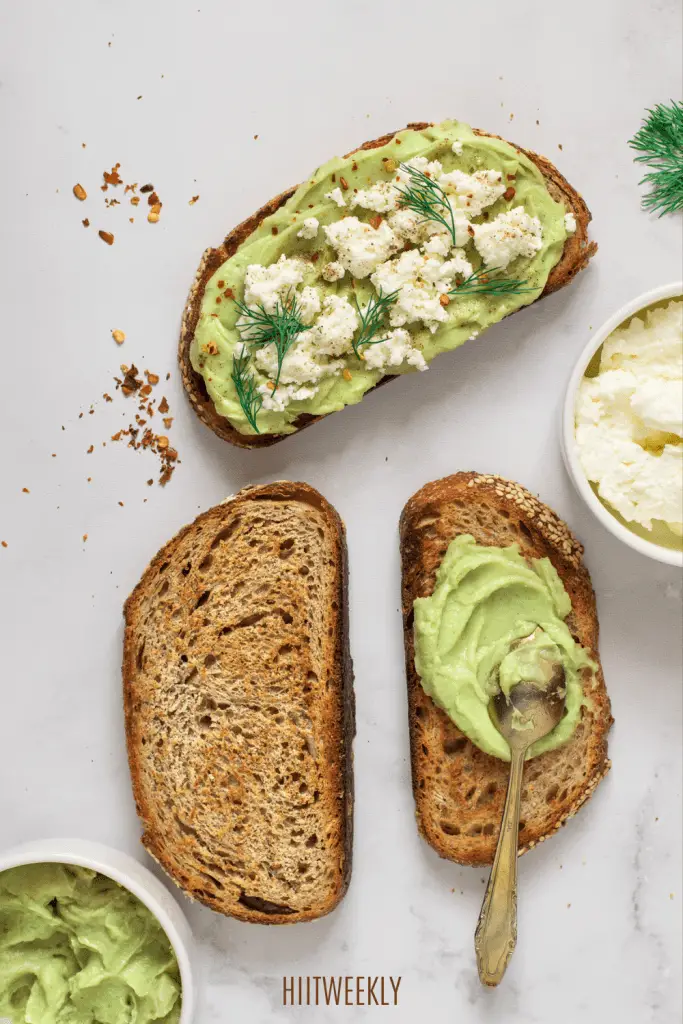 Adding protein
As we said, protein is king, not for just muscle growth and repair, but for helping you feel full. Feeling fuller for longer will help you to eat fewer net calories over the day therefore helping to control your weight.
Avocado on toast goes great with poached or scrambled eggs on top, it really does but we understand that not everyone likes to eat too many eggs. Therefore we've chosen to try some ricotta cheese. You might be thinking that cheese has more fat than eggs but you'd be wrong in this case. If would have gone for a fetta, cheddar, or mozzarella you would have been correct as they have about 1000 calories per 100g. However, ricotta cheese has about just 180 calories per 100g, 12g of protein, and only 13g fat. 2 large eggs have roughly the same macros as 100g of ricotta cheese. Masking it the ideal swap.
If like us you are not a cheese buff then check out this short video below where four supermarket ricotta cheeses are put through a taste test.
The bread
You are free to use any bread you like, however, it just tastes 100 times better on a fresh slice of sourdough bread that's just been toasted. Sourdough is lower in gluten than other breads (source) , however, If you do have gluten intolerance and then here is a beautiful recipe.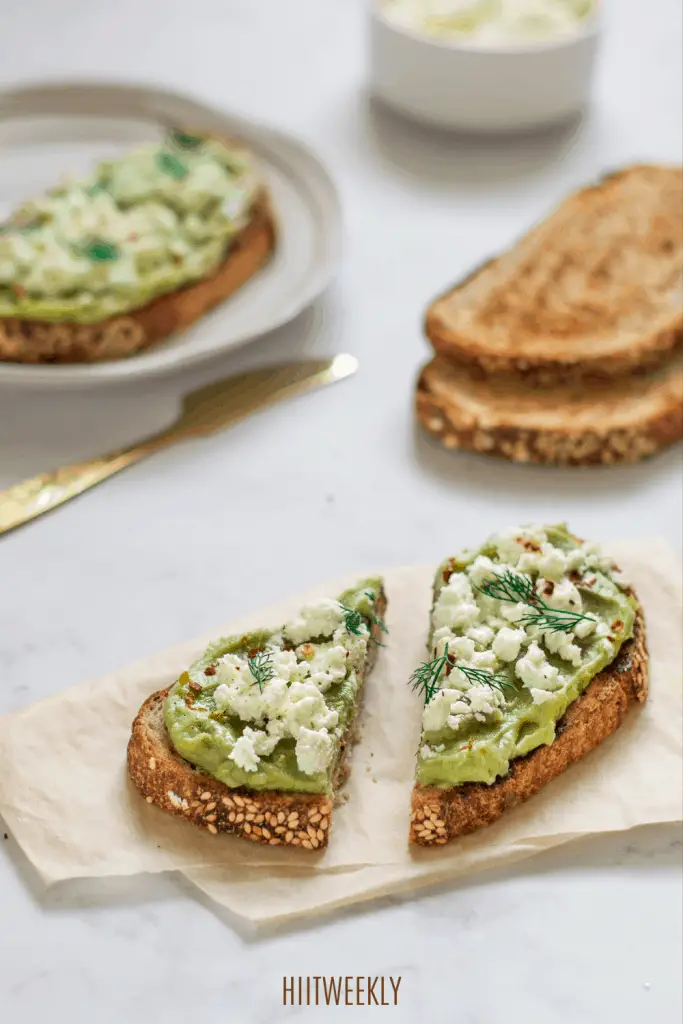 Sourdough is also more nutritious than your typical run of the mill bread whilst also being more nutritious. Sourdough contains more folate and antioxidants when compared to other bread whilst having naturally lower phytate levels. Lower Phytate will help your body slowly absorb the nutrients in the bread and help you digest it faster.
This also has a positive effect on the glycaemic index of sourdough. The glycaemic index of sourdough bread is around 53 whereas the traditional white read is 73. The higher a GI means that the sugars in the food are released into the blood faster. This is bad for insulin spikes. (source) this makes it a great bread option if you need to watch your blood sugar levels.
On to the recipe!
You've waited long enough so here is how to make avocado n toast with ricotta cheese. The ideal high protein breakfast or post-workout brunch recipe.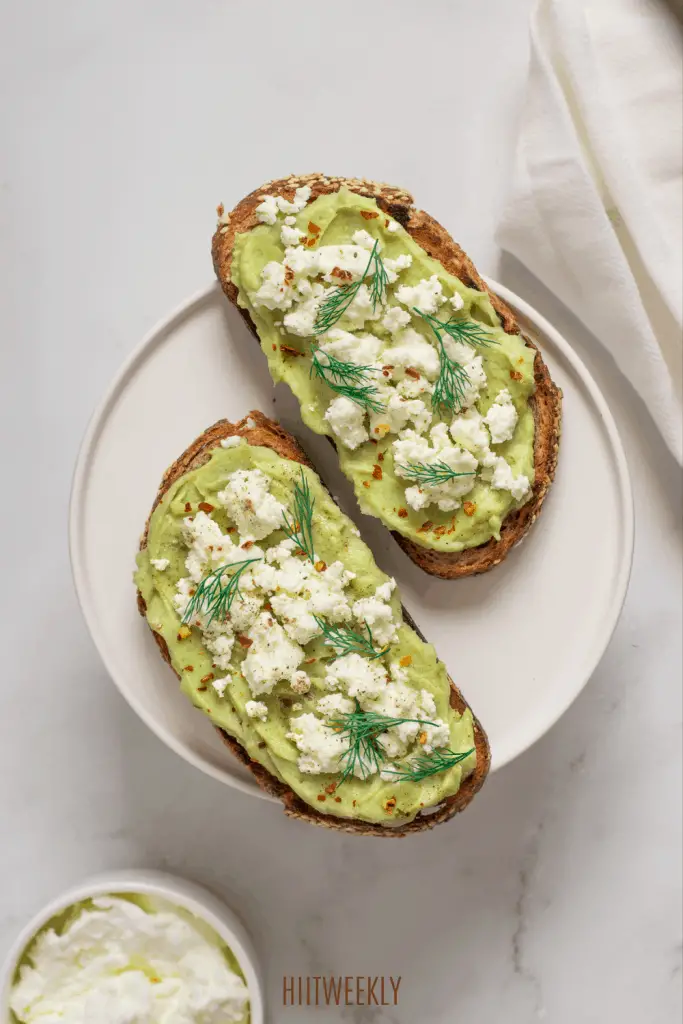 Something to note. The net calories for one serving of our avocado mayo on toast with ricotta stand at 532. One slice of sourdough bread has about 185 calories in. The avocado mayo recipe will cover 2 slices thinly. If you wanted to cut down your calories and make this a lower-calorie meal then stick to the 1 slice only.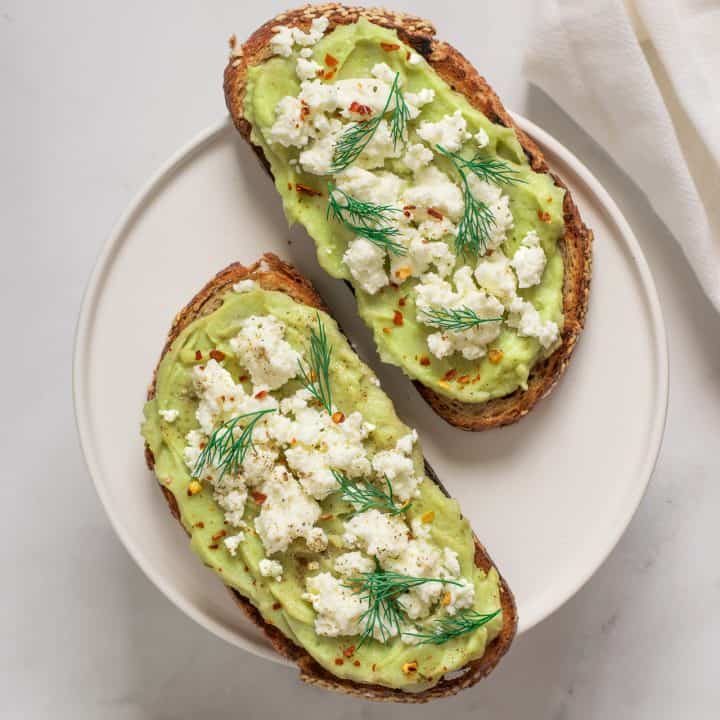 Avocado & Ricotta on Sourdough Toast
A healthy, protein-packed breakfast or brunch, avocado, and ricotta on sourdough toast. Umm, delish!
Ingredients
For The Avocado Mayo
1 ripe medium avocado
1 tbsp. apple cider vinegar
½ tsp. yellow mustard paste or to taste
1 tsp. extra virgin olive oil
½ tsp. garlic powder
Sea salt and ground black pepper (to taste)
Other Ingredients
100 g ricotta
2-4 slices of whole wheat bread
Chili flakes and some fresh dill (optional)
Instructions
Mix everything for the avocado mayo in a food processor and blend until creamy. Adjust mustard and vinegar to
taste, add more or less of them.
Toast the bread.
Spread the avocado mayo over toasts and put ricotta on top. Sprinkle over some fresh dill and chili flakes.
Notes
If you don't have a food processor that's fine, mash avocado until it is nice and creamy unless you prefer some chunky bits. Then add in the remaining ingredients form the avocado mayo and stir them in,
Nutrition Information:
Yield:

2
Serving Size:

1
Amount Per Serving:
Calories:

532
Total Fat:

9.6g
Saturated Fat:

3.6g
Trans Fat:

0g
Unsaturated Fat:

0g
Cholesterol:

16mg
Sodium:

1027mg
Carbohydrates:

87g
Fiber:

5g
Sugar:

5.2g
Protein:

24.5g
If you do make this tasty avo on toast recipe then please take a photo to leave us a review on Pinterest!