This super simple chocolate and banana protein smoothie is silky smooth and of course delicious, it tastes so good it could be mistaken for a naughty shake.
We wanted to create a smoothie recipe that not only tasted great but was also good for you. Smoothies are a great option for breakfasts or between meals as healthy snacks. We are not talking about the high sugar, high fat kind of smoothie, no we are talking about nutrient-dense, healthy smoothies. You can pack them full of important nutrients needed for energy and health.
When it comes to smoothies and adding extra nutrients, superfoods come to mind. There are many superfoods that you could potentially add to enhance the nutritional profile of your morning smoothie. Chia seeds and flax seeds offer plenty of nutrients, antioxidants, omega 3 fats, and fiber, kale is one of the worlds most nutrient-dense foods with antioxidants, vitamin C, vitamin K, spinach is high in potassium, vitamins A, C, and k, magnesium, iron and manganese, wheatgrass offers some immune benefits, raw cacao is rich in antioxidants, fiber, fats and magnesium and there's turmeric which contains medicinal properties which help reduce inflammation (source).
There are just so many superfoods you could choose from all with their own super nutrient and health benefits. However, I am the first to say that I would not be eating many of those on their own, in fact, I would certainly struggle to touch most of them, but put some of them in a smoothie and I'm all in, as you can hardly taste them once you've added your flavors from the fruit.
That's why smoothies are so good. Have you ever tried protein shakes? The kind where you make your own at home with the powder, put it in the shaker, some water or milk and shake away. Hands up if you have to pinch your nose as you try to down it in one.
Protein powder in a smoothie with a combination of fruit, vegetables, oats, milk, ice, water is amazing. Not only do you benefit from the added protein which instantly makes this turn from a drink to a meal or snack but you can't taste it.
There are so many combinations you can choose from. The aim of the game is to create something that tastes great but has protein at its base and a whole load of nutrients from fruit or veg and possibly some of those superfoods. You can even add in oats for added carbs, nut butter for example adds some healthy fats and a little extra protein and carbs.
By adding in more than just the usual protein powder and water you are creating a balanced meal with many nutrients in, some to help your immune system, some for helping you feel fuller for longer, some to help you recover from your vigorous workouts and more.
Today's chocolate banana protein smoothie is packed full of flavor and most importantly, chocolate. Chocolate is always a winner in my books. It allows you to add ingredients that are super healthy without having to really taste them.
This protein smoothie tastes so much better if you can get some frozen bananas, it makes the smoothie thicker and creamier. If not simply slice some up and place them in the freezer for an hour. We often slice up bananas and freeze them when they are going to waste so that we always have some front to hand.
As for the added protein, this is an important ingredient as it will not only help you feel fuller for longer but its especially important to consume more protein if you're are exercising, trying to lose weight, or if you are over 30/40 years of age as you will need an increased amount of protein in your diet (source).
make it vegan
If you follow a plant-based diet then you can make a few really simple food swaps to make this a vegan-friendly plant-based protein smoothie.
We only had a whey protein but this could easily be substituted with a plant-based alternative, similarly so could the Greek yogurt for a coconut yogurt for a plant-based smoothie.
To help combat the bitterness of the raw cacao we added some honey. If you'd rather use a plant sweetener or a date then this would also work.
how to make a chocolate and banana high protein smoothie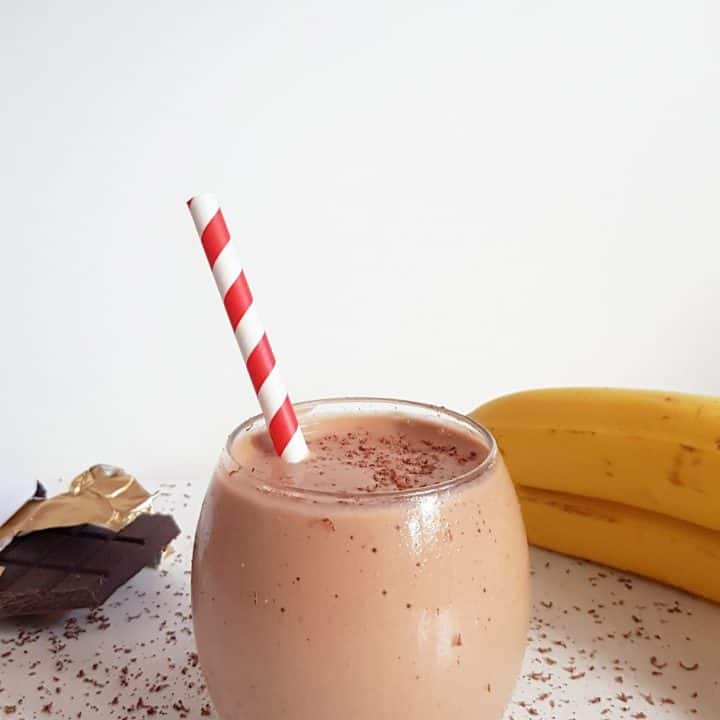 Chocolate Banana Protein Smoothie
This chocolate and banana smoothie is a high protein, healthy smoothie recipe that is rich and silky smooth.
Ingredients
1 cup Frozen Bananas
1 heaped tbsp Fage Greek Yogurt
1 tbsp Raw Cacao Powder
1 tbsp Protein Powder (Choco or Vanilla)
1/4 cup Coconut Milk
1 tbsp Honey
1 cup Ice
Instructions
Add all of the ingredients to a blender and blend until silky smooth.
Notes
We use the low-calorie carton milk substitutes and not tinned coconut milk. You can swap the coconut milk for any other milk alternative of your choices such as almond, rice, or oat milk.
Nutrition Information:
Yield:

1
Serving Size:

1
Amount Per Serving:
Calories:

351
Total Fat:

3.8g
Saturated Fat:

2.4g
Trans Fat:

0g
Unsaturated Fat:

1g
Cholesterol:

4mg
Sodium:

50mg
Carbohydrates:

64.3g
Fiber:

9.8g
Sugar:

37.1g
Protein:

18.6g