Don't let your diet get in the way of achieving your weight loss goals. I know how hard it can be always eat healthy and make the right choices, especially when you're tired or stressed.
But I promise you it's worth it in the long run. After all, we all want to live a healthier life where we don't have to worry about what we look like or how much we weigh.
Making more of an effort to make healthier choices in the kitchen will most certainly speed up your transformation.
And that starts with breakfast. If you start the day well, you're more likely to stick to your healthy eating plan.
You might want to check out this post here – It's 7 healthy breakfast recipes for the week.
Today's recipe is actually really easy to make and tastes absolutely delicious. Demi isn't a huge fan of eggs and when I made this recipe for her she was pleasantly impressed.
I was even impressed, baby spinach isn't something I love but I will eat it as it's pretty good for you and I always loved Popeye as a kid.
Spinach is naturally high in iron, vitamin K, C, A, folate and manganese which is vital for the body.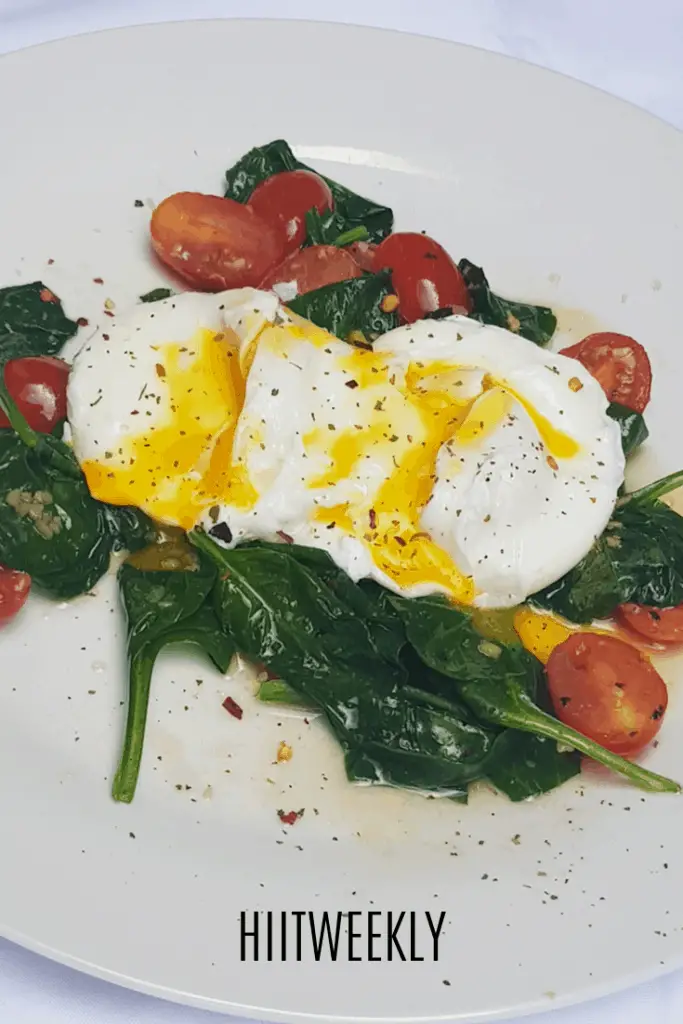 Although I said it was a breakfast idea you could certainly eat this at any time of the day as a healthy balanced meal.
Today's recipe is poached eggs on a bed of sautéed baby spinach, cherry tomatoes and garlic. I love saying "sautéed", it sounds so posh.
Honestly though the garlic Sautéed baby spinach was ummm.
It is a low carb high protein recipe. Perfect if you're trying to limit or cut your complex carbohydrate intake. If not, feel free to add a slice of wholegrain bread or sweet potato. In fact a sweet potato would go really well with this recipe.
Now poaching an egg. Hopefully you have done this before. It isn't hard and there are various ways to do it. Growing up it was simmering water, a little vinegar and swirl before dropping the egg in. This is great if you want to make one egg.
Here's the way we have found to work best for us to poach multiple eggs. It allows us to make 4 eggs at a time.
In a large pan, bring water to the boil and then turn it down to a constant simmer. This is when you are ready to cook. There's no need for vinegar.
With the water still, carefully place each egg into the pan. I usually allow about 10 seconds between each egg drop to allow the water to settle.
Get the egg as close to the water as you can to avoid it dropping in and splitting. I sometimes use a small espresso cup with a handle or a ramekin, crack the egg into that and then use the cup to place the egg in the water. It's a delicate job. Cook each egg for about 3 minutes.
The more you do it the better you'll get. Or just fry or scramble your eggs. We want this to be as easy as possible to help you eat better and enjoy nice food.
The recipe!
Poached Eggs with Garlic Sauteed Baby Spinach and Cherry Tomatoes
A yummy and simple breakfast recipe that tastes as good as it looks!
Ingredients
2 Free Range Eggs
2 cups Baby Spinach
8 Cherry Tomatoes
1 Garlic Clove or 1 tsp Pre Chopped Garlic
1 tbsp Olive Oil
Pinch Salt and Pepper
Instructions
Fill a pan large enough for 2 eggs with water and bring to the boil.
In the meantime chop the cherry tomatoes in halves and put to one side.
In a large bowl add the baby spinach and dress with olive oil, salt and pepper.
Once the water is boiling reduce the heat to a gentle simmer.
While the water settles to a simmer heat a skillet or pan with oil and add the garlic and tomatoes on a high heat for 1 minute.
During which time you can gently add the eggs to the water. Cook for 3 minutes.
Add the spinach to the skillet and cook on a high heat for 3 minutes.
Serve and enjoy.
Notes
If you don't feel comfortable cooking two things at once then we suggest you make the eggs first and then the sauteed spinach.
Nutrition Information:
Yield:

1
Serving Size:

1
Amount Per Serving:
Calories:

309
Total Fat:

24g
Saturated Fat:

5g
Trans Fat:

0g
Unsaturated Fat:

17g
Cholesterol:

372mg
Sodium:

271mg
Carbohydrates:

10g
Fiber:

3g
Sugar:

4g
Protein:

16g
If you'd like more help losing weight then try our 7 day challenge below. It includes workouts and a 7 day diet plan to help you kick start your weight loss and fitness journey.
Until next time.