Add this HIIT workout with weights to your weekly routine to achieve your goals even faster.
We believe that you deserve to look and feel amazing. Following a good workout plan is a huge part of that.

High intensity interval training is one of the best ways to get fast results in a short amount of time. More specifically, it helps accelerate weight loss and fitness. It's one of those nice short cuts in life.

Having variety in your weekly exercise routine is a key ingredient to keeping you motivated and focused to achieve your goals.

Today's workout is no exception. It's a relatively short workout and should only take you 20 to 30 minutes to complete. Perfect if you have a busy day. In fact, that's one of the main advantages of doing HIIT. There are even workouts that last just 4 minutes!

It's a workout we enjoyed and think you will love it just as much (who knew you'd love working out so much).

This HIIT workout with weights promises to be exciting as you go through each round the reps increase by 5 round by round from 10 reps in round one, up to 20 in round three from then they reduce by 5 back to 10. Following what we call a pyramid scale.

So grab your kettlebell and/or dumbbells and let's get sweaty!
If you only have a kettlebell or a Dumbbell and not both you can try to modify most if not all of the exercises so that you are still able to complete the workout.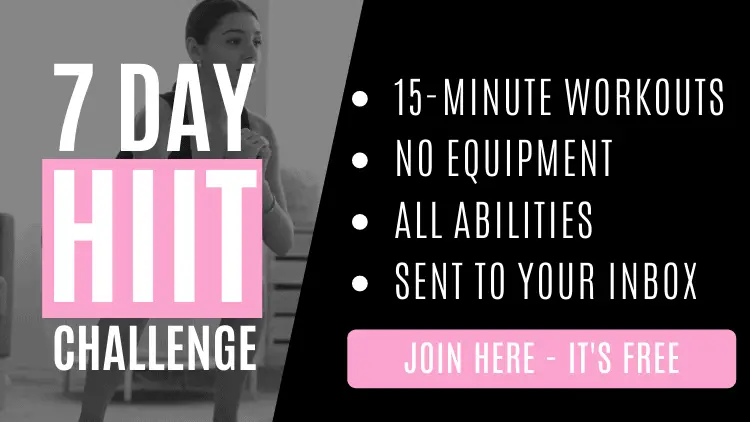 The workout – Fun & Sweaty Home HIIT Workout With Weights.
Before you start the workout, do our HIIT warm-up routine below.
What you need – Matt, Pair of 12-18lb dumbbells, 18-35lb kettlebell depending on what you have.
Format – Pyramid Set
Round 1 = 10 reps
Round 2 = 15 reps
Round 3 = 20 reps
Round 4 = 15 reps
Round 5 = 10 reps
Rest – only rest when needed. Complete the rounds as quickly as you can.
Walk Outs with Jump
Kettlebell Swings
Squat Jumps
Push Ups
Dumbbell Thrusters
Goblet Squat
The Exercises
If any of these exercises are new or you need a quick refresher then take a look at the video demos below.
Walk outs with jump
kettlebell swings
squat jumps
push ups
thrusters
goblet squat
So when you are ready and have all the exercises memorized, get a move on and start working through each round. Starting with 10 reps in round 1.
Once this one is done try the format with some other exercises and see how you get on.
And don't forget to time how long it takes you as you'll want to try and best your time next week when you do it again.
Keep working hard, let us know.

finish off your workouts with our abs workout plan
Compliment your fat-burning HIIT workouts with our challenging ab and core workouts that Demi did and still does to maintain her tight, toned flat belly.
Our plan promises that in 21 days you'll have noticeably flatter abs after following the workout plan and accompanying food guide. Learn more by clicking the image below or heading to —> 21 Day Flat Belly Abs & Core Plan.