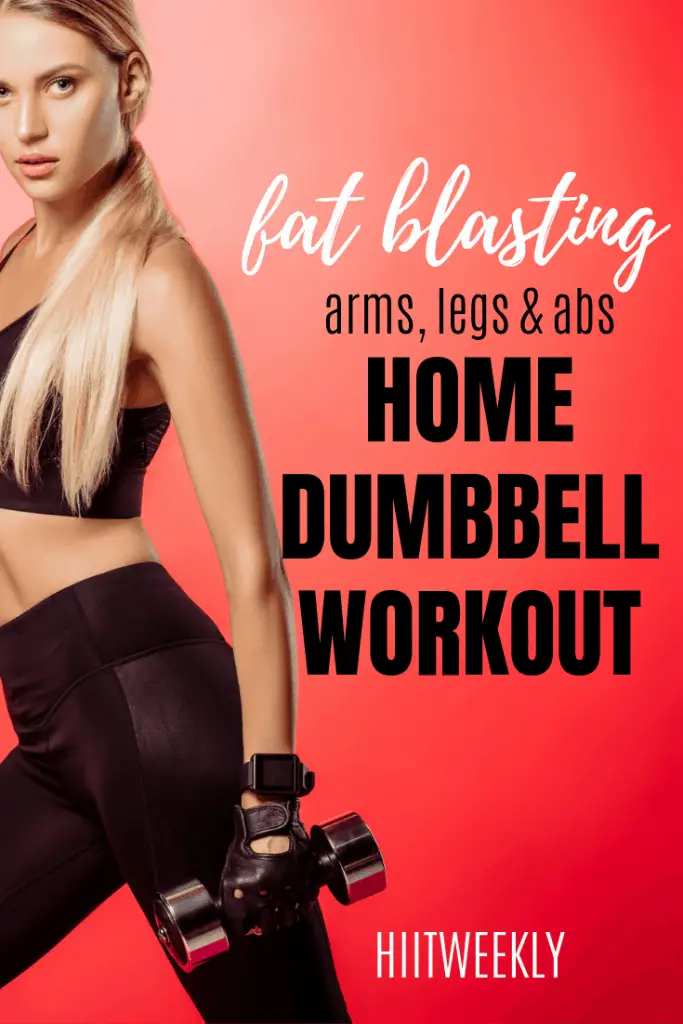 Here's a super simple home workout with dumbbells that is nice and quick to do. So get those dumbbells, a little motivation and let's get going.
This is going to be a High Intensity Interval Training or HIIT workout plan that includes a couple of dumbbell exercises.
If you are new to HIIT then this is the type of training you need to start including for fast fitness and weight loss results.
We've been using weight based HIIT with our clients now since 2012 and our clients love it. Traditional HIIT is done by alternating periods of high intensity bouts of exercises with low intensity or periods of rest.
A few of the benefits of training with HIIT are that you tend to see faster improvements in fitness including VO2 Max, Lactate Threshold improvements (1) as well as increased fat loss (2) and when you use weights or body weight exercises you put your body into a raised metabolic state sometimes referred to as the After burn Effect. Where your body's metabolism is raised for up to 72 hours (3)! Meaning you burn more calories while you put your feet up!
We love adding weights to our HIIT sessions. Not only will you burn more calories through adding extra weight to your workouts but with weights, you open a door to a whole heap of new exercises.
Such as some of our faves in thrusters, weighted lunges and renegade rows.
Today's workout will work you from head to toe and promises to be a challenge from start to finish.
There's just one weighted exercise so you will need a pair of dumbbells or a barbell that you can use for the thrusters, the rest of the exercises use your bodyweight and require no equipment.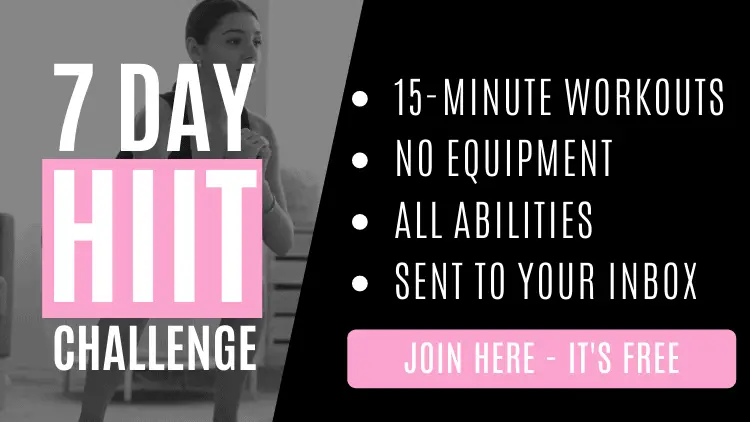 As you'll see there are 5 rounds of the following circuit. It's a pyramid format. Round 1 or R1 is 25 seconds of work followed by 10 seconds rest. In round 2 and 3 you'll add on 5 seconds to the timer before reducing each working set by 5 seconds in round 4 and 5 as you'll soon see.
To make your workout even more fun and challenging, count the reps on the way up and the way down and see where you can beat your own reps set for each exercise.
When I did this workout with my clients they managed 15 reps of burpees on the 30 and 35 second rounds. See if you can beat it and let me know in the comments!
This workout is fast and intense so make sure your effort matches it for max results. You should be able to complete this dumbbell HIIT within 20 minutes, add in a warm-up and you're up to 25-30 minutes.
The workout – Home workout with dumbbells to blast fat
Remember to begin with our warm up before starting the main workout.
What you need – set of dumbbells, optional Exercise Mat
Format– timed ladder circuit
R1. 25 seconds on 10 off
R2. 30 seconds on 10 off
R3. 35 seconds on 10 off
R4. 30 seconds on 10 off
R5. 25 seconds on 10 off
Dumbbell Thrusters
Mountain Climbers
Lunge Jumps
Push Ups
Burpees
Rest between each circuit for 1 minute.
The exercises
If you're not familiar with the exercises here is a video demo of each.
Dumbbell thrusters
Mountain climbers
Lunge jumps
If you are not able to do lunge jumps you can swap them for either weighted lunges, non weighted lunges or as a last resort jump squats or bodyweight squats.
Push ups
Burpees
There you have it, do this workout 3 days a week as a minimum or combine it with some of our other dumbbell HIIT workouts for rapid fat loss.
get more workouts like this in our 6 week flat belly challenge
Get more workouts like this in our 6 Week Flat Belly Challenge . Where we guide you through 12 HIIT workouts with video, designed to help you get in shape fast.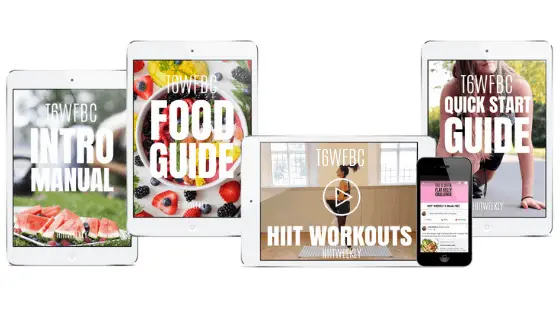 The plan will help you learn some new and exciting exercises while helping you to develop long term healthy habits.
The program comes complete with a food guide, our HIIT workouts with videos and more that can all be done at home or at the gym.
Click Here To Learn More About The 6 Week Flat Belly Challenge
See you next time, smash the workout for us!