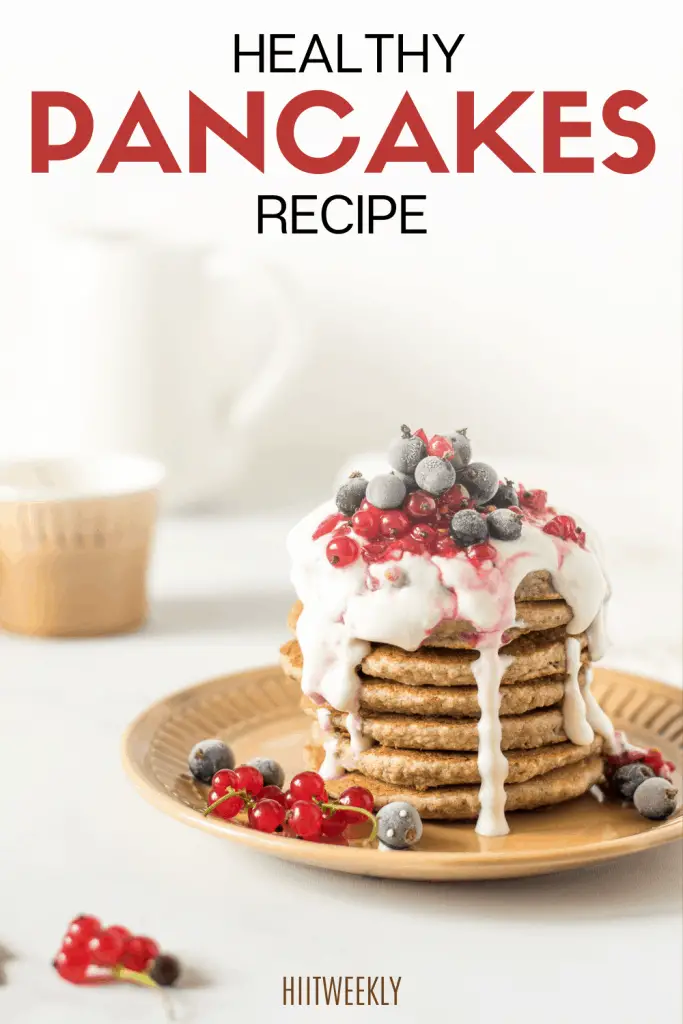 This healthy pancake recipe is delicious, they have no refined flour, no added sugar, and are gluten-free! They make for a deliciously healthy high protein breakfast option.
Topped with yogurt or cottage cheese and fruit these healthy banana oatmeal pancakes will keep you nice and full, without the need to add any more toppings or fillers.
Our banana oatmeal pancakes are super easy to make and you won't even notice how healthy they are, because they taste amazing.
We love pancakes, we can't lie, Demi makes her fluffy chocolate chip or blueberry pancakes every now and again. However, we know they are not the healthiest option and we could make them healthier for sure.
What makes pancakes unhealthy?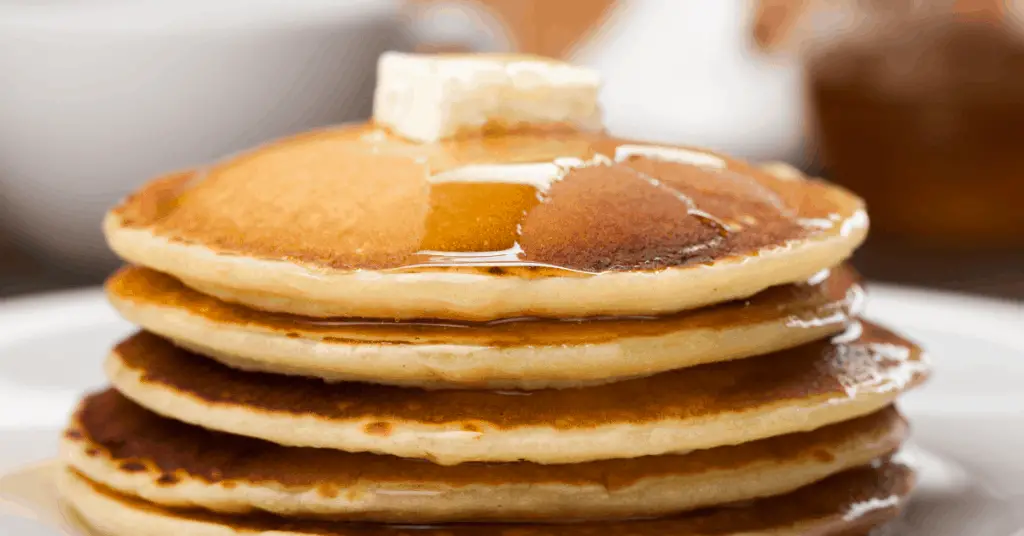 Traditional pancakes are made using refined carbs such as white flour and sugar, both of which have little to no nutritional value and are generally just empty calories.
Refined carbs, sometimes referred to as simple carbs, have been stripped of their nutrients and fiber leaving just energy in the form of calories.
They usually lead to insulin and blood sugar spikes as they are very quickly digested, not good if you are trying to lose weight or are diabetic.
Eating too many refined carbs such as flour and sugar over a long period of time can put you at an increased risk of developing conditions such as heart disease, type 2 diabetes, and obesity (source).
Instead, we are going to use ground oats and buckwheat flour, much less refined with lots of the nutrients we want.
The buckwheat and oat flour has protein, b vitamins, folate, vitamin e, and fiber, everything that is lost when you use white all-purpose flour.
Not only is the mixture healthier but so too are the toppings. The main part of what makes pancakes bad is the toppings. Pancakes are mostly carbs and sugar. When you add your favorite toppings such as chocolate sauce, maple syrup, or ice-cream, you are adding more carbs and more refined sugar. Until you have this tower of calories and heart attack.
Healthy Pancake Toppings
To instantly improve the nutritional quality of your breakfast pancakes is to simply substitute your toppings for healthier ones.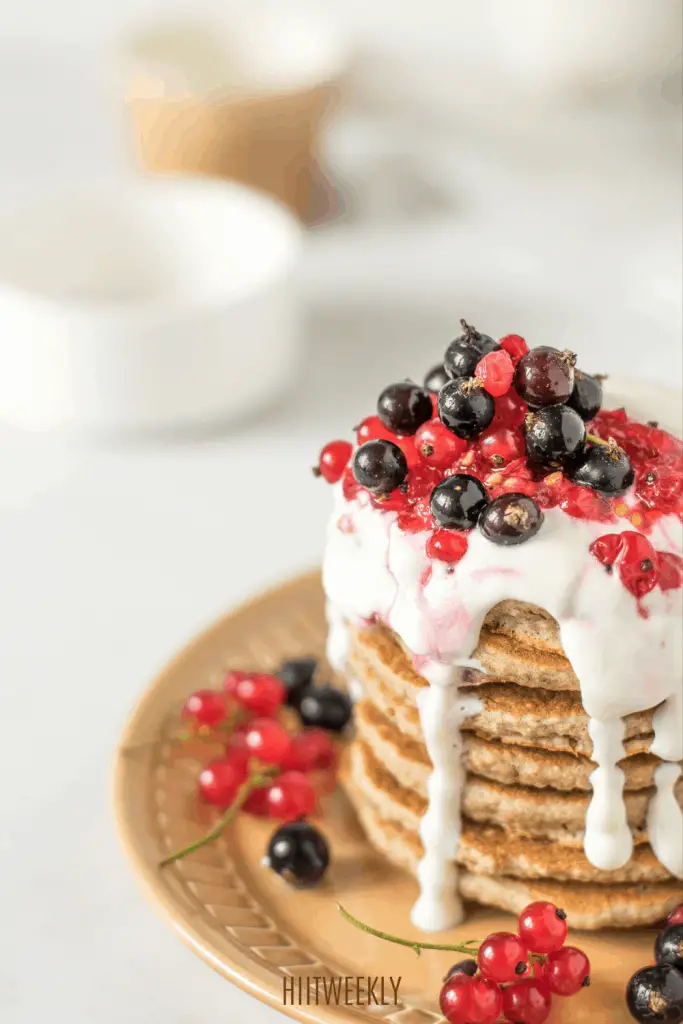 The right toppings can make or break those health pancakes.
Healthier pancake toppings could include:
Greek yogurt
Coconut yogurt
Cottage cheese
Nuts
Fresh fruit
Dark chocolate shavings
Seeds
You could even go savory and have eggs, smoked salmon, avocado, tomatoes.
What makes these banana oatmeal pancakes so good for you?
The only sugar in this pancake recipe comes from the bananas and the oats. So you know that the sugars are healthier than the processed refined sugars used in typical pancake mix.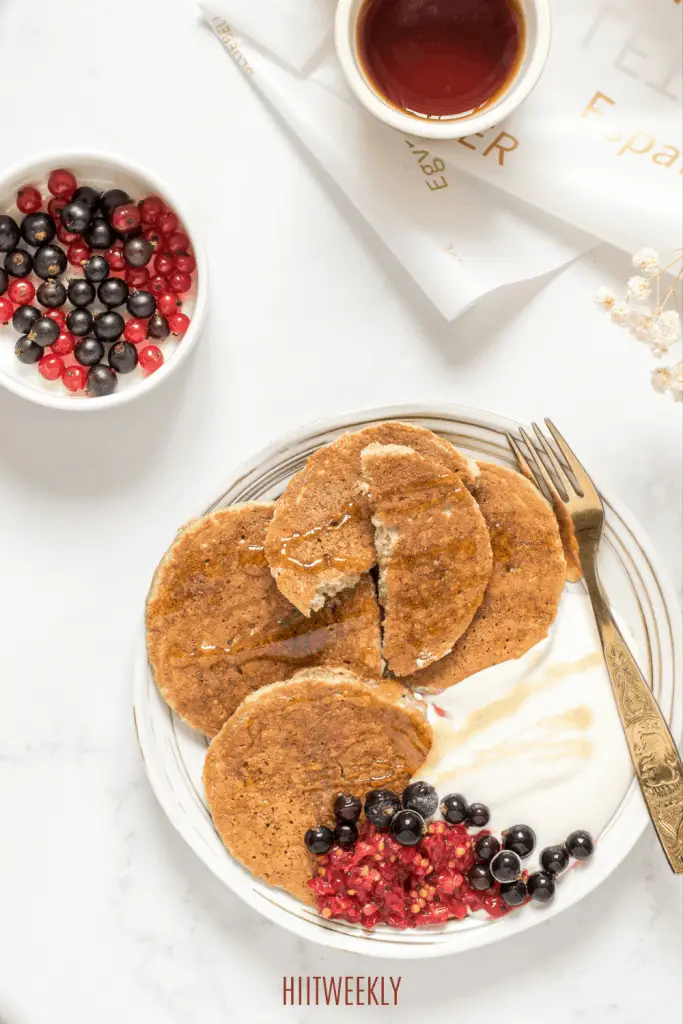 Our recipe is also gluten-free, which was by a total fluke! But we will take it. Buckwheat is actually not a wheat grain and therefore doesn't have any gluten in (source).
Pancakes of course contain protein from the eggs, but only around 6 or 7g per serving. Because we are using oats instead of all purpose flour there is an extra 3-4g hit of protein.
Once you add on the healthy Fage Greek yogurt topping we are adding another 10g serving of protein, which is huge. If you opt to use the cottage cheese topping it's an additional 8g of protein.
All in, combined these healthy banana oatmeal pancakes yield 356 calories per serving, 28g of protein, 42 g carbohydrates, and 9 g fat.
Meal-prep and Storage
Pancakes are not something you would usually associate with healthy meal prep, however the can indeed be made ahead of time.
What we love to do with these pancakes is make up a batch, pop them in a ziplock bag and freeze them.
The'll usuall last a month frozen and a few days refrigerated.
You can easily reheat them in the toaster, add your Greek yogurt and berries and you're away.
How To Make Healthy Banana Oatmeal Pancakes
We hope you enjoy our take on healthy pancakes!
We used red and black currents as our fruit options. You can use any berries you wish. Berries are generally lower in sugar than other fruits and just go really well with yogurt and pancakes.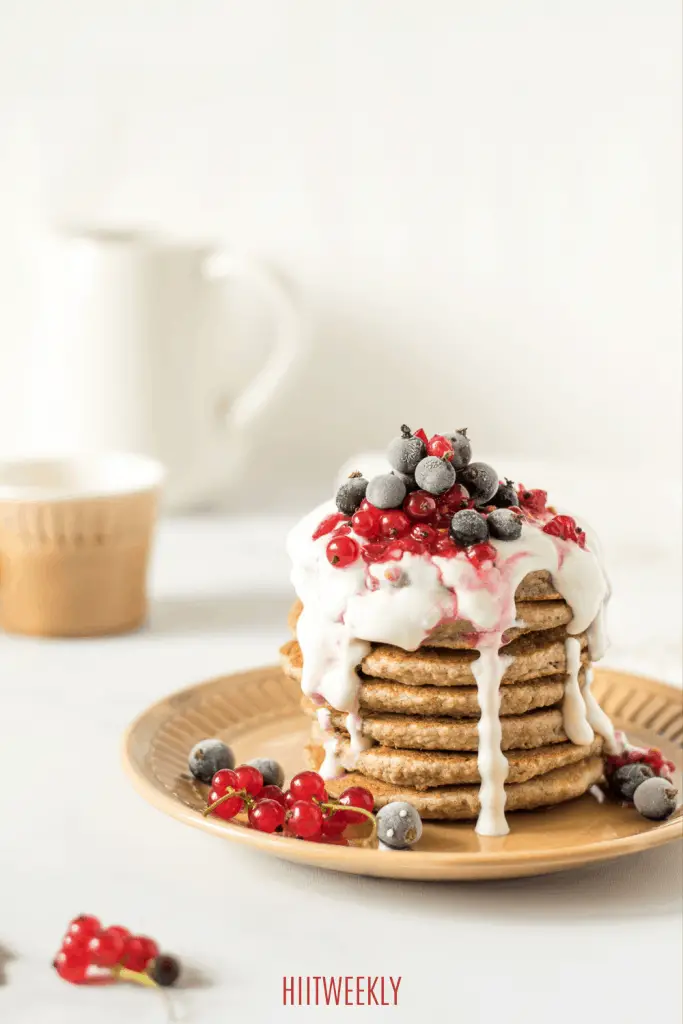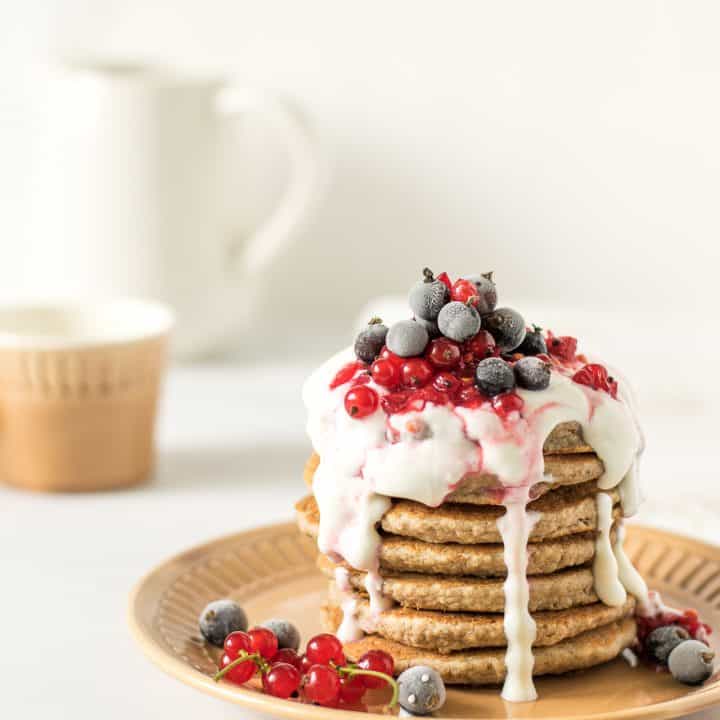 Healthy Banana Oatmeal Pancakes
A healthier take on fluffy pancakes with a high protein topping and a no added sugar pancake recipe.
Ingredients
50 g Rice or Buckwheat Flour
55 g Oats
2 Large Eggs
1 Large Banana
1 tsp. Baking Powder
1/3 tsp. Salt
1/3 tsp. Cinnamon
For The Topping
200 g Plain Greek Yogurt
100 g Cottage Cheese
1 tsp. Honey
1/2 tsp. Vanilla Extract
Berries of your choice
Instructions
Grind the oats in a food processor to make flour.
In a bowl mix oat flour, salt, cinnamon, and baking powder.
Separately, mix bananas with eggs and blend in the food processor until very smooth and super fluffy. It may take some time.
Add all dry ingredients to the banana mixture and stir very carefully with the spatula.
Put a non-stick pan on medium heat; add a little bit of oil if needed and once hot, fry pancakes for 2 minutes on both sides until golden.
For the topping mix cottage cheese, yogurt, honey, and vanilla in the food processor and blend thoroughly until smooth and creamy. You may need more liquid (extra yogurt or some milk) to reach smooth and nice consistency; it depends on the cottage cheese you use.
Serve your pancakes with greek yogurt topping, smashed and whole berries, and extra honey if needed.
Notes
If you are not a fan of cottage cheese then skip it altogether and replace it with more greek yogurt.
Nutrition Information:
Yield:

2
Serving Size:

1
Amount Per Serving:
Calories:

356
Total Fat:

9.4g
Saturated Fat:

4g
Trans Fat:

0g
Unsaturated Fat:

6g
Cholesterol:

200mg
Sodium:

360mg
Carbohydrates:

42g
Fiber:

4.6g
Sugar:

13g
Protein:

28.2g