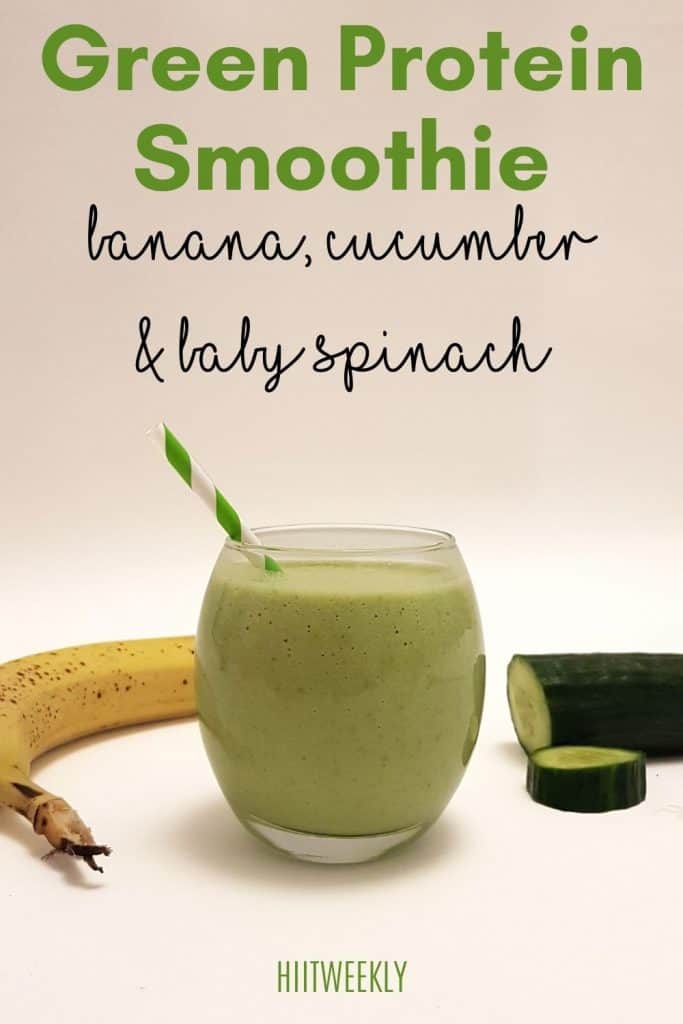 This healthy protein-packed green protein smoothie recipe is the ideal post-workout or meal replacement to help you hit your weight loss goals. With banana, cucumber, and baby spinach.
The green smoothie, the king of smoothies, is packed full of nutrients and antioxidants but doesn't always get you super excited to run to the kitchen to make it.
I'll be honest the thought of a green smoothie doesn't fill me with much excitement, my usual go-to is our banana and oat smoothie, it's awesome, but seeing as green smoothies have so much more to offer in terms of the health benefits, its antioxidative properties and potential nutrient density I thought to heck with it, let's give it ago.
This recipe isn't over the top and balances the greens and flavor well. To my surprise it wasn't that bad at all, especially as I'm not a huge fan of greens so to be able to throw them into a smoothie works well. It's green but tastes like banana it's great.
So what makes this green protein smoothie so good for you?
We are all about the training here at HIITWEEKLY and think that good training should be accompanied by good nutrition and diet. That's why we've made this green protein with added protein to help aid recovery and act as a meal replacement if so needed on your fat loss journey.
The green protein smoothie recipe is simple with just a few key ingredients, cucumber, baby spinach, and banana!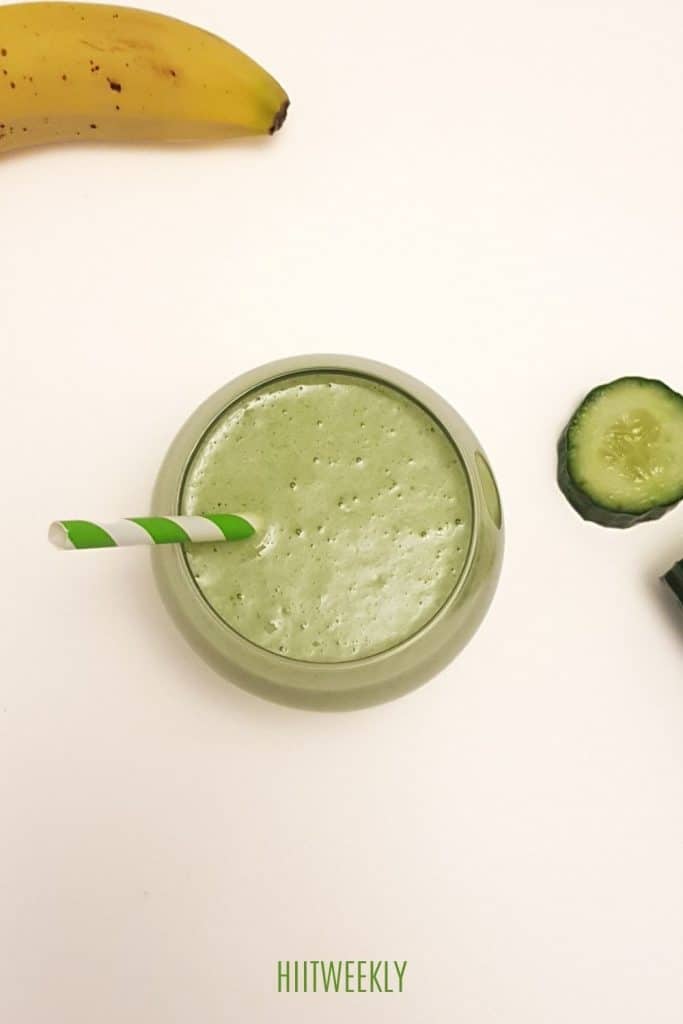 But why should you try it you ask? Cucumbers are ridiculously low in calories whilst being packed full of important vitamins and minerals such as vitamin C and K, Magnesium, Potassium, and Manganese.
Cucumbers and baby spinach also contain antioxidant properties that help block oxidation and fight free radicals that are associated with many types of chronic illnesses such as heart disease and cancer.
If you are health conscious and care about your heart, which should be all of us, you will be pleased to know that both cucumbers, baby spinach, and bananas all contain a lot of potassium. Potassium is needed to help lower high blood pressure, reduce the risk of stroke and heart disease.
Superfood!
You can certainly think of baby spinach as a superfood! It's normally a key ingredient in most green smoothie recipes. In addition to being high in potassium, baby spinach contains many essential vitamins and minerals such as;
Iron which helps in the development of hemoglobin for oxygen transportation.
Vitamin C for immune function and skin health
Vitamin K which is a vitamin that is important for blood clotting, just two leaves of baby spinach as all of your daily requirements taken care of, folic acid which is important for normal cellular growth and tissue growth which is why its an essential nutrient to take if you are pregnant.
Calcium which is important for bone health as well as playing a role in muscle contractions and your nervous system.
Baby spinach can also help protect your eyes as it contains zeaxanthin and lutein which are present in your eyes in high quantities.
It doesn't matter if you use fresh or frozen baby spinach in your green smoothies, just get it in there and you'll be adding some key nutrients to your body.
We usually buy fresh and then stick them in the freezer, that way you're always st9ocked up ad don't have to worry about it going off in the fridge!
Alternatively, you could always use kale, but I always feel kale has a stronger green taste! I prefer kale baked in salt, yum.
If you don't like the taste, you can always pinch your nose and then eat something tasty afterward! Just think of all the goodness you're giving your body.
Protein punch
So, to give your green smoothie an extra edge we recommend adding some protein powder.
If you wanted to go all-out green and keep it plant-based, you can use something like pea protein powder, or if you've just got your go-to vanilla whey as we do then that will give it the protein kick you want and add some extra flavor to hide all those greens!
The added protein does a few things. If you are training, whether that's weight training, running, or doing HIIT, your body will be in a state of recovery, where your muscles will be craving extra protein to help repair and build. Giving your body the nutrients it needs is important if you want to progress in your training.
Protein also helps make you feel full which is great if you are dieting and want to use this smoothie as a meal replacement or a snack between meals just to get you through the day without those pesky sweet cravings. Especially in that gap between lunch and dinner.
Protein is also a nutrient that adds calories, therefore, balancing this green smoothie as a potential meal of its own although the calorie count is relatively low at just 275 however, you could always double the serving.
How to make the green protein smoothie
To make a smoothie you will require a blender of some sort, there are so many options to choose from. Otherwise, you'll be choking on the baby spinach and protein powder for sure and it'll e more like a chunky cold soup!
When making a smoothie is always best to add the liquid ingredients first, this helps to stop the remaining ingredients, in particular, the protein powder, getting stuck and not blending well.
Milk
We used almond milk in this green smoothie recipe but have also tried cow's milk, coconut milk, and oat. It just depends on what you have.
Cow's milk tends to be creamier than plant-based milk alternatives but then that's just an opinion you can go for whichever you prefer. You could even use water if you wish but it's not the best combination.
Blending time
The longer you blend the smoother the smoothie! We tend to bend for about 30-60 seconds depending on how it looks. We tend to do a taste test and if it needs more blending or liquids, we just pop it back on for a bit longer.
Serve and enjoy! Simple!
Green Protein Smoothie
This healthy green protein smoothie not only tastes pretty damn good but it's also good for you and can help aid in weight loss.
Ingredients
1 cup milk or dairy-free milk
4 slices of cucumber
Half a medium banana
A handful of baby spinach
Half scoop protein powder - vanilla or unflavoured
Instructions
add all of the ingredients to a blender and blend for 30 seconds or until silky smooth.
enjoy.
Nutrition Information:
Yield:

1
Serving Size:

1
Amount Per Serving:
Calories:

273
Total Fat:

9.9g
Saturated Fat:

6g
Trans Fat:

0g
Unsaturated Fat:

3g
Cholesterol:

0mg
Sodium:

305mg
Carbohydrates:

28g
Fiber:

3g
Sugar:

20g
Protein:

20g