Nothing beats a fresh, healthy salad in the summer. Salads are one of my easy go-to meals on a hot summer day and this chickpea salad with healthy yogurt dressing hits the spot.
If like myself, you like to look after yourself through exercising and eating healthy then you will appreciate today's salad recipe.
The winning combination of the chickpeas and the Greek yogurt and dill dressing delivers an impressively high protein content with roughly 16g per serving. Making it an ideal recipe if you are trying to lose weight, looking to repair your trained muscles or even build some healthy lean muscle tissue.
Protein is the building blocks of muscle and is necessary to help you build and repair muscle tissue.
Why is protein good for weight loss?
Whilst protein will help you feel fuller for longer, protein is commonly used in weight-loss diets to replace carbohydrates. Carbohydrates and the excessive consumption of carbohydrates is commonly responsible for weight gain.
Diets high in protein can help to boost metabolism and reduce your appetite by increasing levels of satiety an appetite-reducing hormone whilst reducing hunger hormones(1,2).
Chickpeas or Garbanzo Beans are a great substitute for meat-based protein in salads. They pack a decent amount of protein with the added nutrients of Fibre, Folate, Manganese, and a tiny bit of Iron.
So if like me you suffer from a slight iron deficiency then every little helps. Plus with the added baby spinach this is actually a reasonably high iron meal at around 3mg of iron which is 25% of your daily intake.
I like to have meat-free days once or twice a week and this would be an ideal light dinner or lunch recipe.
This chickpea salad with yogurt and dill dressing is so simple to make and takes next to no time at all. You can make it ahead of time for lunch or on the spot for a light dinner. It's tasty, fresh and a very low-calorie meal, so you could actually eat a double serving guilt-free if you love it.
How to Make A Chickpea Salad
First off, gather all of your ingredients to make the salad first. Start by draining the canned chickpeas. We use canned because they are already cooked, the less we have to do the better.
Once drianed take a bowl and combine with the smoked paprika.
Next, cut your cherry tomatoes and slice the cucumber into pretty ribbons. They really make this salad look amazing.
Place a handful of baby spinach or alternative salad leaf if you are not a huge fan of baby spinach into a bowl or serving dish. Place the tomatoes and cucumber in and then throw the smoked paprika chickpeas on top.
Next for the dressing. now it's up to you if you want to finely chop the dill or leave it as is. Personally I like to rip it up into small pieces. Mix everything together in a small bowl and then serve it with the salad.
The dressing should 3 days refrigerated assuming the yogurt was opened on the day of use.
Of course, if you did want to go all-out vegan you would need to substitute the Greek yogurt with a non-dairy alternative.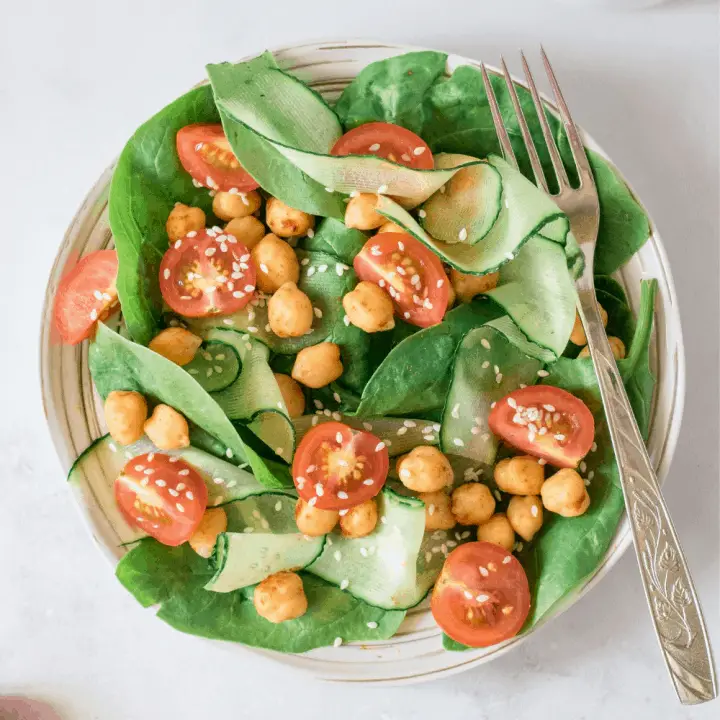 Smokey Chickpea Salad
A healthy high protein chickpea salad with fresh yogurt and dill dressing.
Ingredients
1 cup chickpeas (cooked and drained)
8 cherry tomatoes
½ a cucumber
1 tbsp. Smoked Paprika
Sea salt (to taste)
2 large handful of fresh spinach or mixed salad leaves
Yogurt and Dill Dresssing
1/2 cup Greek yoghurt
A few sprigs of fresh dill
A pinch of ground turmeric
Sea salt and ground black pepper (to taste)
Instructions
1.In a bowl mix chickpeas (drained) and smoked paprika. Set aside.
2.Cut cherry tomatoes in halves or quarters and peel the cucumber into ribbons with a speed peeler.
4.For the dressing, mix everything together in a bowl.
5.Place everything on a dish and serve with the yogurt dressing (sesame seeds are optional).

Notes
Use canned chickpeas as they are already cooked. You just have to drain them. You can cook them if you want them hot and crispy.

Nutrition Information:
Yield:

2
Serving Size:

1
Amount Per Serving:
Calories:

216
Total Fat:

4g
Saturated Fat:

1g
Trans Fat:

0g
Unsaturated Fat:

2g
Cholesterol:

3mg
Sodium:

662mg
Carbohydrates:

36g
Fiber:

10g
Sugar:

12g
Protein:

16g
I hope you enjoy the recipe. Come back for more recipes soon.