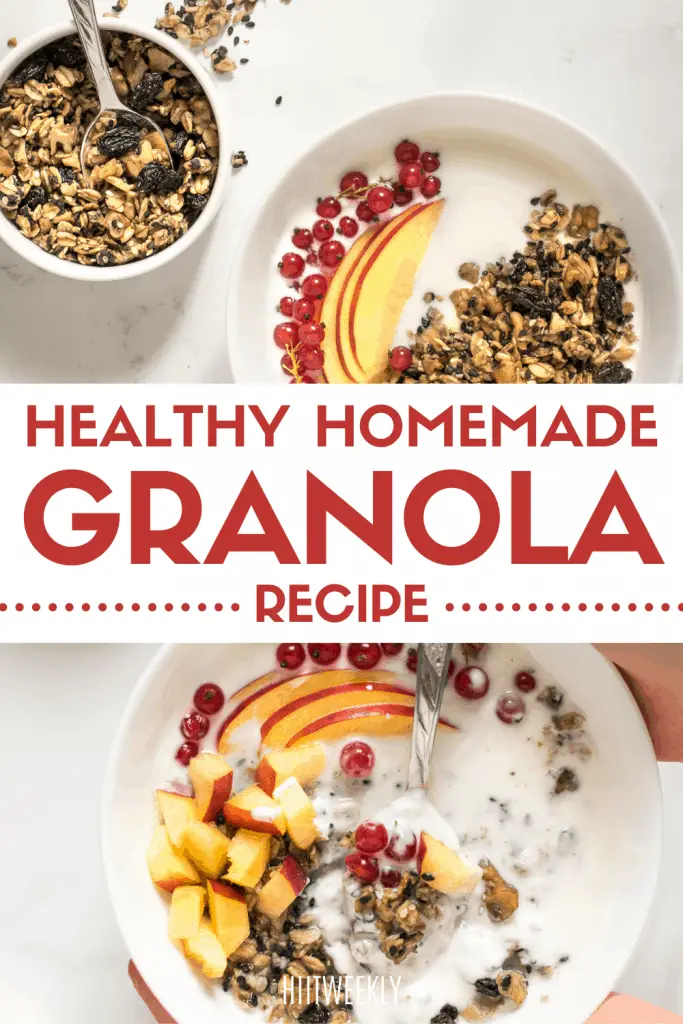 This gluten-free granola recipe is one of the easiest recipes you can make that can be enjoyed as a healthy breakfast with yogurt and fruit that's also vegan friendly.
Our healthy granola can be a super simple delicious snack or breakfast that's packed full of healthy proteins and carbohydrates that s naturally low in sugar. Unlike the store brought granola which is often high in sugar and unhealthy fats.
You can throw this gluten-free homemade granola recipe together in minutes and have it ready in under 30 minutes.
The best part about making granola is that you can add in all of your favorite healthy things and customize it as you please.
Once you've made your first batch of homemade granola you won't go back to store-bought ever again. It's really so simple to make and the smell! Oh, the smell as you open the oven is amazing. Assuming you don't burn it, been there!
Once you've made your healthy granola, it stores beautifully and can even double up as a classy homemade gift for loved ones.
To make this healthy granola recipe gluten-free all you need to do is make sure your rolled oats are gluten-free. Oats are gluten-free, however, most oats are processed in factories where other gluten products are such as wheat flour. So it's always best to check your oast or just go ahead and buy gluten-free oats. It's always better to be safe than sorry as you will already know.
So why is this a healthy granola recipe, what's wrong with store brought granolas?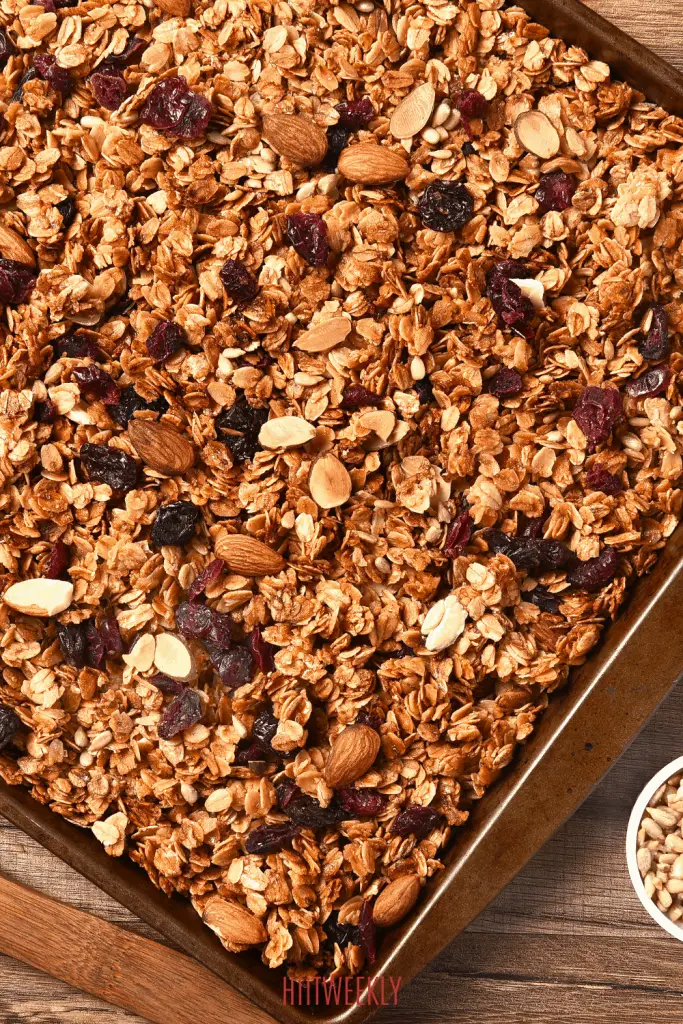 Store-bought granola is usually full of added sugar and often cane sugar as well as unhealthy fats because.
Our healthy granola uses only applesauce to sweeten and combine all the ingredients for a lightly sweet flavor which also makes this a healthy vegan granola recipe. We have also used raw honey which is another amazing natural sweetener that you could use on your homemade granola.
When it comes to oil, the oil and fat you use in granola can help to bind the ingredients. Some people like to add oil and some don't.
From a health and possibly a weight loss point of view, when you add fat to carbohydrates it slows down the inulin response by slowing the rate that sugars can get into your bloodstream. This is something that would be beneficial if you are trying to burn fat and of course if you had diabetes.
Oil/ fat is also a natural presrvative so will make your granola last longer.
We like to use healthy coconut oil as it's quite light and adds a brilliant flavor to the granola.
If you don't have the nuts and seeds that we've listed feel free to change it up. The base of the granola is oats, nuts, oil, sugars. What you choose for each is up to you. But we do love our recipe, so give it a try.
You can also add some dried fruit, we like to add flaked coconut sometimes and when we are feeling adventurous we add in some dark chocolate once it's cooked and cooled. It's a game-changer.
Homemade gluten-free granola recipe ingredients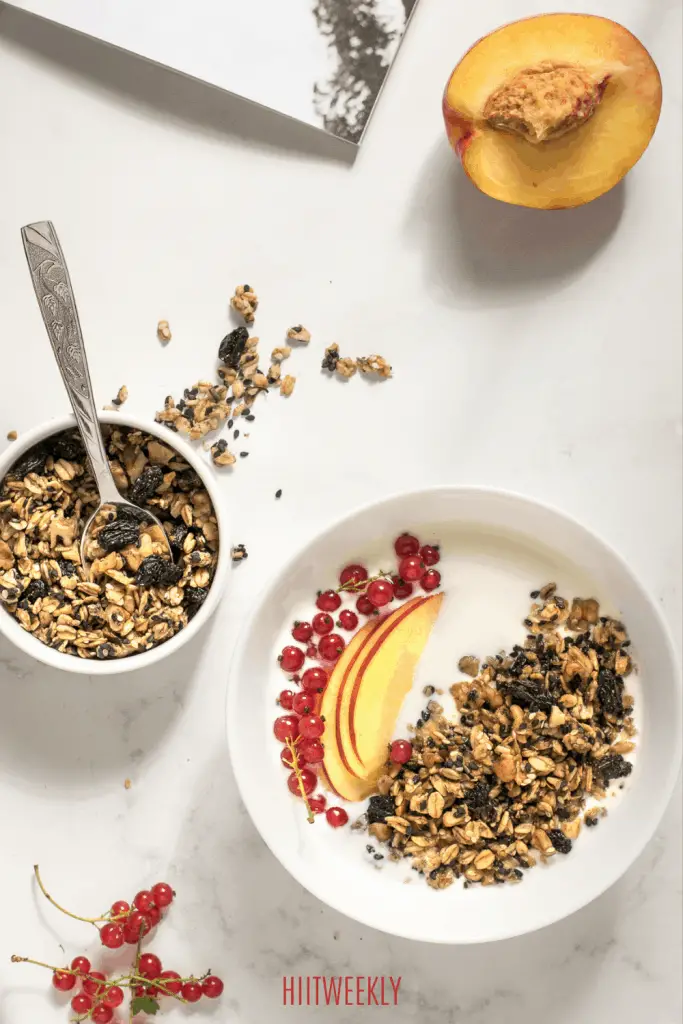 Here are the basic ingredients that you will need to make this healthy gluten-free granola recipe.
Gluten-Free Oats – the hearty rolled oats are the best to use in granola as they crip up the most! If you are going gluten-free make sure you check they are in fact free from gluten.
Nuts and Seeds – Today we will be using almonds, walnuts, sunflower seeds and sesame seeds, you can use whatever you like. pecans are beautiful so are pumpkin seeds. The nuts and seeds add a healthy amount of fats and protein to your granola.
Oil – In this healthy granola recipe we are using coconut oil, it's just so flavourful. You can use olive oil but nut oils are the best as they add more flavor.
Natural Sweetener – To allow the granola to go golden brown, to stick together and crisp up you need a sugar source. We love raw honey, real maple syrup or applesauce.
Seasoning/ Flavor – add some extra flavor with seasonings, we are sticking to salt but you could use cinnamon. We add salt to enhance the flavors of our granola.
Dried Fruit – we are keeping things simple with some raisins, you don't have to add dried fruit if you don't want to as they do add more sugar.
Extras – there are some optional extras to enhance your healthy granola. We are using some fresh lemon zest, you could also add in things like coconut flakes and chocolate for example.
simple steps how to make granola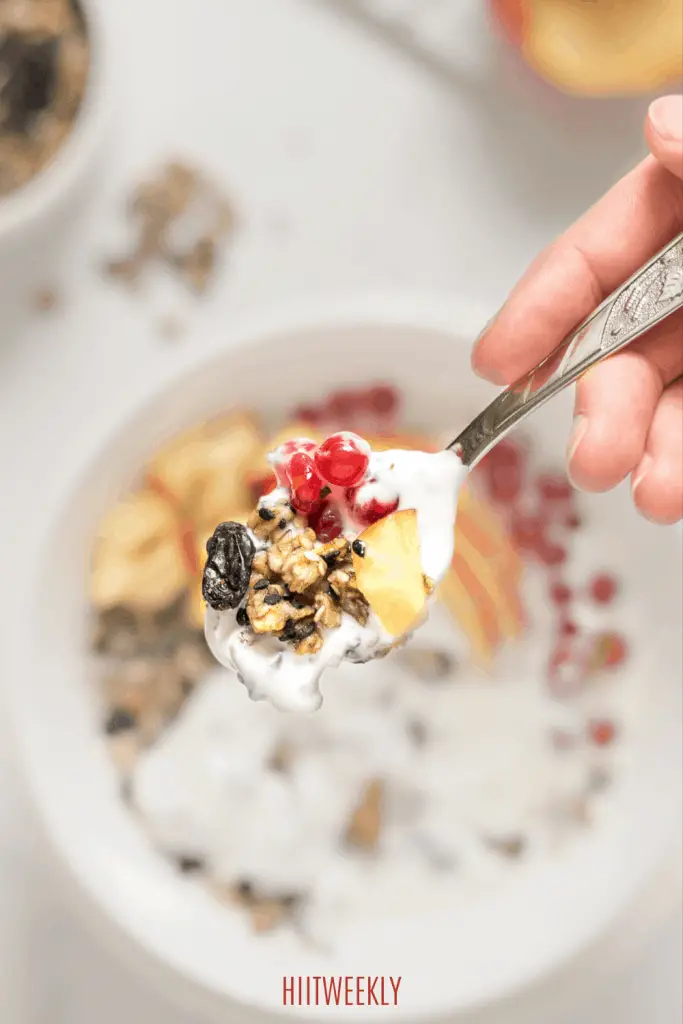 Granola is simple to make, follow these steps and you will be onto a winning tray of granola.
Mix all the dry ingredients. Place all of the dry ingredients in a mixing bowl and stir together. That is nuts, seeds, oats, raisins and salt.
Add in the wet ingredients, the melted coconut oil, apple puree and lemon zest and mix together well until everything is evenly coated.
Place on a pan. On a large baking pan lined with baking paper place the granola mixture, it doesn't have to be evenly spread in fact it's better if you can have some clumps.
Bake it. pop your granola into a preheated oven at 320°F and bake fr 20-30 minutes. keep an eye on it so that it doesn't burn. you want it to be golden brown in color.
Let it cool. Once cooked take out your granola and let it cool on the side for about 30 minutes. as it cools your mix will harden.
Break it up. YOur healthy granola is nearly ready, all you need to do now is to break it up so it looks like granola! Do this with your hands or a spoon. Taste some unless you haven't already.
Store it. Once you've happily broken up your granola you can now store int in an airtight container, masonry jar or ziplock. About anything airtight will do.
Eat It. It's no good sitting in a jar now is it. Enjoy your healthy granola as a healthy high protein snack or with some yogurt and fresh fruit for breakfast. However, you eat it, enjoy it! You made it.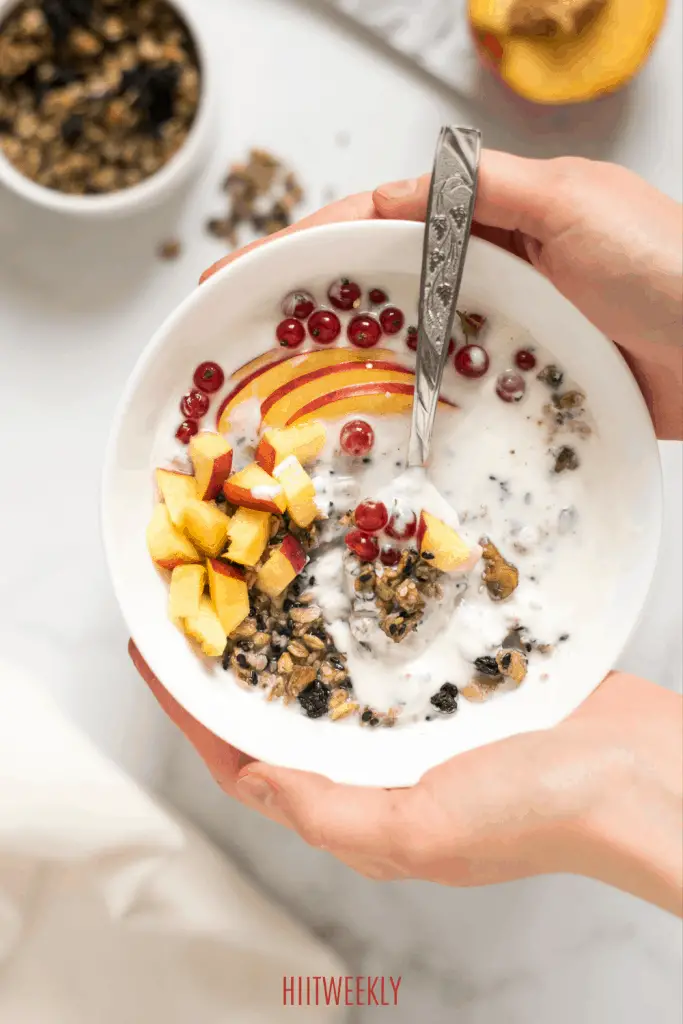 How long does homemade granola last
Your homemade granola should last 1-2 weeks when in an airtight container and up to three months in the freezer.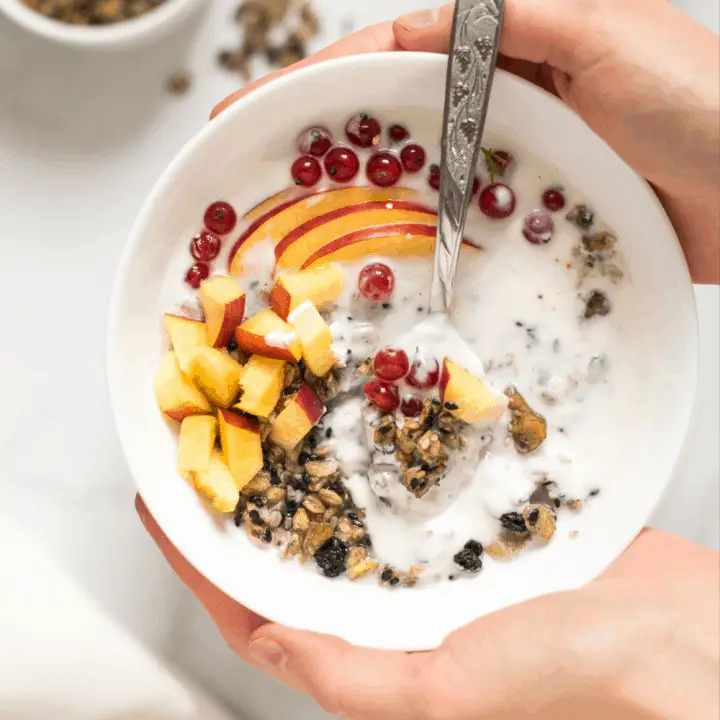 Healthy Homemade Gluten Free Granola
Additional Time:
30 minutes
Total Time:
1 hour
5 minutes
A super healthy homemade granola recipe to enjoy as part of a healthy breakfast yogurt bowl.
Ingredients
3 2/3 cups/ 300 g gluten-free rolled oats
1/2 cup/ 70 g almonds
1/2 cup/ 70 g walnuts
1/2 cup/ 50 g sunflower seeds
1/2 cup/ 30 g mix of white and black sesame seeds
A handful of raisins
2 tbsp. coconut oil
5 tbsp. apple purée
Zest of one lemon
Pinch of salt
Instructions
Preheat the oven to 320ºF/160ºC.
In a large bowl place oats, roughly chopped nuts, seeds and raisins.
Add melted coconut oil, apple purée, lemon zest and salt.
Mix everything together.
Spread granola over a large baking tray in an even layer and bake for 20-30 minutes (or until golden).
Leave it to cool for about 30 minutes.
Once cooled and hardened break up your granola into desired chunks. Store in an airtight container or a jar.
Serve granola with yogurt, milk, berries, etc.

Notes
Granola is a great thing because you're not supposed to stick to the recipe completely and may feel free to swap any nuts, seeds, dried fruit and even the amount of oil and apple purée. You may also add honey if it seems not sweet enough.
The recipe was created using grams and then converted to cups.
Let us know how this recipe turns out for you. As you can see we like to enjoy our granola as part of a healthy breakfast.
You may also like our Honey Roasted Sunflower and Pumpkin Seed Recipe.