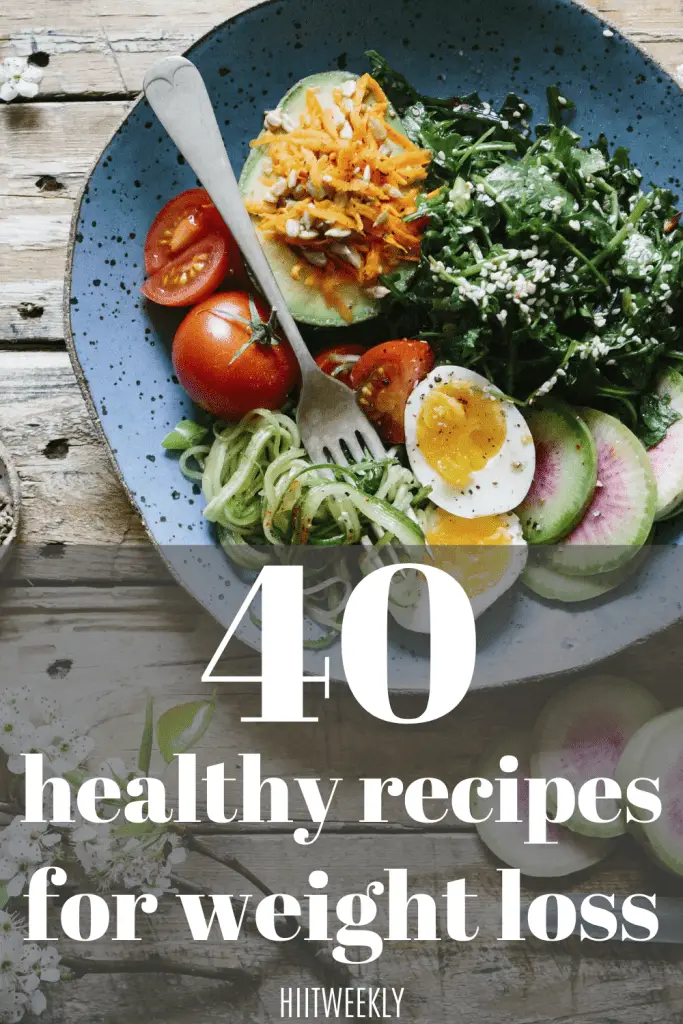 If your goal is to lose weight and say ADIOS to the old you then we're here to guide you with these 40 healthy recipes for weight loss.
One of the major aspects of weight loss is gaining the correct balance between what you eat and just how much you eat.
You can still lose weight whilst eating carbohydrates but you may find that you'll lose weight faster without them. This is what we do in our 6 Week Fast Weight Loss Plan. However, we wouldn't recommend you starving yourself of carbohydrates completely for more than 8 weeks at a time.
Therefore we're giving you a selection of our favorite recipes; some will contain carbohydrates and some won't. If you want to add or remove the carb's to suit the style of eating you are following then do so.
All of the recipes are high in protein. Protein is a macronutrient that supports healthy growth of bones, muscle, skin, and blood, but it also makes you feel fuller for longer and this will reduce the chances of overeating or snacking between meals.
The second consideration is taking the time to find some healthy meal recipes that you can enjoy.
There's nothing worse than starting a new health kick with meals you can't stand! Inevitably you'll end up grumpy, moody, and hate what you're doing and causing a higher chance of quitting or failing in your weight loss goals.
So let's find you some healthy recipes that you can enjoy and look forward to eating. Who knows, even the whole family (if you have a family to cook for) could enjoy these dishes.
We have divided the recipe section by protein ingredients so you can quickly find what you fancy.
When it comes to eating healthy and losing weight it's always a good idea to stick to lean cuts of meat when you can (no skin on your chicken!). Turkey, fish, chicken and eggs are the best source of animal proteins to have.
Not only do we have healthy recipes to suit most taste buds that would make an ideal lunch or dinner, but we have also sourced some yummy, healthy, high protein breakfast recipes so you can plan your meals right through the day.
For some great meal prep tips and how to get started check out for meal prep for beginners post here.
Healthy high protein Breakfast recipes
We know your search may not have been to find breakfast recipes but we wanted to show you a few healthy recipes that will help you start your day off well. All of these breakfast recipes boast a high protein content.
Protein Oatmeal 5 Ways
Most of us love oatmeal for breakfast firth thing in the morning, it's easy to make, quick and definitely a winter warmer.
To some though it's just a carbohydrate-heavy meal, here are 5 ways to increase the protein content and make it a healthier balanced meal to enjoy from eatingbirdfood.
High protein Pancakes
Treat yourself without guilt to these yogurt protein pancakes. Find the recipe at fitasamamabear.
Low carb protein waffles
these are so so tasty, another treat that you can have more or less guilt free are these low carb protein waffles that are flour free. Get the recipes at wholesomeyum.
protein Mocha Oatmeal
Another oatmeal recipe but this time it's coffee-based. Worth a try if you're a coffee lover and packed with protein. Get the recipes at runningonrealfood.
Cottage cheese breakfast bowl
If you like cottage cheese then you've got to try this high protein breakfast bowl for a breakfast you'll love. Try the recipe from theworktop.
Blueberry Protein Smoothie
Protein shakes are a great way to get the nutrients you need whilst being able to drink on the go.
Protein shakes can be, not so nice at times, so we like to add protein powder to healthy smoothies to boost their protein content. Try this recipe here to get you started and then check out our protein smoothie recipes here.
Egg based healthy recipes
Naturally, we move on to eggs and meals with eggs as the main protein. The following recipes can be enjoyed for breakfast or as a main meal.
healthy breakfast egg muffins
If you haven't tried egg muffins then you have to give them a try. They double up as on the go breakfasts or healthy snacks. We just love them and this is a nice and simple recipe to start with. Get the recipe at downshiftology where they show you three ways to make these cute little egg muffins.
kale and butternut squash Frittata
Frittatas are another great way to make on the go meals to have as a hot meal or cold with a salad. Try this kale and butternut squash recipe with goats cheese from downshiftology again.
Poached eggs with sauteed spinach and tomatoes
This is one of my favorite breakfasts when I have the time to make it. The sauteed spinach, tomatoes and garlic really make this meal. It's delicious on toast also. Get the recipe here.
Sweet potato waffles with eggs
We are back to waffles again, this time they are made with sweet potato for a more savory treat. Again no flour was used in the making of this recipe, Get it here at asaucykitchen.
Spiralized Zucchini, pesto & egg Nests
Check out these yummy nests. I'm desperate to try one so I've added it to my list. Try it here at cookathomemom.
Sheet pan sweet potato hash with baked eggs & romesco
You could enjoy as a breakfast, however, it would also make a filling dinner recipe that's quite simple to make as its a sheet pan recipe. So, in theory, it shouldn't take a lot of effort to prepare and make. See how it's done here at passmesometasty.
Poultry Recipes
Chicken lovers pay attention now, these are some of the tasty healthy recipes we could find that use either chicken or turkey. Enjoy.
Paleo chicken shawarma salad with tahini dressing
The flavor from the shawarma marinade is to die for. Make this juicy chicken salad here at oursaltykicthen.
Turkey taco stuffed peppers
Another take on stuffed peppers but this time with turkey, a heathier leaner alternative. Don't they sound delicious? Get the recipe howseeteats
zucchini chicken enchilada roll-ups
Wrap them up and cover them in cheese. This Gluten-free and carb free take on enchiladas is amazing. The ideal family carb-free meal. Go to cleanfoodcrush.
Buttery garlic herb chicken with zucchini
Yummy yummy garlic chicken. If you don't mind garlic breath then you'll like this quick and easy meal from therecipecritic.
Super-Easy Turkey stir-fry
At cleanfoodcrush Rachel shares four ways to make a turkey stir-fry for easier meal prep to help you lose weight.
Honey mustard chicken salad
For a carb-free dish try this juicy from damdelicious, FYI bookmark that site, there are some great recipes. It looks amazing and it's got strawberries in. Whaaaaaat?!?!
Chicken Stir fry sheet pan
A family favorite with or without the wrap chicken fajitas are a healthy meal to be shared by all.
Get this sheet pan version here at kalynskitchen.
oregano chicken Mediterranean zucchini noodle bowl
When you can't have bread, pasta or noodles, have zucchini! That seems to be the answer for most flour-based recipes, you can substitute them for spaghetti in spag bol, lasagne sheets in, you guessed in lasagne, and now noodles.
Noodles especially rice noodles are not bad at all but when you are cutting carbs zoodles (zucchini noodles) are an easy substitute.
This is a nicely balanced meal and would be lovely with a mix of zoodles and rice noodles. Get the recipe at nospoonnecessary.
Chicken and bacon cobb salad
Who loves chipotle chicken? If that's you then you'll love this take on the cobb salad. With crispy bacon, yes you can have some bacon still when trying to lose weight and even tasty strawberries. Try it at howsweeteats.
Grilled Caprese Chicken
This healthy chicken dish is full of Italian flavor. Mozzarella cheese, fresh tomatoes, and pesto sauce. It's making me hungry. Try it at letsdish. I'm adding it to my recipes.
Seafood Recipes
Seafood includes some of the best sources of lean protein that are naturally low in fat. Especially salmon, halibut and tuna. Here are some tasty recipes to try. Remember to double up for lunch the next day where applicable.
Shrimp foil pack
So easy and so much flavor. Try this foil pack for a simple and quick meal. Follow the recipe instructions at delish.
Bang Bang Shrimp with napa cabbage slaw
I was sold just with the name. This I have to try and it looks pretty simple to make with not too many ingredients. Check out the recipe at our friends' site howsweeteats.
Shrimp avocado salad
An honestly simple dish to make when you need to lose weight fast. This dish will fill you up, as it's loaded with plenty of tomatoes, avocado, cucumber, and sweet corn. Make it at natashaskitchen.
lemon garlic butter shrimp noodles
I know we have a lot of shrimp recipes so far, this is the last and it's one of our favorites. The butter makes it really tasty. Try it at eatwell101.
one pot salmon and veg
Moving on to salmon. Salmon is a super healthy fish with good fatty oils, essential for our health, whilst still being a lean option high in protein.
We love a one-pan option as it saves us a lot of time in the kitchen, essential as we have kids running around who are always crying for our attention. This salmon and veg one pan is exactly what we love and need! Try it for yourself here at wifemamafoodie.
Salmon burgers Slaw
There are several ways to make salmon burgers or you can actually buy them but make sure they are low in carbs. This recipe seems to be the most straight forward and very popular with just 5 ingredients. The recipe comes with a nice cabbage slaw. See how its made with pinchofyum.
Salmon Cobb salad
Another cobb salad but this time with salmon! It looks super fresh and tasty. This is would make for an ideal take to work lunch. Make it here with natashaskitchen.
Hallibut with veggies
This is a nice easy fish recipe that uses Halibut. Halibut is a super healthy white fish packed with omega 3 oils, niacin and magnesium.
You can make this healthy recipe all on one dish. See how its made at themediterraneandish.
Pan-seared Halibut with lemony zucchini noodles
A healthy halibut served with lemony zoodles. Yum. Get the recipe at feastingathome.
Greek-style baked cod
Dig into this tasty dosh and serve with some steamed greens. Its a really quick dish, baked in only 15 minutes. Make it with themediterraneandish.
Chickpea Tuna Salad
A vibrant recipe that would make a great meal prep recipe for lunches through the week. Tuna is another low-fat fish that is also high in protein making it an ideal choice for any meal. Get this recipe at wellplated.
Red meat recipes
Red meat has taken a lot of stick over the years but it is good for you now and again. especially if you have low iron levels as it contains high levels of iron and vitamin b12 which is importing for keeping your DNA, blood cells and nerves healthy.
instant pot beef and broccoli
With Asian flavors, this simple dish can be made in just 20 minutes. Add rice for a complete dish. Get the recipe here at finishedwithsalt.
Thai beef salad
A nice spicey dish from Asia this Thai beef salad is full of flavor. Feel free to add some carbs. get the recipe at everylastbite.
loaded burger bowls
This is a healthier take on a burger salad with its own special burger sauce recipe. When you cut the carbs you can afford to eat some "bad" food like sauces and cheese. Try it out at 40aprons for a weekend treat.
easy bunless burgers with cilantro dill mayo
Another yummy burger takes with another special sauce. This time the burgers are whole so you feel like you are actually having a burger. I'm not sure if that's better or worse. Get the recipe at doyouevenpaleo.
Fakeaway doner kabab
When you're on a diet you can crave all the bad unhealthy foods you love. This is the fix. When you are feeling naughty try making a healthier alternative. This is a healthier take on the Turkish doner kebab and is so much healthier, so much! Get the recipe at muminthemadhouse.
Grilled lamb koftas
Who needs these in their life? I do! This is a really tasty way to enjoy lamb mince or beef for that matter in a healthy low carb meal with a salad or roasted veg. Try it at wholesomeyum.
Broiled lamb chops with veg.
If you are in the UK broil is the same as cooking under the grill. These mint and chimichurri, a South American herb sauce really compliments this dish. With green beans, this is a lovely combo. Get the recipe from cottercrunch.
Mexican spicey Seared Steak Fajitas
This is a nice take on steak fajitas, have with a wrap or carb-less in a salad, it's your choice. Try this healthy steak fajita recipe here stuckinthekichen.
Macadamian Crusted pork chops with bacon Brussel sprouts
Pork is one of the fattiest meats so we tend to avoid it, however some you can still enjoy it on a healthy diet. Heres a nice recipe to try at doyouevenpaleo.
So there you have it, choice! Eating healthy doesn't have to be hard. Find recipes that you enjoy and have them week after week. Adding in new recipes now and again to keep things interesting.
Lose weight and get fit at the same time
Lose weight and get in great shape with our 6 Week Flat Belly Challenge. Where we guide you through our diet and exercise plan designed to help you drop the pounds fast while transforming your body shape.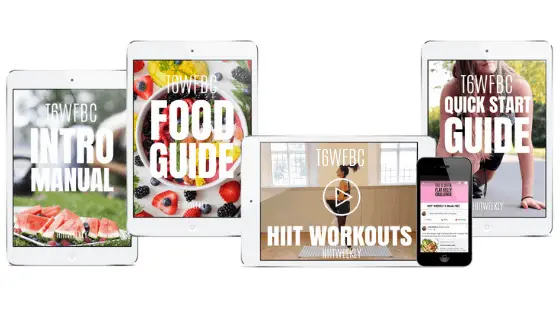 The plan will help you learn new healthy habits, helping you to lose weight long into the future.
The program comes complete with a food guide, our HIIT workouts with videos and more that can all be done at home or at the gym.
Click Here To Learn More About The 6 Week Flat Belly Challenge